How do I utilize Bixby feature on my Galaxy Watch (Hong-Kong version)?
Last Update date :
Sep 28. 2020
Bixby is a voice service that helps you use the Galaxy Watch more conveniently. You can talk to Bixby to launch a function or provide you with information.
• This app may not be available depending on the region.
• Make sure the Galaxy Watch's microphone is not obstructed when you are speaking into it.
• To use Bixby, your mobile device must be connected to a Wi-Fi.
• Launching with the Home key : When you quickly press the Home key twice, Bixby will launch.
• Launching by voice : You can launch Bixby using your own voice wake-up command. You can only use this feature when your Galaxy Watch's screen is turned on. To set the voice wake-up command, on the Apps screen, tap Bixby icon → "︙" More options icon → Voice wakeup.

1
Quickly press the Home key twice.
Alternatively, say "Hi Bixby". You can also launch Bixby by tapping the Bixby icon on the Apps screen.

 

The Galaxy Watch begins voice recognition.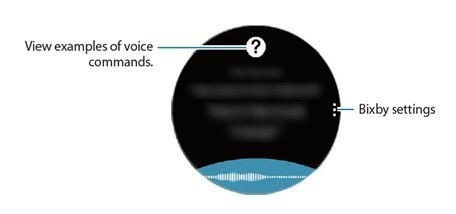 2
Say a voice command. If the Galaxy Watch recognizes the command, the Galaxy Watch will perform the corresponding action with voice feedback. To repeat a voice command or say a different command, tap the following icon.

Tips for better voice recognition
• Speak clearly.
• Speak in quiet places.
• Do not use offensive or slang words.
• Avoid speaking in dialectal accents.
The Galaxy Watch may not recognise your commands or may perform unwanted commands depending on your surroundings or how you speak.
On the Apps screen, tap Bixby icon → "︙" More options icon, rotate the bezel, tap Language, and then select a language.
The selected language is applied to Bixby only, not to the language displayed on the Galaxy Watch.
- Bixby only recognises certain accents and dialects of English (US), Korean and Mandarin Chinese in year 2018. Other languages to be supported.
Using Bixby may be limited under certain situations including, without limitation, during media (video/game/voice) recording, during calls (including outgoing calls), docking on the DeX Station, DeX mode, Maximum power saving mode, Emergency mode, Kids Mode and MirrorLink™.
- Service availability and content provider may differ by country.
- Bixby controls selected apps, other apps to be supported.
- Samsung Account log-in and data network connection (Wi-Fi or data network) required.
- User interface may change and differ by device.
- All images are for reference only.
- All functionality, features, specifications and other product information provided on this website including, but not limited to, the benefits, design, pricing, components, performance, availability, and capabilities of the product are subject to change without notice or obligation. Samsung reserves the right to make changes to this website and the product described herein, at any time, without obligation on Samsung to provide notification of such change.
Please click the submit button below to share your feedback with us. Thank you for your participation.
Please answer all questions.