Your trusty travel partner, the Galaxy Note8 (Hong-Kong version)
Last Update date :
Nov 23. 2020
A more convenient way to travel
Your trusty travel partner, the Galaxy Note8
If you're planning a special vacation, there's so much to do: book your flight, plan your itinerary, and of course make sure you have an amazing camera to take with you. If you have a Galaxy Note8, your work is half done.
How can your Galaxy Note8 make your trip as special as it can be? Keep reading to find out.
01 Ordering food in a foreign country
Arriving at a new travel destination is a chance to try an array of delicious new foods. But what if all the menus are in a language you've never studied? Don't worry. You can translate text with your S Pen—not just individual words, but whole sentences too. How simple can it be?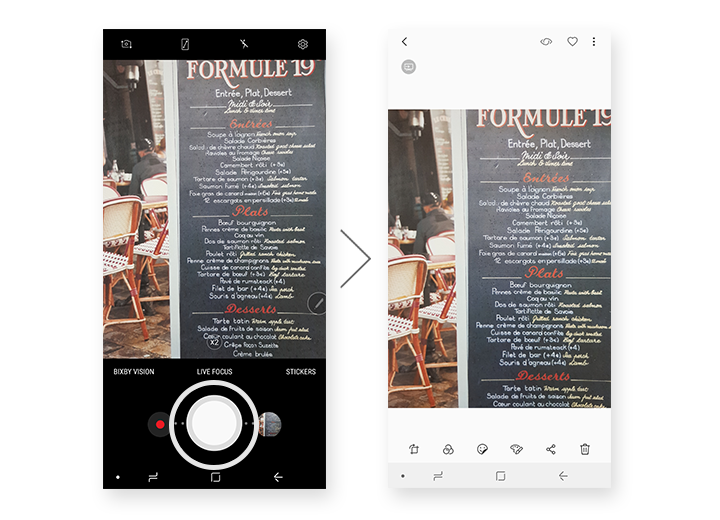 01.Launch the camera and take a picture of the menu.
02.Tap
the photo thumbnail to view the picture in Gallery.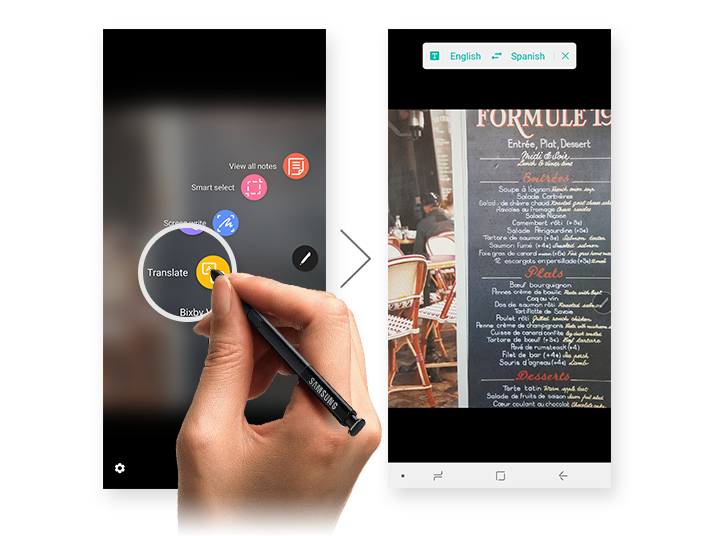 03.Take out the S Pen and select Translate from the Air Command* menu.
* To launch Air Command, push the button on the side of the S Pen and hover the S Pen over the screen.
04.Select the source language and the target language.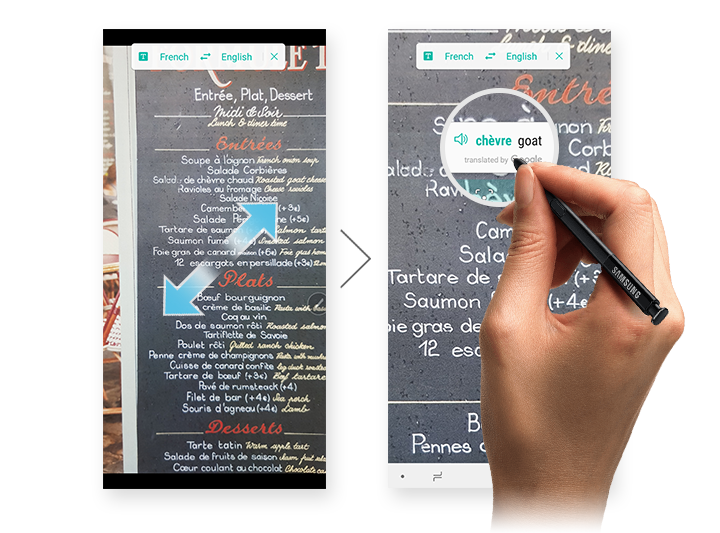 05.Zoom in on the image with your fingers, and then hover the S Pen over the text you'd like to translate.
※ This feature supports 71 input languages and 36 target languages for translation of individual words. For sentence translation, it supports 71 input languages and 39 target languages.
※ The number of supported languages is subject to change.
02 Capturing special moments with the Dual Camera
With the Galaxy Note8's Dual Camera, you can document your travels under any and all lighting conditions and get images that are vivid, bright, and rich in detail. Live Focus is ideal for shooting impressive portraits by blurring the background. With Dual Capture, you can also capture breathtaking shots of faraway scenery.
Using Live Focus & Dual Capture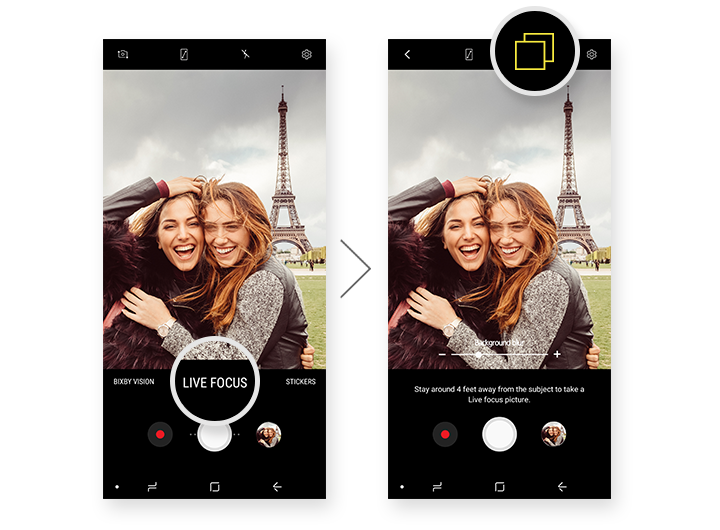 01.Launch the camera and tap Live Focus.
02.Tap
to use Dual Capture.
03.Stand about 1.2 meters away from your subject.
04.Adjust the depth of field and take a picture.
※ The feature won't work in certain conditions.
Checking & adjusting your pictures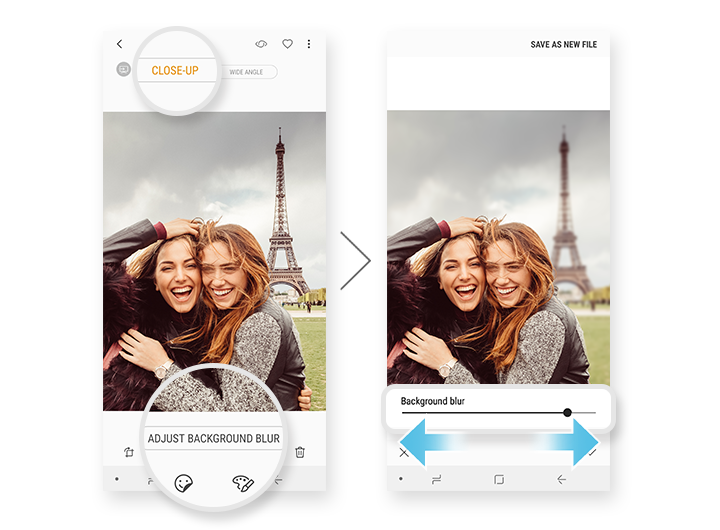 01.After selecting your picture on Gallery, tap ADJUST BACKGROUND BLUR.
02.Slide from left to right along the bar to adjust depth of field. Then, tap confirm icon

.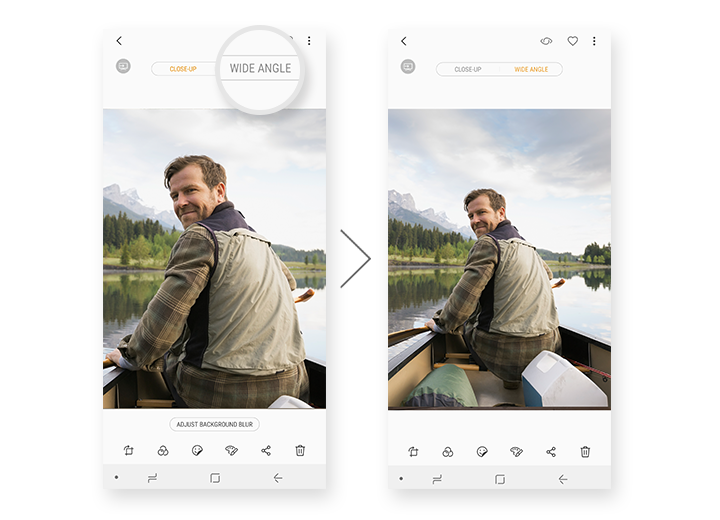 03.Tap WIDE ANGLE to check your wide-angle shot.
Syncing Gallery with Samsung Cloud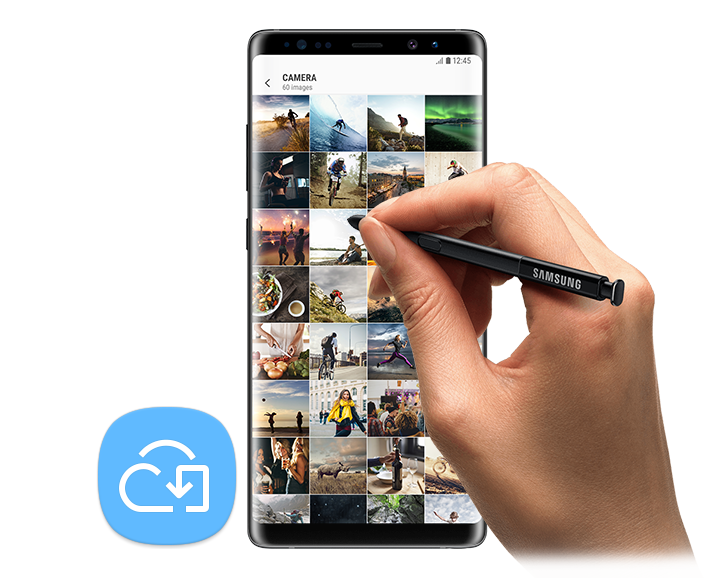 You're having a great time on your vacation, and your Galaxy Note8 is full of amazing pictures. Beautiful scenery, smiling faces, special moments with family and friends. And then, something happens that you weren't counting on: you lose your phone. Have you lost all those pictures too? To prepare for the unexpected, sync Gallery with Samsung Cloud. Keep reading to find out how.
01.Launch Gallery, and then tap Settings > Sync with Samsung Cloud.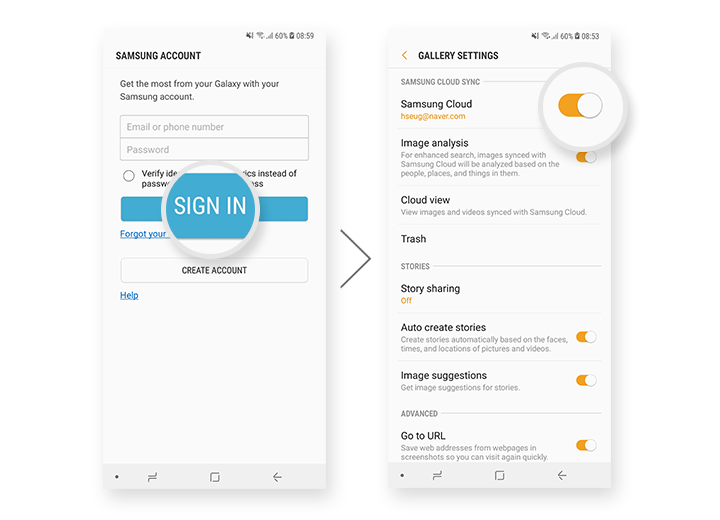 02.Log in to your Samsung account, and then activate the Samsung Cloud switch.
※ To use Samsung Cloud, you have to sign in to your Samsung account.
※ Wi-Fi must be connected to use Samsung Cloud.
04 An easy way to make your souvenir shopping list: Screen Off Memo
You probably have a long list of people to buy souvenirs for: That's where Screen Off Memo comes in. To add to your shopping list, just take out your Galaxy Note8 and your S Pen. You can stay organized without waking up the screen.
01.Take the S Pen out.
02.Write a memo on the screen.
03.Select pincette icon
with your S Pen.
04.Tap PIN TO ALWAYS ON DISPLAY to pin your memo to the screen.
※ With Screen Off Memo, you can add up to 100 pages of memo.
※ To edit a memo you've pinned to AOD, you need to launch Samsung Note.
Today we've seen how the Galaxy Note8 can make your travel experience more convenient. We hope you have a wonderful trip, and we'll be back soon with more stories about the Galaxy Note8.
※ The above descriptions are based on Android 7.0 (Nougat).
Notice of changes to Samsung Cloud
Dear customer,

Hello.
We would like to thank you for using Samsung Cloud services, and would like to inform you of the following important change(s) made to our services.

■ Summary of Changes to the Services
- As of June 1, 2019, any users who create or recreate a Samsung account will be provided with basic storage of 5GB.
- To Users who created a Samsung account on or before May 31, 2019, basic storage of 15GB will continue to be provided notwithstanding this change to the Services.
■ Effective Date: June 1, 2019

If you have any questions regarding this change, please contact http://help.content.samsung.com.

Thank you for using Samsung Cloud services.

Please answer all questions.