What is NFC and how do I use it?
Near Field Communication (NFC) technology allows users to make secure transactions, exchange digital content, and connect electronic devices with a touch. NFC transmissions are short range (from a touch to a few centimetres) and require the devices to be in close proximity.
NFC is the technology in contractless cards and the most common use of NFC technology in your smartphone is making easy payments with Samsung Pay. NFC can also be used to quickly connect with wireless devices and transfer data with Android Beam.
Turning on and changing your NFC settings
1
Swipe up from your home screen, to access your apps
2
Tap Settings
3
Tap Connections
4
Tap NFC and payment
5
Tap the switch to turn NFC on
Now that NFC has been enabled on your device you can change your settings for Android Beam and Tap and pay.
6
Tap the switch next to Android Beam to turn it on. You can now share webpage links, contacts and more by holding your phone near to an NFC-enabled device
7
Tap Tap and pay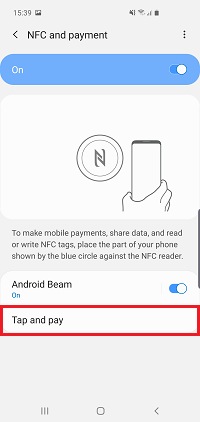 8
Select your preferred mobile payment service and follow the on-screen instruction to finish setting it up
How do I quickly turn NFC on and off?
1
Swipe down from the top of the screen twice, to access your quick settings
2
Swipe left to see more options
3
Tap NFC to turn it on or off
Where is the NFC beam on my smartphone?
The location, angle and size of the NFC beam on your phone will depend on the specific model you are using. Please refer to your specific device to find out the location of your NFC beam. If you can't see your device below you can find your user manual at Samsung Support.
Samsung Galaxy Note series
If you're experiencing unusual behaviour on Samsung mobiles, tablets or wearables, you can send us an error report or ask us a question in the Samsung Members app.
This allows us to take a closer look at what is happening. The data is anonymised and only held for the duration of the investigation. Find out more about sending an error report through the Samsung Members app.
Not finding what you're looking for? We're here to help.
Call
0818 717100Phone Support
Smartphone support | Mon-Sun | 8am to 8pm
All Products support | Mon-Sun | 8am to 8pm

0818 302 016Samsung Shop
For new and existing orders | 9am - 5pm, 5 days a week
0124 75161B2B Support
For business support
8am - 6pm, Mon - Fri
Calls to 0818 numbers are a National Call number.
These are subject to call charges which vary by network and are subject to change.
Calls maybe recorded for training and quality purposes.
For information on how we collect and use your details, please refer to our Privacy policy
* For any printer related enquiries please visit the HP website.
Contact Us