Turn your phone into your wallet
With Samsung Pay, you can shop using your Galaxy smartphone virtually anywhere† contactless is accepted.

Available on select devices Get The App

Pay your way
Samsung Pay lets you make purchases above the £30 contactless limit in shops across the UK*.
Keep your favourite cards in one place
Samsung Pay lets you carry your credit, debit and loyalty cards on your device1.

Credit and debit cards
Add your qualifying MasterCard® or Visa card issued by our partner banks and building society. Samsung Pay currently supports these partners and there are more on the way.
Do more with Samsung Pay
Loyalty
You can upload your loyalty cards at selected merchants in the UK, accumulate and redeem points. 2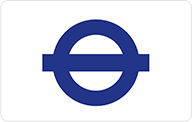 Transport
You can set up a card as a 'transport card' to use on TfL services. This option means you don't even need to wake your phone or verify with a fingerprint, iris scanner or PIN – simply touch the middle section of your phone against the card reader.3
Get an extra layer of security
With Samsung Pay, each transaction is covered by your bank's fraud protection and authenticated by intelligence scan4, iris scan5, fingerprint or PIN number. Plus, tokenisation adds an extra layer of security.
4 Available on Samsung Galaxy Note9.
5 Available on Samsung Galaxy S9+, S9, S8, S8+ and Note8.
Card & transaction protection
Pay confidently from your phone, knowing that the same fraud protection your bank gives your credit and debit cards carries over to Samsung Pay.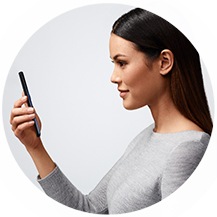 User authentication
Every transaction is authenticated by intelligence scan, iris scan, fingerprint or PIN number. If your phone is lost or stolen, you can remotely lock or erase your Samsung Pay account with Find My Mobile.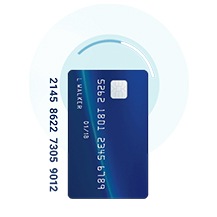 Data security
Tokenisation creates a unique randomised set of numbers to be used at each new transaction, so your real card number is never used from your phone.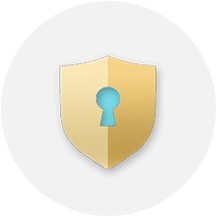 An extra layer of defence
Samsung Knox technology constantly monitors your phone to keep your information safe. Your card information is encrypted in a separate and secure data vault at all times.
Get started
Activate
Download it from the Samsung Galaxy Apps store. Then, sign in to your Samsung account.
Lock down security
Scan your fingerprint or iris and enter a pin, so you can authenticate future purchases.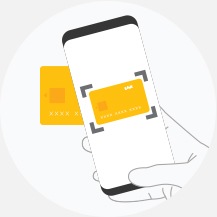 Add your cards
Snap a picture of your card and complete details where necessary.
Use Samsung Pay
Head over to your favourite shop and see how easy it is to check out.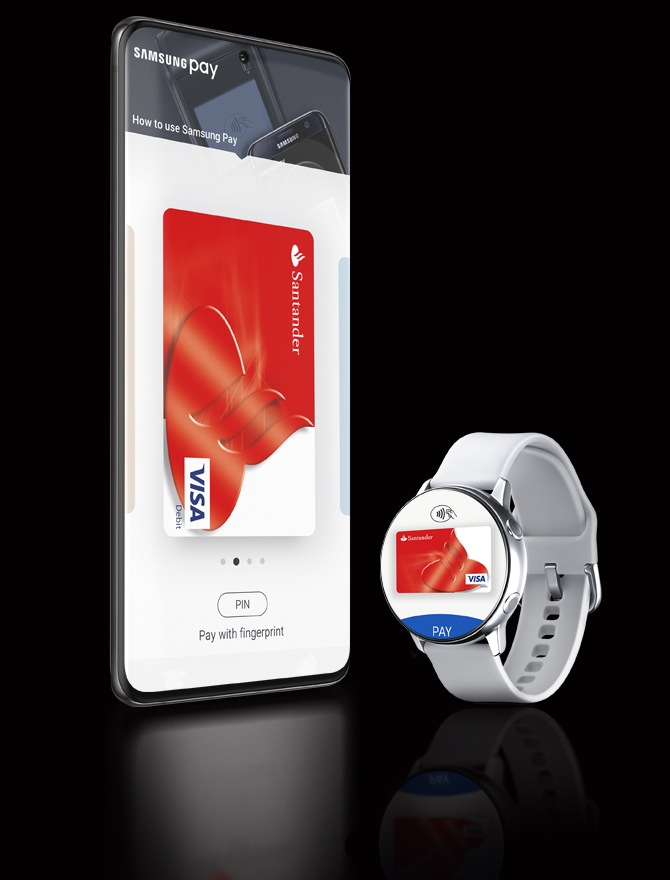 Available on our latest devices
Samsung Pay is currently available with Galaxy S10 5G, S10+, S10, S10e, Note10, Note10+, Note10+ 5G, S9, S9+, Note9, S8, S8+ and Note8, S7 and S7 edge, S6, S6 edge and S6 edge+**, A70, A50, A40, A20e, A8, A6, A3, A5 2017, Samsung Galaxy Watch Active2, Samsung Galaxy Watch Active, Galaxy Watch, Galaxy Watch 4G, Gear S3 & Gear Sport.

Get The App
Terms and Conditions apply: http://www.samsung.com/uk/Samsung_Pay_Terms_of_Service

Privacy Policy: https://www.samsung.com/uk/samsung_pay_privacy_policy

Samsung Pay Privacy Policy: https://www.samsung.com/uk/Samsung_Pay_privacy_notice/

Samsung Pay Card Terms of Service: https://www.samsung.com/uk/samsung_pay_card_terms_of_service

Samsung Pay level box speaker promotion Terms and Conditions: http://www.samsung.com/uk/offer/PayBetterThanEver



†Available with participating networks, banks and merchants on selected devices, on NFC terminals. A limit of £30 may apply, based on merchant policies. Some merchant's card readers will not accept contactless payments above £45. For mobile payments with pin or fingerprint authentication, there is no limit.

1 Available with participating networks, banks and merchants on selected devices, on NFC terminals.

2 Subject to shop policies.

3 Compatible with London buses, the Tube, London Trams, DLR, London Overground, TfL Rail, Emirates Air Line, River Bus and most National Rail services in London.

4 Available on Samsung Galaxy S10e, S10, S10+, Note10, Note10+, Note10+ 5G, S9, S9+, Note9, S8, S8+ and Note8.

* Subject to merchant policies.

** Available on Samsung Galaxy S6, S6 edge and S6 edge+ devices which have the Android Nougat 7.0 software update.