Unsure what the best TV size is for your bedroom or living room? We've put together our expert tips on how to work out the best size TV for your space, so you can choose the perfect TV for you.
How to measure a TV screen?
Calculating your TV size is less complicated than you might think. A TV's size refers to its diagonal length, measured from the upper left-hand corner of the actual TV screen to the lower right-hand corner. Most TV sizes are expressed in inches.
How do you determine what size TV to buy?
TVs come in various sizes, so it can be difficult to know how big your TV should be. We recommend that you choose the biggest TV size  you can fit in the room for a truly immersive viewing experience. According to Samsung Internal Research, a major reason for purchasing new TVs is the demand for bigger screens. Our research also indicates that customer satisfaction amongst owners of big TVs is high as bigger TV screens offer a more attention-grabbing viewing experience. So, if there has been a particular screen size on your mind, now is the time to go big and never look back.
Recommended viewing distance for your TV
TV viewing distance is something to keep in mind when deciding what is the best size TV for your room and calculating how far you should sit from your TV. All TVs have a recommended distance and angle that you will want to consider when setting it up in your home. The best, most immersive viewing experience occurs when 40 degrees of your field of view is taken up by the screen.

This field of view distance can easily be calculated if you know the size of your TV. To calculate the suitable distance, multiply the TV screen size by 1.2. For a 75 inch TV, for example, this would mean sitting 90 inches or 2.3 meters away. Have a look at the table provided below, with the recommended viewing distances for various TV sizes. This will help you choose the best TV size for your space.
| Screen Size | Viewing Distance |
| --- | --- |
| 32 Inch | 1.07 m (3.5 ft) |
| 43 Inch | 1.37 m (4.5 ft) |
| 50 Inch | 1.53 m (5.0 ft) |
| 55 Inch | 1.68 m (5.5 ft) |
| 65 Inch | 1.98 m (6.5 ft) |
| 75 Inch | 2.29 m (7.5 ft) |
| 85 Inch | 2.59 m (8.5 ft) |
| 98 Inch | 3 m (9.8 ft) |
What sizes do TVs come in?
TVs these days come in all shapes and sizes. The most common TV sizes are 32", 43", 55" and 65", and there has been a steady increase in 75",  85" and 98" models in recent years. In 2019, we launched the largest television to date, the infamous The Wall TV at an impressive 292" - around 24 feet!


Let's take a look at the different television sizes that you have to choose from.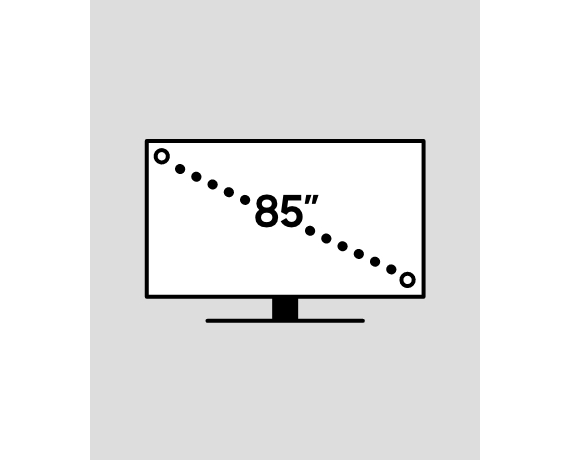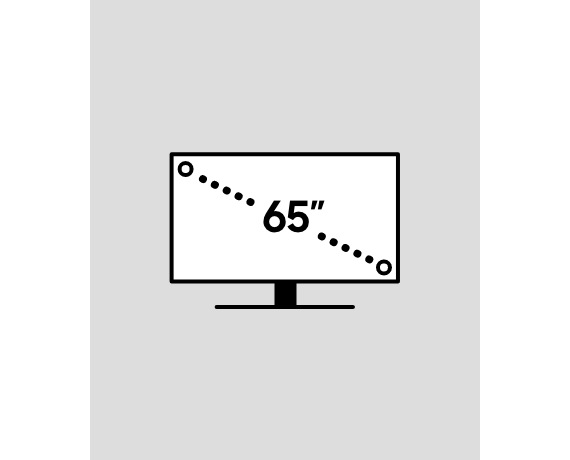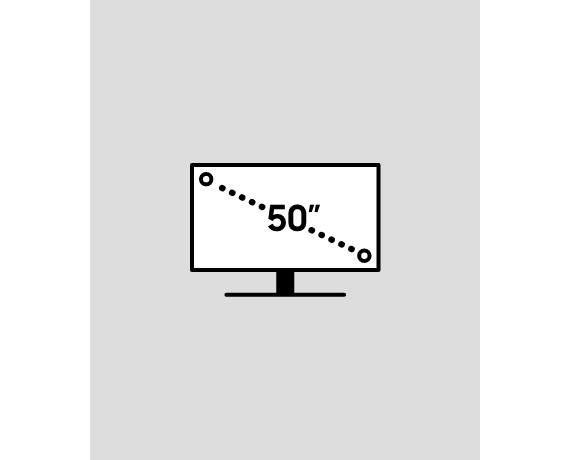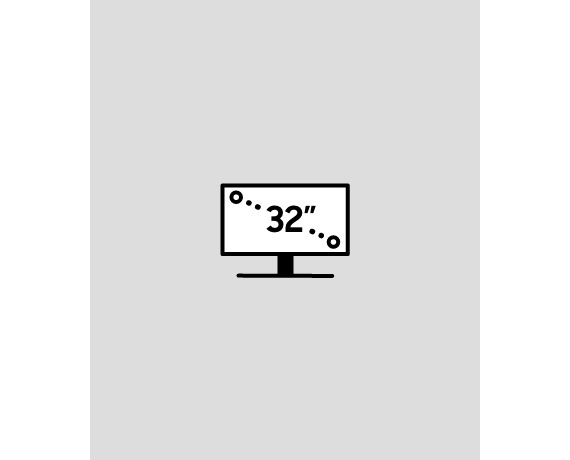 Smaller TVs
If you'd rather go for a smaller TV model, we've got you covered. Our range of 30-39" TVs are ideal if your living space is more limited - or if you want to place a television on a table or countertop without overcrowding the room. Our 30-39 inch TVs come in either HD (1,366 x 768) or Full HD (1,920 x 1,080) resolution, so you can rest assured that small does not mean compromising on picture quality.
Mid-size TVs
If you've got your mind set on something a little bigger, check out our 40-49" or 55-64" televisions. All of our 40-59 inch TVs offer 4K resolution, which is great news if you're looking to get the most out of Netflix, Amazon Prime Video or Disney+, all of which offer plenty of 4K content.
Big Screen TVs
If you have adequate space for a larger TV display, you'll be able to treat yourself to the kind of entertainment that only a home cinema experience can offer. Our 60+ inch TVs bring incredible movie experiences delivering either 4K or 8K resolution straight to your living room. Plus, you can see all your favourite content in one screen with the Multi View feature which allows you to split your screen and view several types of content at the same time. Enjoy the TV show on the main left screen while mirroring your phone on the smaller right hand side screen. Find out more about our big screen TVs or learn what 4K TV means, what is 8K TV & what is the difference between 4K & 8K here.
* Content within screen is simulated for demonstration purpose.
** Supports Screen Mirroring compatible devices (Android 4.2 and higher) and Airplay 2 compatible devices.
*** Some source or apps may not support Multi View.
**** The function and user interface may vary by model and region.
***** Available video call apps may vary by region.
Other things to keep in mind
1. Check the actual TV dimensions.
The excitement of buying a new TV can often cause you to forget about the actual task of setting it up. A TV is more than just its screen size. The physical dimensions of a big screen TV, stand and bezel included, as well as its future placement in its room are all important factors to remember. Be sure to compare the exact TV dimensions with your furniture setup to avoid headaches down the road when setting up your big screen TV.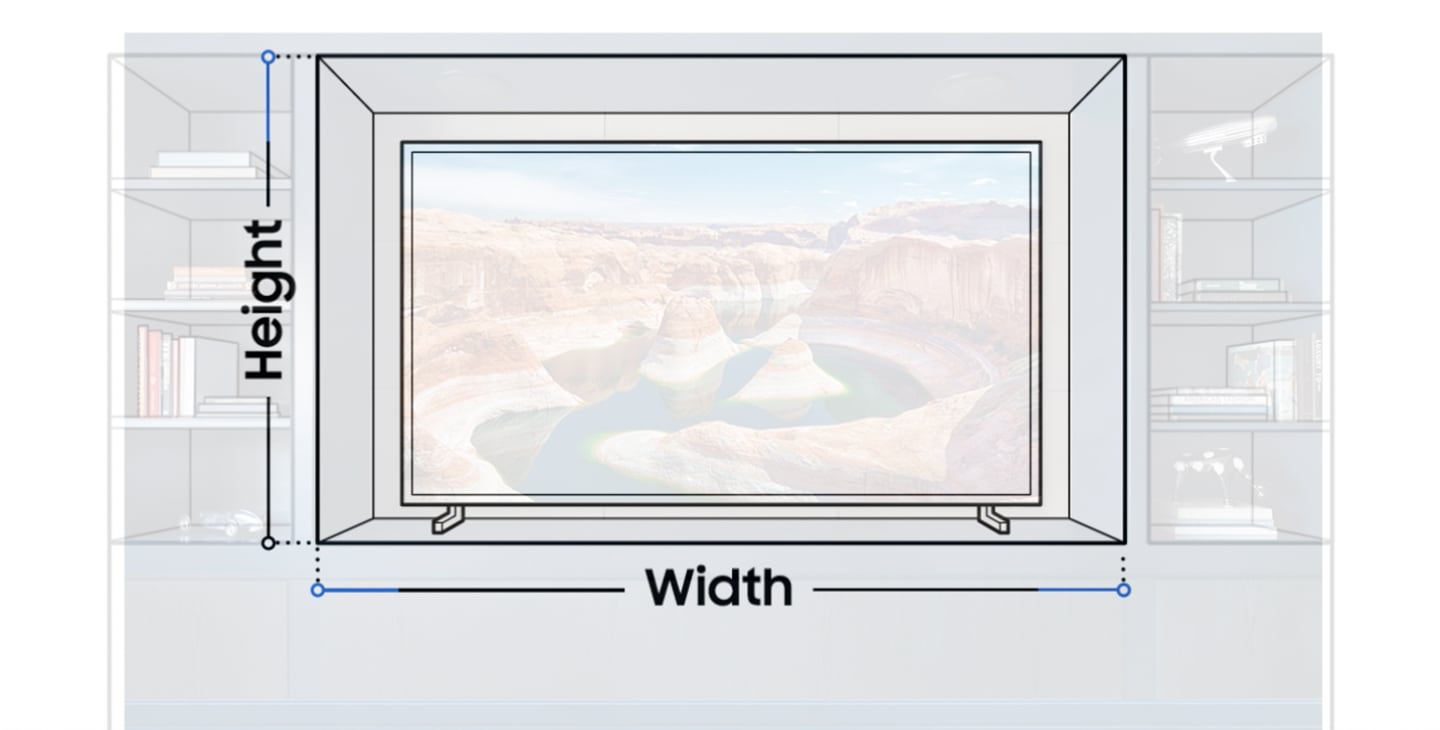 2. Check the TV resolution, especially with a big screen TV.
The general rule of thumb when it comes to checking your TV resolution is that as the screen size increases, so should the total pixel count or resolution. The better the resolution, the more you see of the image, as opposed to the pixels. This is why when you buy a big screen TV, it is highly recommended that you go with a high-resolution picture quality like 4K or 8K resolution to avoid a blurry image quality.