What does HDR mean on a TV?
HDR10 is the original and most common variation of HDR that you might come across. If manufacturers want to associate this term with a TV, it means that the TV must reach a certain standard based on colour subsampling, bit depth and other factors… To put it simply, the TV has to produce a certain standard of picture quality and this is measured against a variety of criteria.

Does HDR make a difference?
Yes! HDR introduces a wider range of colours and brightness levels compared to Standard Dynamic Range (SDR) by telling the TV exactly which colours to display at the correct level of brightness. SDR by contrast only has a limited range of brightness and colours so images tend to be duller and less sharp. 

Here's why we would always recommend a HDR10+ TV:

• Images appear more life-like with exceptional levels of contrast
• Brightness levels adapt to what you're watching
• Higher levels of peak brightness 
• Wide colour gamut resulting in deeper, richer colours
• Clearer details in dark areas
• The latest TV content is optimised for HDR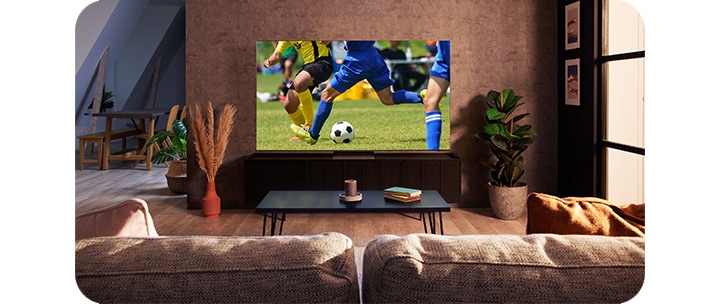 Do all 4K TVs have HDR?
Yes, all Samsung 4K TVs benefit from HDR technology. However, 4K TVs from different TV brands might not necessarily have HDR included since they are in fact two different display technologies - you can therefore have one without the other.

HDR optimises the contrast - giving the picture greater vibrancy, brightness and depth, whilst 4K is responsible for how detailed the image you see on the screen is. Together they create breath-taking images that look true-to-life. For the best TV picture quality you should opt for a TV with both 4K (or indeed 8K) and HDR10+.

Check out exceptional HDR10+ TVs across the Samsung range in our comparison table below.

Category

Picture Quality

Screen Size

Resolution

Quantum Matrix Technology

Processor

HDR

Colour Volume

Sound

Dolby Atmos

OTS

Q- Symphony

Space Fit Sound

Design

Design

Smart TV

Smart TV

Multi View

Video Call Apps

Gaming motion
Is HDR good for gaming?
Due to HDR's ability to create high contrast between light and dark areas on screen, HDR technology is perfect for gaming. Particularly for gamers who enjoy playing warzone, exploration or high intensity games on a console or PC.

Looking for the best TV for gaming? Check out the Samsung Neo QLED 4K HDR Smart TV for immersive, game-changing action on the big screen:
How to choose HDR TV?
If you want to experience your favourite films and shows with life-like accuracy and colour depth, then a Samsung TV with HDR10+ capability is a great place to start. Since 2020 the Frame, Serif and Terrace Outdoor TV have had HDR10+ support but all new Samsung TVs now benefit from HDR10+ as standard.

Of course there's more to consider than just HDR. There's also the design and size of TV to best suit your home. High quality sound will also ensure you're getting the best home cinema experience available, consider features such as 3D Object Tracking Sound+ (OTS+) or adding a Samsung Soundbar to take TV audio to the next level.

You can find out more about choosing your next TV, by visiting the Samsung TV Buying Guide.
What is the best HDR TV?
Now we know how HDR works and everything it does to deliver startling picture quality, this ground-breaking technology can be considered alongside other features so that you can find the best TV that is HDR capable. Whether you're interested in the innovative features found across the Samsung Lifestyle TV Ranges or maybe you'd prefer an awesome 8K giant in the Neo QLED range, finding the best HDR TV is no problem with Samsung.

Looking for one of our best? Check out the Q80B QLED 4K Quantum HDR Smart TV with a crisp picture and dynamic sound. It delivers one of the best viewing experiences available with HDR10+ today. There's no more struggling to make out what's happening on the big screen thanks to remarkable HDR brightness that brings rich blacks, bright lights and deep contrasts. And with Adaptive HDR10+, every frame is optimised to perfection, so you can enjoy exceptional detail in everything you watch.
HDR stands for High Dynamic Range and is a technology on your

Samsung TV

which improves the brightness, richness and clarity of the colours you see on the screen. It's responsible for the true-to-life colours and stunning imagery you see on the TV.

HDR (High Dynamic Range) and LED (Light Emitting Diode) are two different types of display technology, both of which can be found on one TV. LED simply refers to how the backlight of your TV display is made. Virtually every flat screen TV today uses LEDs as its source of backlighting. However, there are differences in the number and quality of LEDs used across different TV brands.

Samsung TVs use Quantum dots

to achieve an even greater level of brightness and colour clarity but fundamentally they are a type of LED.  HDR technology increases the contrast and brightness even further, so you experience only the brightest whites and darkest blacks. LED TVs particularly benefit from HDR because it improves the overall contrast ratio of the TV, making the darkest part of the image perfectly black which in turn enhances the brightness of the images you see on the screen making them come alive with a much wider colour gamut.