Free delivery and free returns on all orders.
Free delivery and free returns on all orders.
Free delivery and free returns on all orders.
Allergy UK Seal of Approval™
Look out for Allergy UK Seal Of Approval endorsement on selected models. The Seal of Approval is an endorsement of products which have been independently scientifically tested and proven to reduce or remove allergens from the indoor environment.

Intertek
Selected Home Appliances come with Total Quality Assurance by Intertek, a worldwide industry leader in assurance, testing, inspection and certification for over 130 years.

iF Design Award
Recognised for outstanding design by the oldest
and most prestigious independent design competition
in the world.

Find your ideal Washing Machine
Explore our Washing Machines
Our most intelligent collection yet.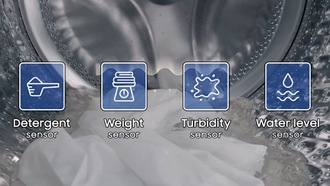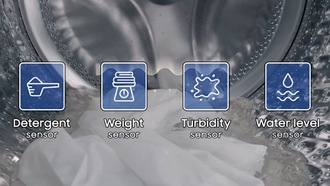 Optimised cleaning with 4 sensors
Four sensors weigh your wash load and check the level of soiling to adjust the water, amount of detergent dispensed, rinse time and spin speed* for great results and minimal wear and tear with every wash.
*AI Wash cycle available on Series 6+ (WW11BB744DGBS1 & WW11BB744DGES1) & Series 8.
Spotless in 39 min*
Bottomless laundry basket? Take the load off and power through your wash in just 39 minutes*. Spend less time washing and more time wearing. *Using Super Speed Cycle with 5kg load on series 8.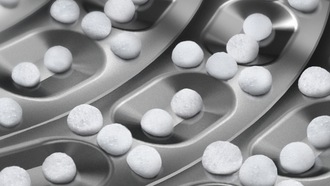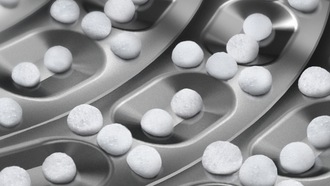 Fights stains, protects fabric
Ecobubble™ technology mixes air, water and detergent to create bubbles that wash your clothes at cooler temperatures.
Always automatically personalised for you
Get a smarter washing experience with an intelligent, easy-to-use control panel that remembers your laundry habits and suggests your favourite cycles.
Explore our AirDresser
Just hang your clothes in the AirDresser and decide whether you want to steam, clean, dry or deodorise.
Compare and choose
the best laundry product
Register easily with a QR code
Just bought a new Samsung appliance? Register yours now for a host of extra benefits. Simply scan the QR code on the product.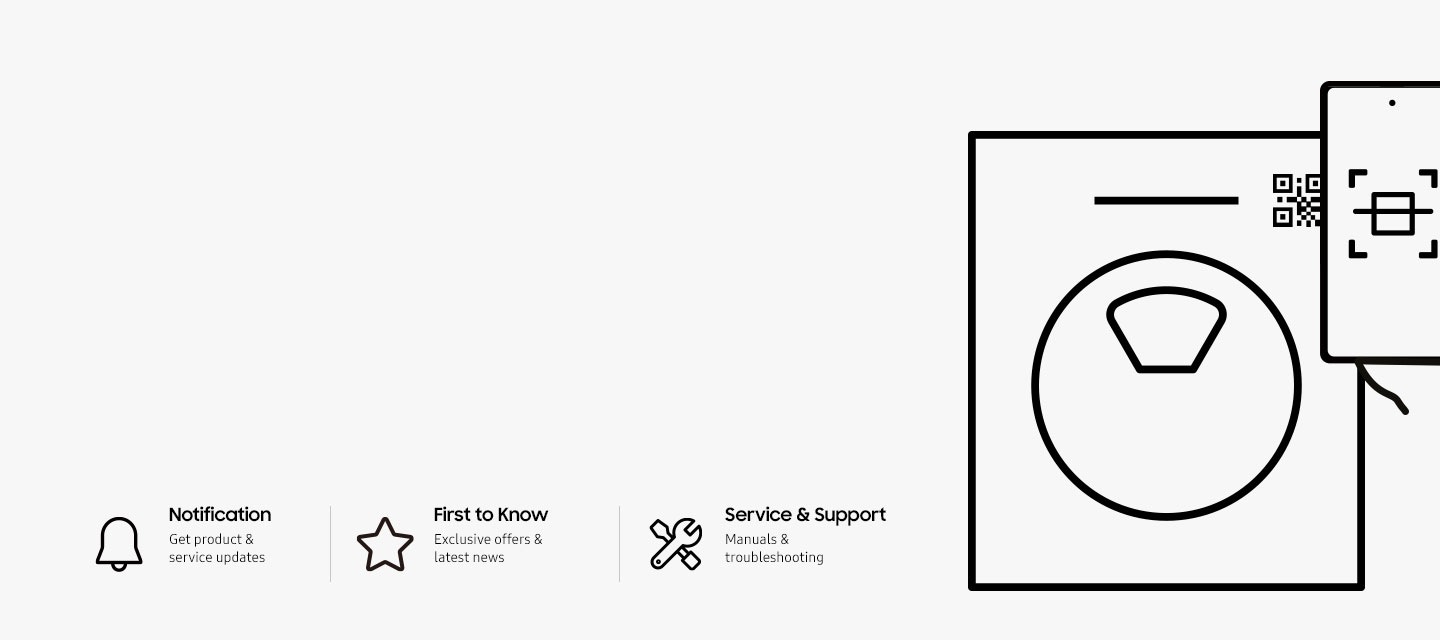 **All credit is subject to status and only available to UK residents over 18, with a UK Bank account and valid driver's license, passport, or identity card. Credit duration is variable, and you could be offered credit at a higher rate than the representative APR set out above based on your personal financial circumstances and what you tell us. For smaller baskets of between £150 and £250 a minimum upfront payment of 20% is required and 12 months fixed monthly payments. For loans above £250, a 10% deposit is required and up to 36 months of fixed monthly payments. By accepting our credit, you consent to a credit check being completed which will appear on your credit file.
Samsung Finance 
Samsung Electronics (UK) Limited (Registered no: 03086621), registered at Samsung House, 2000 Hillswood Drive, Chertsey, Surrey KT16 0RS, United Kingdom, acts as a credit broker and not as a lender. Samsung is authorised and regulated by the Financial Conduct Authority (FRN 727333). Credit is provided by Glow Financial Services Limited, 71 Queen Victoria Street, London EC4V 4BE. Registered in England No. 09127663. Glow Financial Services Limited is authorised and regulated by the Financial Conduct Authority (Reference No. 751308). Glow Financial Services acting as lender, under brand license as Samsung Finance (powered by Glow) through Samsung Electronics (UK) Limited. The Financial Services Register can be accessed through www.fca.org.uk
1. £353 saving based on the yearly average energy usage of Samsung A rated Washing Machines (£23 saving) and Samsung A+++ Heat Pump Tumble Dryers (£330 saving), sold in major UK retailers as of 25/04/22 as determined by Youreko, using an average 28p tariff. Savings based on Samsung A rated washing machines compared to the average energy use of other manufacturer D rated washing machines (most purchased energy rating 2021, GFK), using 284 cycles/yr on an eco 40-60 program and Samsung A+++ Heat Pump Tumble Dryers versus the average energy usage of condenser tumble dryers, completing 260 cycles per year (Based on the EU Energy Label Standard  of a full load using the standard cotton cupboard dry program, using a spin cycle of 1000 rpm leaving a moisture content of 60%).
2. By proceeding to purchase and take advantage of this promotion, you accept the following: The trade-up discount you receive is an incentive to recycle and to purchase a new Samsung appliance or television; it is not a trade-in value for the recycled appliance or television. Recycled appliances and televisions are non-returnable and have a zero value. If you return the appliance or television you purchased for a refund (for any reason) you will not receive any amount or value for your recycled appliance or television. You will be required to fully your appliance or television uninstall (including disconnecting and draining of water, or backing up and wiping of all personal data, as applicable) and make sure it is ready for collection at the same time we deliver your new appliance or television. We reserve the right to refuse the delivery if you fail to do so. A surcharge equal to the amount of the discount you received will apply if you do not recycle or have your appliance or television ready for recycling. Offer cannot be combined with multi-buy promotions or discount codes for Home Appliances. Each household may only recycle one of each type of product and will receive only one trade-up discount for each product type recycled. The trade-up discount is an incentive to recycle, it is not a trade-in value for the recycled appliance. Only available on Samsung.com.
3. Offer ends 05/01/23. Discount applied automatically at checkout when two or more qualifying products in basket. Excludes all cooking appliances & accessories. While stocks last.
4. Available on selected purchases between 1 September 2022 and 31 August 2023. Redeem your warranty within 90 days of purchase. For terms and conditions, visit http://www.samsung.com/uk/fiveyearwarranty/
5. Samsung Electronics (UK) Limited. UK, Channel Islands, Isle of Man and Republic of Ireland residents aged 18+ or a business registered within the same. Participants who purchase Promotion Products between 01/12/22 – 20/12/22 from Participating Retailers are eligible to claim a cashback reward paid via bank transfer. Claims must be submitted within sixty (60) days from the date of purchase, the date of purchase counts as day 1. Claims must only be made by the end user customer. Maximum 4 claims per household and 50 per registered business during the Promotion Period. See https://samsungpromotions.claims/20_days_of_christmas to claim and for full T&Cs.