Procedure to cook or reheat food in Samsung Microwave Oven(MC28M6055C)?
Last Update date :
Oct 29. 2020
The following procedure explains how to cook or reheat food.

CAUTION: ALWAYS check your cooking settings before leaving the oven unattended. Open the door. Place the food in the center of the turntable. Close the door. Never switch the microwave oven on when it is empty.

1. Press the Microwave button.
The following indications are displayed: (Microwave mode) 900 W (Output power)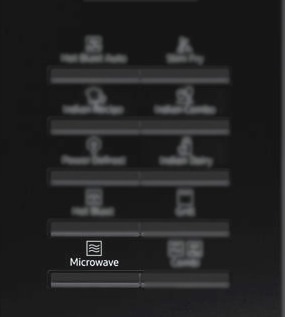 2. Turn the Multi Function Selector Dial until the appropriate power level is displayed. At that time, press the Multi Function Selector Dial to set the power level.

● If don't set the power level within 5 seconds, automatically changes to the cooking time setting stage.

3. Set the cooking time by turning the Multi Function Selector Dial. The cooking time is displayed.

4. Press the START/+30s button. The oven light comes on and the turntable starts rotating. Cooking starts. When it has finished.
1) The oven beeps 4 times.
2) The end reminder signal will beep 3 times (once every minute).
3) The current time is displayed again.