Using Twist Ice tray in a Samsung Refrigerator
Last Update date :
Oct 13. 2020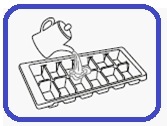 a) Pouring water into ice cube maker.
● Fill the ice maker upto 80% with water.
b) Place the ice maker in freezer drawer.
c) To take out the ice cube.
● Twist the ice cube maker slightly
Warning: Danger of explosion.
● The coldest parts of the refrigerator are the rear panel.This is the best place to place delicate foodstuffs.
● Glass bottles containing liquids that can freeze should never be stored in the freezer as the glass can explode when the contents freeze.
Note: Making ice quickly
● To make a large amount of ice quickly, press the super freeze button to select the fast freeze function.
Please answer all questions.