Why are the side walls of a Samsung refrigerator heating up?
Last Update date :
Oct 17. 2022
Refrigerators generate heat during the process of making cold air. In order to cool this heat down, heat dissipation pipes are installed on both outer walls of the refrigerator, so when the product is operated, heat is generated on the side walls of the refrigerator.
In addition, to maintain the cool temperature inside the refrigerator, the heat generated when the compressor is operated periodically is dissipated to the front and sides of the refrigerator and, therefore, this phenomenon is not a malfunction.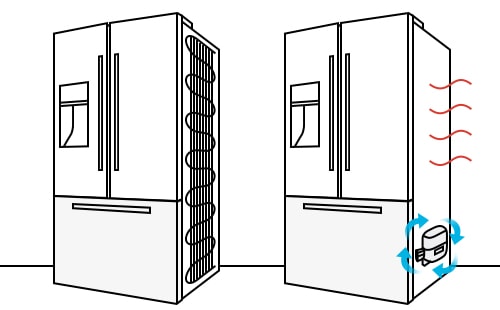 Precautions to prevent the excessive heating of the refrigerator
Gap between the refrigerator and wall

If your refrigerator feels warmer than it should, it may be the spacing between your refrigerator and its surroundings.

Ensure that there is a minimum distance of 5cm of space free around the sides and at the back of the unit and then at least 2.5cm space at the top.
Check the surrounding environment of the refrigerator

Avoid direct sunlight on the refrigerator.

Do not put any heating appliances around the refrigerator.

Do not cover the top of the refrigerator.
Cleaning the back of the refrigerator

We recommend that you clean the back of the refrigerator periodically.

Unplug the power plug from the wall socket when you clean the back of the refrigerator
Set the proper refrigerator temperature
When the ambient temperature is high, please do not set the refrigerator temperature too low. Generally, it is recommended to adjust the refrigeration temperature to 7℃ in the summer.
Proper food loading
Do not store too much food. In general, it is better not to exceed 80%.
Do not open the door for a long time or frequently
Note : 
In particular, a lot of heat may be generated during a hot summer or during the initial installation and operation of the product, but it is not a malfunction if cool air comes out well inside the refrigerator. 
Occasionally, the side of the refrigerator may feel hotter than usual immediately after a certain period of inactivity or after receiving after sales service, but this occurs in the process of circulating gas and gradually changes to a similar level as the temperature gradually cools. 
If the side of the refrigerator is extremely hot even after checking all of the above, please contact the Samsung Service Center.
Please click the submit button below to share your feedback with us. Thank you for your participation.
Please answer all questions.