Using Bixby Voice on my Samsung Phone
Last Update date :
Oct 29. 2020
Note: This help content is only applicable to the product purchased from Indian retailers. If you require help for the products purchased from US, Kindly visit Samsung US support section and for other countries, kindly contact your local Samsung Subsidiary.

Bixby is a user interface that helps you to use your device more conveniently. You can talk to Bixby or type text and Bixby will launch a function you request or show the information you want. It also learns your usage patterns and environments. The more it learns about you, the more precisely it will understand you. 

All you'll need to do to use Bixby is to create or sign into your Samsung Account on your Galaxy phone and stay connected to either a Wi-Fi or mobile network.
Before you try out below recommendations as to your solutions, be sure to check if your device's software and related apps are updated with latest version. Please check how to update your mobile device's software in following order.   
Step 1. Go to Settings > Software update.
Step 2. Tap on Download and install. 
Step 3. Follow the on-screen instructions. 
When you launch Bixby for the first time, you will first need to complete the setup and depending on your Galaxy device layout you will either need to hold down the designated Bixby key or Side key. If your Galaxy device has a side key however you are unable to launch Bixby, you may need to adjust your side key settings.
1
Press the Bixby key or Side key to activate Bixby Voice
2
Press
to proceed to the next step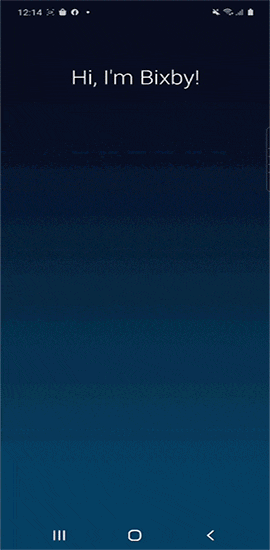 3
Choose your preferred language then tap on
4
Read and Agree to the Terms & Conditions then tap on
5
Now its time to register your voice, once set you can activate Bixby Voice by saying "Hi, Bixby".
Ensure you speak clearly when your phone approximately 30 cm away from your face.
6
Once setup you will then be redirected to the Bixby screen where you can view tutorials, suggested commands and access additional options.
Please Note: You are unable to disable the Bixby button, if you are accidentally tapping the button you can change the Bixby Key settings. Simply head into the Bixby Voice settings > enable Double press to open Bixby.
Using Bixby Voice
There are a few different ways to get the most out of Bixby Voice, you could ask to start a Scene or Automation using SmartThings, find amazing recipes online with Smart Recipes, Detect Song Titles, Control Music and even help you translate.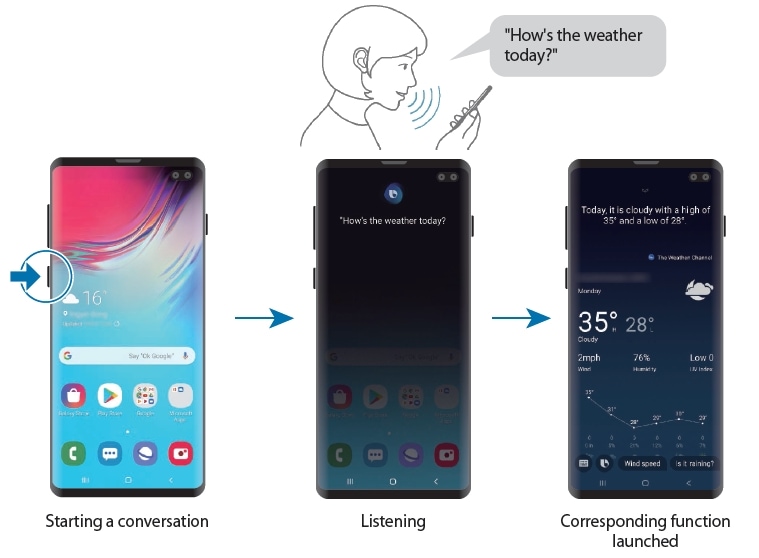 Customising Bixby Voice Settings
If you would like to further customise your Bixby settings like enabling or disabling automatic listening or change the language, follow the below guide to alter the settings to your preference.
1
Tap on

>

2
Scroll through the Bixby Voice settings and adjust accordingly
Language and Voice Style: Users can choose from a range of languages and voices for Bixby Voice and this will not change the language and input of the internal phone settings.
Voice Response: You can either choose Always or Hands-free only - this setting will determine when Bixby will respond to your requests.
Automatic Listening: Based on your settings, Bixby can automatically turn on your microphone after you ask a question - either select Hands-free only or Never.
Voice wake-up: You can choose to allow Bixby to unlock your phone when you say "Hi, Bixby", as well as alter the wake-up voice sensitivity, improve voice wake-up accuracy and delete voice wake-up recordings.
Use while phone locked: Allow Bixby to perform functions like making calls and checking weather while your phone is locked.
Bixby dictation: With the keyboard open, press and hold the Bixby key to start the dictation.
Bixby Key: Allows you to either choose to activate Bixby with a single press or a double press of the Bixby button.
Personalisation: Let Bixby tailor your results and suggestions based on our preferences.
Marketing notifications: Receive information about products, services and promotions from Bixby and its partners.
Privacy: Allow Bixby to access your data - this is only a temporary access to your emails, messages and notifications.
Delete Voice Wake-up recordings
1
Tap on

>

2
Select Voice wake-up > Delete voice wake-up recordings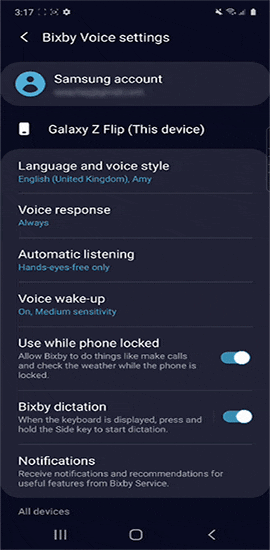 DOES BIXBY VOICE ACCESS OR COLLECT INFORMATION ABOUT MY LOCATION?
When you ask a question or issue a request, Bixby Voice accesses location information obtained from your device if 'Location' is turned on in your device settings, and will use that location information as necessary to answer a question you ask or respond to a request you make (e.g. if you ask "How's the weather today?", Bixby Voice will use your location data to figure out the correct weather information to provide to you). However, Bixby Voice will not be able to access your location data if you have turned 'Location' off in your device settings.
Please answer all questions.