Function of Coaxial & Optical Digital Output
Last Update date :
Oct 12. 2020
Co-Axial cable and Optical Digital cable outputs provide the highest-quality audio. They send the digital sound information to your Samsung receiver for decoding. You can use either one of these if you have a Dolby Digital receiver.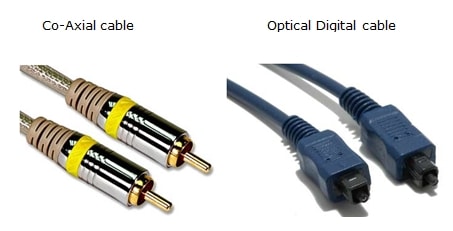 5.1 channel outputs :
5.1 channel is a set of six analog outputs, one for each of the Dolby Digital channels (left front, center, right front, left rear, right rear and subwoofer). The DVD player decodes the Dolby Digital signal and uses its own DAC to output an analog signal. These are the outputs user will need to use if user hooking the DVD player up to a "Dolby Digital ready" receiver.
DVD players with 5.1 channel outputs will always have Dolby Digital decoders, and they may or may not have DTS decoders. If user have a "Dolby Digital ready" receiver and user want DTS sound, user will need a DVD player with a built-in DTS decoder.
Stereo outputs:
These outputs carry only the stereo music signal. User would use these if user were hooking DVD player up to a TV that has only two speakers (left & Right).