How to remove lock screen ads for Samsung Galaxy Device
Last Update date :
Dec 01. 2021
Samsung does not put advertisements on your home or lock screen. Ads are from previously downloaded apps in common. Sometimes, you see ads on your lock screen when you are not even using your mobile. There are some ways to get around to these advertisements by trying out below methods.
Before you try the recommendations below, be sure to check if your device's software and related apps are updated to the latest version. To update your mobile device's software, follow these steps: 
Step 1. Go to Settings > Software update.
Step 2. Tap on Download and install.
Step 3. Follow the on-screen instructions.
Recently downloaded app can cause the ads
If you have started seeing these ads on your Android lock screen only recently, chances are a newly downloaded app is responsible for the doubtful act. You can easily check recently activated apps and uninstall them using the Play Store. 
Step 1. Go to Google Play Store.
Step 2. Tap on Menu > My apps & games.
Step 3. Tap on Installed > sort by Last Used.
Step 4. Among the most recently used apps, select an issued app and tap Uninstall to get rid of the application. 
Note : Flashlight, battery optimization, or weather apps tend to cause advertisements on the lock screen. Try to delete these types of apps first and see if the problem persists on your mobile device.
Option 1. To avoid potentially unwanted ads
Android viruses are not that uncommon, especially when it comes to careless installation of programs from unknown sources. To avoid unwanted programs and Android's malware, make sure you download apps from reputable sources. Other tips from experts include:
Check for app permissions: never allow the application to gain administrator's right.

Read online reviews: not those on the official sources, as hackers might place fake reviews.
Make sure your Android is updated with latest security patches.
Avoid apps from unknown publishers.
Option 2. Report inappropriate ads to Google
Google Play Policy clearly states that the app must not contain fraudulent ads or ads that cause discomfort. Ads can only appear inside of the app being served. In general, ads served within the app are considered as part of the app. Therefore, ads displayed in the app must comply with all Google policies. 
In case you have identified the app with inappropriate ads, you can report to the Play Store if you suspect it is in violation of the Play Store terms and services. 
Step 1. Go to the install page for the app in Google Play Store.
Step 2. Tap on More options (three vertical dots) > Tap Flag as inappropriate.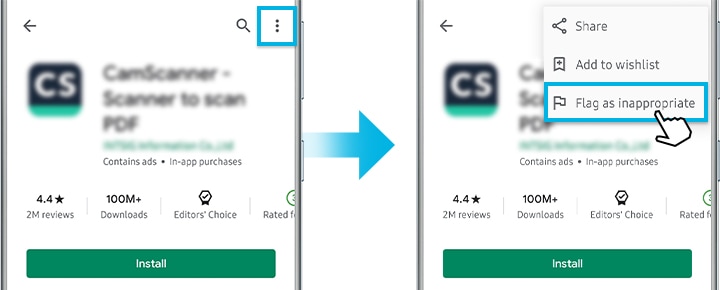 Note: Device screenshots and menu vary depending on the device model and software version. 
Please answer all questions.