7 Geolocation Games to Get You
Exploring the Outdoors
With these location-based games, you don't have to choose between going outside and gaming.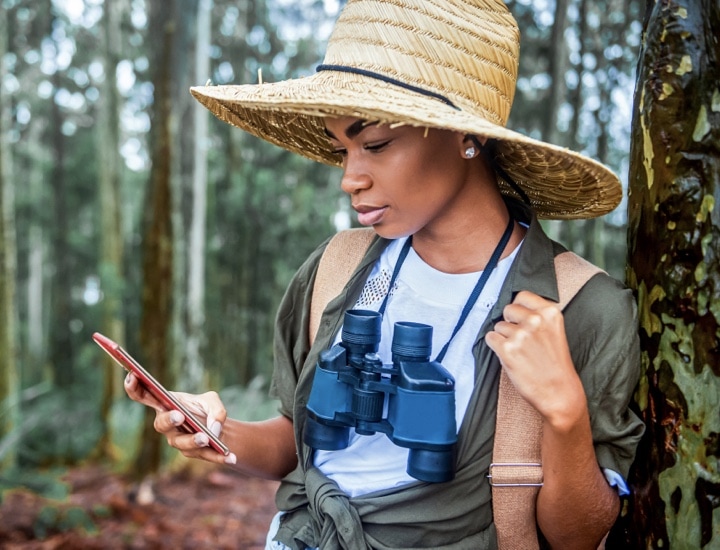 Most games are made to be played on the couch, which makes winter gaming easy. But once warmer months roll around, you're faced with a tough choice: stay inside and keep doing what you love, or go outside but lose precious game time. With the long-lasting battery and hyperfast speed of the Galaxy S21 5G, you don't have to choose.

Read on for seven geolocation games that won't just get you off the couch,
they'll require it.

Zombies, Run!
If you want to strap on your running shoes and hit the track but aren't feeling quite motivated enough to do it, Zombies, Run! is made for you. This audio adventure game uses geolocation to advance each chapter of the narrative as you run.¹ A good story is a great motivator—but the sounds of retching zombies snapping at your heels is an even better one. You can turn daily jogs into survival missions, or go from the couch to a 5K with the help of undead horror.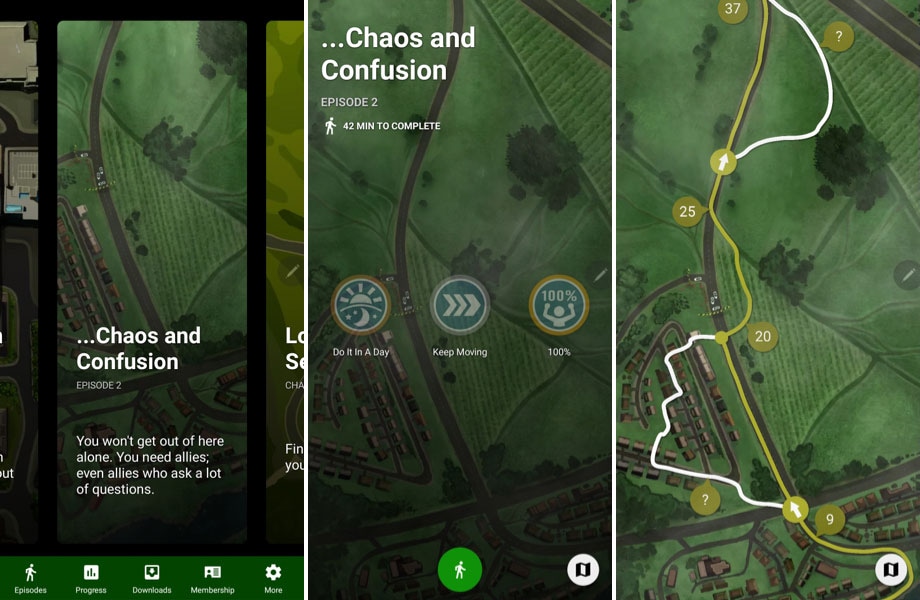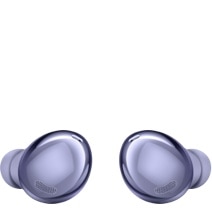 Stay in the story
Turn your exercise into an audio thriller by immersing yourself with Active Noise Cancelling on the Galaxy Buds Pro.
Save the world while getting your steps in with The Walk
2
The Walk
If zombies (or running) just aren't your speed, The Walk might be what you're looking for. From the same development team as Zombies, Run!, The Walk puts you centre stage as the protagonist of a thriller. Your mission is to walk a package the entire length of the UK in order to save the world. It uses a pedometer to track your progress as you go, with the story wrapping up at the 500-mile mark.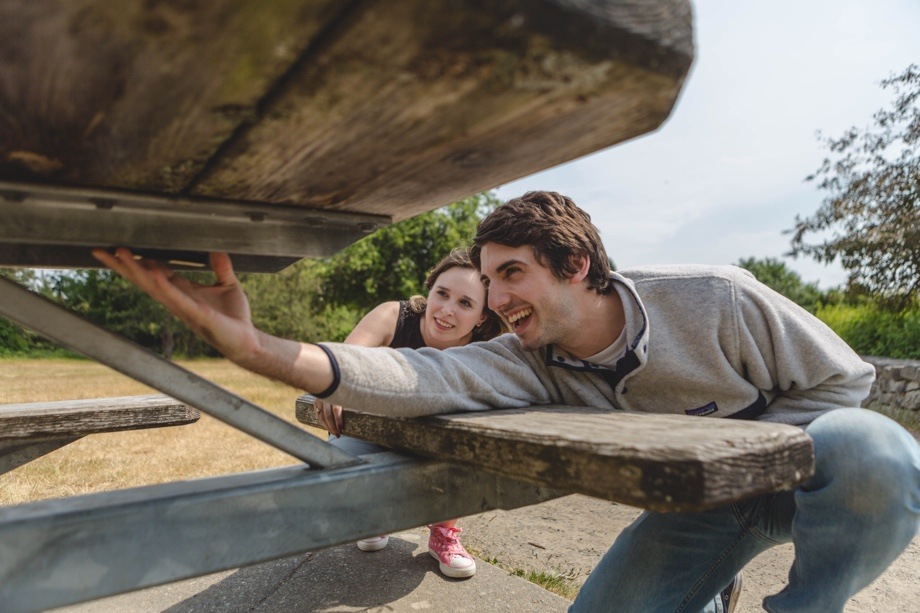 Geocaching®
More of a global scavenger hunt than a single game, geocaching is a worldwide hobby with a passionate community that predates smartphones themselves. With advances in geolocation games, geocaching has been seamlessly adapted to modern mobile gaming platforms. Players hide little treasures around the world, then provide coordinates and clues for other players to find. While adventuring outside, a device as bright as the Galaxy S21 5G makes it easy to view the screen in daylight and stay on the hunt. As always, but especially with geocaching, be mindful of your surroundings and exercise caution when exploring!
Bring your treasure hunt to the digital age with Munzee
4
Munzee
Munzee takes the treasure-hunting aspect of Geocaching® and updates it for the smartphone age. GPS coordinates and clues hidden throughout the world lead players to QR codes they can scan and capture for points. Players can also generate their own QR codes and print them as stickers to leave for other explorers to find.

Build your digital real estate empire with Landlord
5
Landlord
If you love climbing the leaderboards on check-in apps but wish you could make it even more competitive, Landlord is for you. Starting with a sum of in-game cash, players can buy in-game versions of real-life properties and earn money based on online check-ins. Buy land, make offers, earn rent and climb the leaderboards in the billionaire battle.

Discover how (or if) your intentions affect reality with Randonautica
6
Randonautica
Randonautica takes the concept of exploring physical space and adds a layer of exploring consciousness itself. It utilises random number generation to send players to locations where they hunt for meaning in quantum randomness.

Players set an intention for their trip ("Find something worth taking a picture of" or "Find an answer to a question I've been pondering"), and head out with an open mind to see how their consciousness affects their reality.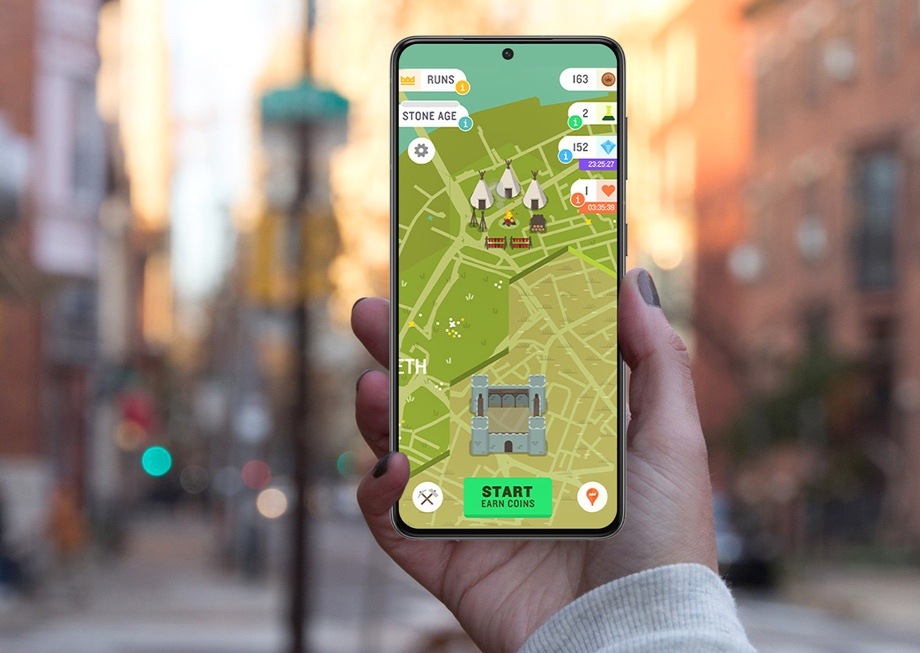 Run An Empire
Starting a regular jogging habit can be tough, but keeping it going is even harder. Run An Empire can help by using your runs or walks to start and shape an empire from prehistoric times all the way to the modern age. Track your progress to grow your civilisation's technology, culture and trade, and watch a society unfold right before your eyes.
¹Wired or Bluetooth headset is required. Wired or Bluetooth headset sold separately.
Turn yourself into the controller
You're going to need the best 5G-capable devices to keep yourself in the game—virtually and literally. Get what you need from Galaxy, then get out there and start playing.