International News
Samsung elevates Samsung Pay offerings through in-app payment partnership with Qoo10 and Vaniday
Oct 12. 2017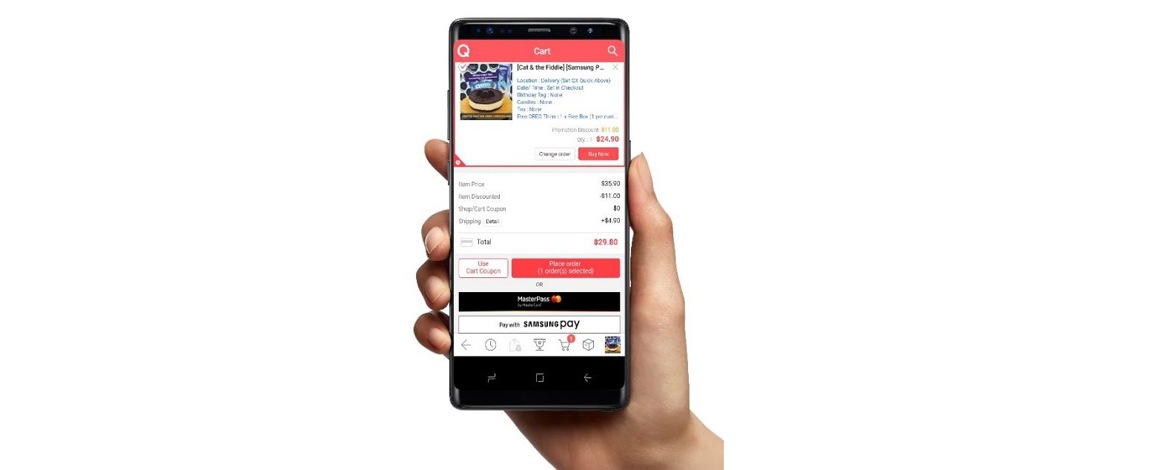 Singapore – 12 October 2017 – Samsung Electronics Singapore has announced a partnership with online merchants Qoo10 – Singapore's number one ecommerce platform, and Vaniday - the booking platform for beauty and wellness services to make Samsung Pay available for in-app payments for consumers. Since 15 September 2017, users have been able to make payments via Samsung Pay within the respective merchants' apps, adding increased convenience for users of Samsung Pay.
"We are constantly looking for new ways to increase the adoption of Samsung Pay within Singapore by giving users more opportunities to enjoy our mobile payment app at their convenience," said Lee Jui Siang, President, Samsung Electronics Singapore. "The key to improving Samsung Pay is ensuring compatibility with as many merchants and apps as possible and this partnership with Qoo10 and Vaniday lets consumers select Samsung Pay as a check-out option in-app, a first for Samsung Pay in Singapore and we will continue to expand this horizon to include more partner merchants."
Paying with Samsung Pay in Qoo10 and Vaniday mobile apps is incredibly easy – users will be prompted by the respective apps when making payment and they will have the option to pay via Samsung Pay. The mobile payment service provides improved convenience for consumers as well, as they need not enter their credit card details when making payment; all they need to do is to authenticate the Samsung Pay transaction via iris scan1, fingerprint scan or a PIN code and payment is done.
Thanks to Samsung Knox, security concerns can be put to bed. Users who opt for the Samsung Pay option when using their Qoo10 or Vaniday mobile app will not be sharing their card information with the respective merchants, as banking and credit card details remain confidential.
"At Qoo10, customers are always at the heart of everything we do. We are always looking out for new ways to evolve and increase customers' overall shopping journey, and partnering with such an innovative brand like Samsung helps us achieve that vision. We are proud of this collaboration, which makes Qoo10 the only e-commerce platform in Asia with the in-app Samsung Pay payment method. To make the shopping experience even more enjoyable, we will be rolling out exclusive promotions to those who shop with Samsung Pay starting 8 October. Shoppers can also exchange their Samsung Pay reward points with Qoo10 gift cards thereafter," said HyunWook Cho, Qoo10 Singapore Country Manager.
"What we strive for is to make the beauty booking journey of our customers safer, more efficient and pleasant," said Marine Perez de Germay, Managing Director of Vaniday. "We are thrilled to have incorporated Samsung Pay as a payment option and excited to see the response."

More Than a Payment Service

A secure and easy-to-use mobile payment service, Samsung Pay can be used to make purchases almost anywhere2 that credit and debit cards7 are accepted.
• SIMPLE: With Samsung Pay, every transaction is made super easy. You simply need to swipe up to bring up the last transacted credit or debit card, scan your iris1 or scan your fingerprint or key in your PIN and make payment.
• SECURE: With each separate transaction, Samsung Pay uses an encrypted digital token to replace sensitive card information to prevent fraud. Your payment information is better protected than ever before. Transactions made on Samsung Pay require registered fingerprint or iris scan1 or PIN for authorisation, so you are in control when each payment is made. The encrypted fingerprint and iris scan1 information are stored in a separate, secure area of your device. Samsung's industry-leading defence grade Knox security platform, which received the most "Strong" ratings of any mobile security platform for Corporate Managed Security3, provides real-time kernel protection and monitors malicious software and activities on your device for added security.
• ALMOST ANYWHERE2: Samsung Pay is accepted almost anywhere2 you can swipe or tap your credit or debit card7. By incorporating Samsung's proprietary MST (Magnetic Secure Transmission) technology, together with NFC (Near Field Communication), Samsung Pay is compatible with the majority of existing and new payment terminals, allowing users to pay with their compatible Samsung smartphone almost anywhere. Thanks to MST, Singapore users can also use Samsung Pay for transactions up to their individual cards' limit.
Since the launch of Samsung Pay in Singapore in June 2016, the mobile payment service has grown from strength to strength, including various enhancments to broaden the horizon of its offerings:
• Loyalty Cards
Almost any brand loyalty cards7 that uses a barcode can be stored within Samsung Pay, eliminating the need to physically carry multiple cards for redeeming benefits or accumulating loyalty points. Thanks to Samsung's partnership with Mobeam, Samsung smartphones4 can store barcode information within the device, allowing barcode scanners to scan the screens instead.
• EZ-Link Support
Users who are using EZ-Link NFC SIM cards will be able to pair their EZ-Link-enabled SIM5 card to Samsung Pay, allowing them to make retail and transit payments via EZ-Link without the need of the physical card. Samsung Pay users can also use their EZ-Link Link FEVO Prepaid cards on Samsung Pay for their mobile payments.
• Samsung Rewards
Samsung Rewards is a tiered loyalty programme specially curated for Samsung Pay users, where consumers can earn points from their transactions, which can then be redeemed for additional rewards in the form of gift vouchers from participating merchants or used to participate in the in-app games such as Spin-the-Wheel or Flip-a-Card for additional instant wins. Consisting of three loyalty tiers – Gold, Silver and Bronze – users can level up across the tiers after meeting a target number of transactions. With each level up achieved in the Samsung Rewards programme, users can get to earn more points per transaction, reaping additional rewards in return.
Promotions with Qoo10 and Vaniday6


Qoo10

From now, all users who opt for the Samsung Pay check-out option on the Qoo10 mobile app will be entitled to the following promotions:
• Enjoy special S$2 deals on Qoo10 with check-out transaction with Samsung Pay
• For transactions made with Samsung Pay with a minimum spend of S$20, users will receive a S$5 discount voucher for use on Qoo10.
• Users of Samsung Pay via the Qoo10 mobile app can also earn Samsung Rewards points and redeem S$5 vouchers for use on Qoo10 from 17 October 2017.
• Exclusively for Samsung Pay users, Vaniday will offer a one-time S$15 off discount on first-time booking (via Vaniday mobile app) to use on any beauty and wellness service on the platform.
About Samsung Pay


Samsung Pay, a mobile payment service from Samsung Electronics, is simple, safe and available almost anywhere2 you can swipe or tap your card7. Combining NFC (Near Field Communication) with Samsung's proprietary MST (Magnetic Secure Transmission) technologies, Samsung Pay provides consumers a way to pay almost anywhere you can swipe or tap a card7 at merchant locations. Samsung continues to strategically expand its partnership ecosystem for Samsung Pay to provide greater flexibility, access, and choice for customers while enabling an easy and safe payment experience.

About Samsung Electronics Co., Ltd.

Samsung inspires the world and shapes the future with transformative ideas and technologies. The company is redefining the worlds of TVs, smartphones, wearable devices, tablets, digital appliances, network systems, and memory, system LSI, foundry and LED solutions. For the latest news, please visit the Samsung Newsroom at http://news.samsung.com.

1 Do not use with infants, please consult a doctor before use if you have epileptic or other medical conditions. Iris Scanner may be unable to read your iris where view of your iris is impaired or the appearance of your iris changes, including when you are wearing glasses or coloured contact lenses.

2 Availability almost anywhere is based on compatibility of Samsung Pay on MST and/or NFC payment terminals, with some supported for use only after software upgrades. Samsung Pay is exclusive to selected Samsung Galaxy smartphones and smartwatches only, and available across all participating payment networks, banks, and merchants. Availability may vary, please check www.samsung.com/sg/samsungpay for updates.

3 Samsung Knox received the most 'Strong' ratings of any mobile security platform in the report "Mobile Device Security: A Comparison of Platforms" from Garter, Inc. The report, published on April 6, 2016, compared the core of security features built into twelve mobile device platforms as well as enterprise management capabilities. Source of data: https://news.samsung.com/global/samsung-knox-receives-most-strong-ratings-of-anysecurity-platform-in-gartner-report-mobile-device-security-a-comparision-of-platforms.

4 Compatible with Samsung Galaxy Note8, Galaxy S8/S8+, Galaxy J7 Pro, Galaxy S7 edge, Galaxy S7, Galaxy S6 edge+ and Galaxy Note5.

5 Compatible with Samsung Galaxy Note8, Galaxy S8/S8+, Galaxy A5 (2017), Galaxy A7 (2017), Galaxy J7 Pro, Galaxy S7 edge, Galaxy S7, Galaxy S6 edge+ and Galaxy Note5, Galaxy A5 (2016), Galaxy A7 (2016), Galaxy A9 Pro (2016)

6 Terms and conditions apply. All offers valid while stocks last.

7 Samsung Pay is compatible with select cards. Visit http://www.samsung.com/sg/samsungpay/ to learn more.