How to use call features on your Galaxy Buds+
Last Update date :
Jul 22. 2022
When your Galaxy Buds and Galaxy Buds+ are connected to your phone, you can answer and control calls without picking up your phone. You can take a run or go to the gym whenever you want to. You won't have to worry about missing a thing. Simply tap to control your calls using a variety of call features even in noisy places.
Before you try the functionality suggested below, be sure to check if your device's software is updated with latest version. You can find more about 'How to connect and update Galaxy Buds+ with Galaxy Smartphone' with Samsung Support.

To answer or decline a call
When a call comes in while you are wearing the earbuds, they will emit a sound and a voice notification will inform you of the incoming call's phone number or the name saved in your contacts. Check out how to answer a call, a second call or decline a call using the earbuds.
Double tap
Answer or end a call.
Place the current call on hold and answer the second call. 
Switch between the current call and the hold call. 
Tap and hold
Decline a call. 

Turn the microphone on or off during a call.
Retrieve a held call after ending a current call. 
How to customize notifications setting for the incoming calls
If you are not notified of the incoming call's phone number or the name saved in your contacts via voice notification, you can customize settings in Galaxy Wearable app on your mobile device. 
Step 1. Launch Galaxy Wearable app on the mobile device. 
Step 2. Tap Notifications.
Step 3. Switch ON to get notifications of next incoming call.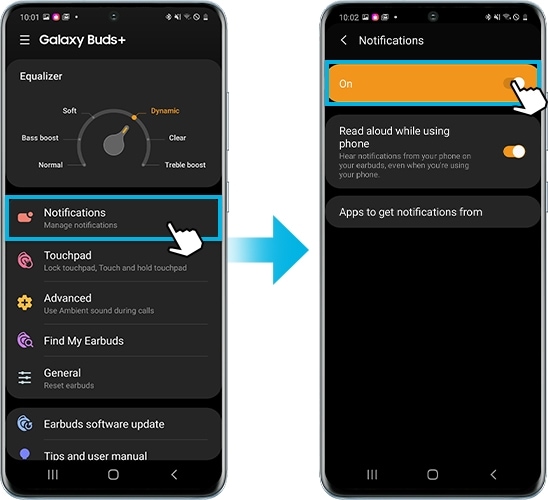 Step 4. Tap Read aloud while using phone to set the earbuds to receive notifications of the mobile device even when you are using the mobile device.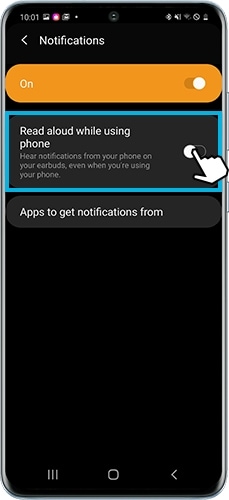 Also note that you can select the apps you want to receive notifications from and change the notifications settings for each app using Apps to get notifications from menu. 
How to enhance voice call quality with your earbuds
Your voice will always come through when taking a call with your Samsung earbuds, even in crowded areas. You can be heard clearly with dedicated microphones that pick up your voice and isolate it from distracting outside noises. Each earbud features an internal microphone and two external microphones that help filter out noise.
Thanks to the internal microphones that limit surrounding noises, you'll be able to hear during a call clearly. The external microphones focus on your voice so you can be heard without interruption. If you can't be heard, you can try adjusting the earbuds or checking the microphone volume to make sure they aren't muted.

To improve transmitted sound to the opposite side during calls, it is recommended to enable Ambient sound during calls.
By using this feature, you are able to hear your own voice more clearly, allowing natural vocal effort with both earbuds on.
Step 1. Launch the Galaxy Wearable app on the mobile device.
Step 2. Advanced > Use Ambient sound during calls.

Other tips to improve sound quality:
Wireless network services may be disabled due to issues with the network of the service provider. Make sure to keep the earbuds away from electromagnetic waves. 

Ensure that your earbuds and the other Bluetooth device are within the maximum Bluetooth range (10m or 32ft). Take note that the distance may vary depending on the environment the devices are being used in.

If the audio quality is not as good through the Galaxy Buds+, find more about 'What to do if the audio quality is poor on my Galaxy Buds+' with Samsung Support. 
Note: Device screenshots and menu may vary depending on the device model and software version.
Please answer all questions.