What are the device settings on Samsung Galaxy Tab Pro S?
Last Update date :
Aug 01. 2022
You can change settings related to the connected devices to your Galaxy TabPro S: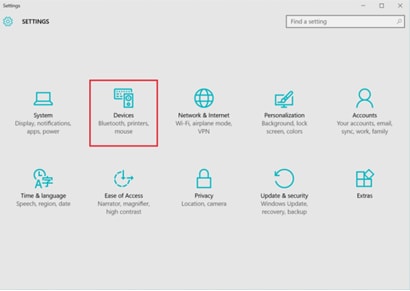 • Printers and scanners: Change settings to connect printers and scanners 
• Connected devices: Add devices and change settings for metered connections 
• Bluetooth: Activate or deactivate the Bluetooth feature. Search for other Bluetooth devices and pair with them

Please note:
● Always ensure to share and receive data with devices that are trusted and properly secured. If there are obstacles between the devices, the operating distance may be reduced
● Some devices, especially those that are not tested or approved by the Bluetooth SIG, may be incompatible

• Mouse and touchpad: Change the mouse and touchpad settings 
• Typing: Change the onscreen keyboard settings 
• AutoPlay: Activate or deactivate the AutoPlay feature and change related settings 
• USB: Set the device to notify if there are issues when connecting to USB devices

Please click the submit button below to share your feedback with us. Thank you!
Please answer all questions.