What to do if Galaxy Buds Pro noise control isn't working
Last Update date :
Jul 22. 2022
If the Galaxy Buds Pro's Active noise cancelling doesn't work properly, or if high-pitched noises cannot be removed during Active noise cancelling operation, check out our guide below.
Before you try the recommendations below, be sure to check if your device's software and related apps are updated to the latest version. You can update your device's software with the following steps:
Step 1. Go to Settings > Software update.
Step 2. Tap on Download and install.
Step 3. Follow the on-screen instructions.
Be aware of the following cases when Active noise cancelling may malfunction
Under the following conditions, sound may leak out and performance may be degraded.
Case 1. If the earbuds are not properly worn or the earbuds do not fit tightly in your ears.
Case 2. If the size of the ear tip being used is smaller than your ear hole.
Case 3. If the ear tip is not properly installed in the earbud groove.
Check to use Active noise cancelling properly
Method 1. For the the best quality sound, it is very important to place the Galaxy Buds Pro properly in your ears. Othewise, Active noise cancelling may not work. Try to wear the earbuds such that they fit tightly without space between your ear hole and the ear tip.

Method 2. Make sure that the ear tips and the grooves of the earbuds are completely installed. The latch at the bottom of the earbud should be aligned with the groove of the ear tip and cover the latch with the ear tip.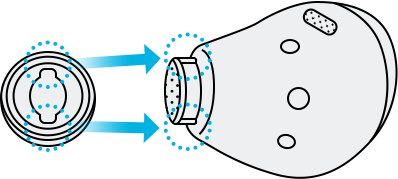 Method 3. If the above actions do not solve the problem, try changing the ear tips to one size larger and wearing them.
Note: 
The Galaxy Wearable app is compatible with Android devices running Android 7.0 or higher and 1.5GB RAM or above, but Galaxy Buds Pro is not compatible with the iOS Buds app and can only be connected via Bluetooth.
In case of non-Samsung Android devices, some features may not be available unlike Samsung devices.
If you are experiencing unusual behavior on Samsung mobiles, tablets or wearables, you can send us a question in the Samsung Members app.  
This allows us to take a closer look at what is happening. The data is anonymized and only held for the duration of the investigation. Find out more about sending an error report through the 'How to use the Samsung Members app'.
Please click the submit button below to share your feedback with us. Thank you!
Please answer all questions.