Unfold the future: Tjin Lee,
Founder of Mercury
COVER STORIES
Unfold the future: Tjin Lee,
Founder of Mercury
Meet Tjin Lee. Mother, entrepreneur and dreamer. As the founder of both Mercury Marketing & Communications, and CRIB, a social enterprise, Tjin Lee is always hankering after fresh new ideas. She is always buzzing with creative possibilities and technology enables her to bring them to fruition. Rewriting the rules of convention is no easy feat, but her Galaxy Z Fold2 5G makes her pursuit more manageable. With its ability to run three apps simultaneously, the Galaxy Z Fold2 5G is tailor made for the multi-tasking Tjin Lee. Read on as she gives us a peek into her life and the change she is making.


How did your journey begin? Tell us about your humble beginnings and how it's paved the way to where you are now.
I was a mediocre student, who never knew what I wanted to be when I grew up. In fact, I wanted to be a vet, because I loved animals. But my average grades landed me in a non-science stream, making it impossible for me to pursue that childhood dream. Only in my adult years, did I learn that the question – "What do you want to be when you grow up?" is in fact the wrong question to ask your children. The correct question is, "What do you want to do, that can help make the world a better place?". We need to find our passion and purpose, there's life beyond our grades.


What has been the single-most important business lesson you've learnt as a multi-hyphenate who balances career and family very well?
Take care of your team and your team will take care of you. To me, a company is all about its culture and people. I like to listen, and reverse-learn from the young people at work. Our industry – Events, Media and Communications has faced great disruption in 2020. The changes were fast paced, forcing many companies to re-evaluate their core businesses, evolve and pivot. We have to constantly innovate and continuously learn. When you think you know it all, you stop learning and become obsolete.


What kind of impact or legacy do you hope your actions leave behind?
My passions lie within mindset changes in education and in the space of women's empowerment. I believe through our movement "Life Beyond Grades", started two years ago, we have created serious impact and awareness in the parenting community.

In a tech-disrupted world, where 50% of the jobs we know today won't exist in 15 years' time, creativity, empathy and soft skills will become much more important. Humans need to become more 'human' to thrive in a world increasingly powered by computers and technology. Academic success is no longer the only path or yardstick of future success. Every child is different and will need different skills to thrive.

I am also the co-founder of CRIB, a not-for-profit social enterprise with over 300 women members. Our goal is to empower women through entrepreneurship. I believe in the power of collaboration over competition, where women can rise by uplifting each other, and I'm proud to have fostered this spirit within our community at CRIB.


As an authority in the world of start-ups, were there any so-called "rules" or "stereotypes" that you've broken, which has ended up paying off and paved your way to success?
Some people are afraid to "share ideas", for fear that they could be stolen by others. Very often those ideas end up as secrets and failed dreams. I'm never afraid to share when I have new ideas. This helps to invite brainstorming, to have others play devils' advocate, to flesh out the ideas and add new dimensions. Talking about an idea with others gives it life, makes it real. I'm never afraid to share. Have faith in your own ability to execute it in a way others cannot. This is your own superpower.


What does success mean to you? If you're able to quantify what success is, how would it look like to you?
Success means freedom to me. The freedom to live your life pursuing your passions and purpose. Success is the ability to touch and change the lives of those around you, for the better. To be able to make an impact in causes you care about.


What is your personal life philosophy, in 5 words or less?
Never fear failure. They're lessons.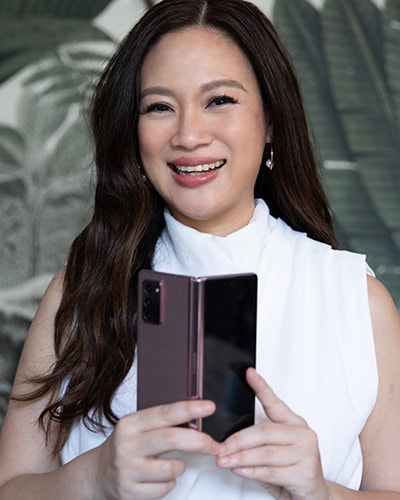 How has technology changed/shaped the way you work now?
Technology empowers me to harness the power of my creative mind and run multiple projects at once. My mind is always racing and finally with technology, all teams and collaborators can keep up.


How has the Galaxy Z Fold2 5G value-added your lifestyle? Are there any features of Galaxy Z Fold2 5G that feel fresh or novel to you?
I love having one device that can multi-task as I do! From a zoom screen, to running kids' educational apps, to a machine for content creation, as well as an entertainment hub, the Samsung Galaxy Z Fold2 5G is as much of a multi-hyphenate as I am!


What do you think is the next development or trend that's going to be big within your industry?
The future is digital. Dynamic content creation, powerful storytelling and above all, authenticity is going to be critical moving forward in the world of marketing and communications. Authenticity takes passion, creativity and true belief in the projects we work on and the clients we work with. We are fortunate with Mercury, to be able to work with clients that we feel are aligned to our team's core strengths and interests. This is going to be of ever-increasing importance, as authenticity will be the biggest thing moving into 2021 and beyond.


What does Unfold the Future mean to you?
The ability to think outside the box, be unbound by convention and powered by imagination.


The views and opinions expressed in the article or video are those of the content contributors and do not reflect the official policy or position of Samsung. Any content provided by our content contributors are of their opinion, and are not intended to malign any religion, ethnic group, organisation, company or individual.
You are invited
Get ready for exclusive access to in-depth features with thought leaders, invitations to bespoke events, editorial beats on innovation, and first dibs on the latest Samsung products. Also be the first in line to reZerve your monthly delights of new experiences at no charge. Join our mailing list today.
Subscribe