How Samsung is helping celeb stylist Jason Bolden conquer the next normal
INSPIRATION
How Samsung is helping celeb stylist
Jason Bolden conquer the next normal
There's been a real shift in how we all work and play as we navigate the next normal. The concept of everyday mobility has changed from traveling outside and being on-the-go, to doing more within the home.


And whether you're a creator, entrepreneur, or a unique combination of the two – your devices need to empower your process so you're still able to do all the things you love.


Samsung checked in with creative director and celebrity stylist, Jason Bolden, to learn more about how his work is changing and how Samsung's Galaxy ecosystem is helping him stay on top of it all. In an intimate Q&A, Jason talked to us about his day-to-day routine and why he needs the Galaxy Note20 Ultra and Tab S7+ to keep him moving within the home.


The Galaxy Note20 line is available now in a fashion-forward Mystic Bronze color to match the Galaxy Buds Live, Galaxy Watch3 and Galaxy Tab S7. Whether you're balancing work, school, or wellness, the new Galaxy ecosystem can help you stay on top of it.


Check out Jason's thoughts on these new devices.
What's a day in the life of Jason Bolden look like?
I'm an early bird, and start my day with a morning jog or meditation session to clear my head and allow myself to tap into my creative thoughts. From there, I like to enjoy a cup (or two) of coffee while catching up on my email and reviewing my calendar before heading to my at-home studio to get to work.


I'll start by sifting through clothes, shoes, jewelry—materials are a big inspiration for me as well—and then prepping for messengers to pick up and drop off looks for my client. I'm collaborating with my clients virtually now, and I've been using the Galaxy ecosystem to help me manage it all.


How important is technology to you and how has it helped in today's new normal – especially within your work?
Technology is my connection to my loved ones and clients. It's how I'm able to stay in touch and maintain relationships with designers and talent because we're unable to meet face to face right now. In today's new normal, the silver lining is that I'm able to take the time to reconnect with industry connections and clients. I'm lucky enough to have technology that allows me to evolve and meet my clients where they're at.


I'm also using technology to stay inspired. I've been going through old photos, mood boards and red carpet looks from my archives when I need to escape. My Galaxy Note20 Ultra is the closest thing I have to a runway right now!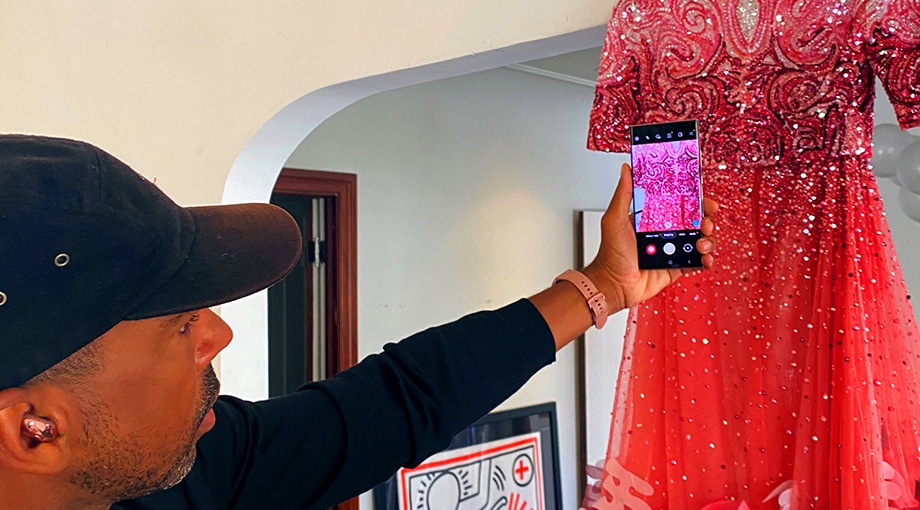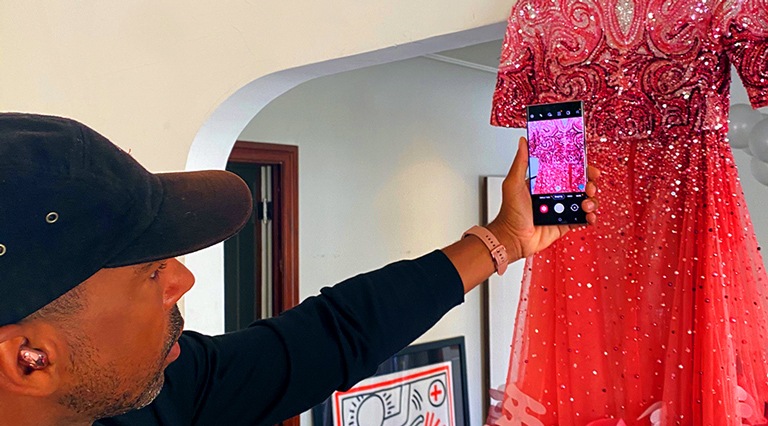 How is the Galaxy Note20 Ultra and Galaxy Tab S7+ helping you out now that
you are doing more at home?
Being able to use the S Pen to write on top of an image as soon as I have a creative idea is awesome. Before, there was always a fear of losing an idea when writing things down on paper. Knowing I'll never lose it – whether I'm in my studio, backyard or living room – is pretty cool! Whenever I'm ready to go back to a note or sketch, I can go back to the idea on any device through the Samsung Notes app.


If I'm working with talent on a new look, it starts with one idea that I'll capture and send using my Note20 Ultra. From there, it's a collaborative process and we'll go back and forth to finalize the details. That's how fashion styling works for my clients. We'll start with a look on the phone and then I'll pick up the Tab S7+ to go bigger. I need a larger screen to see and feel all of the details. Fashion styling is step-by-step. You start with a sketch and then you finalize the fabric, the embellishments, the color, the jewelry. When I use the tablet I'm able to build it out even more so it's larger than life!


What do you love most about the new Mystic Bronze color?
I'm also a very visual person, so I'm immediately drawn to the Mystic Bronze color that matches my Galaxy Watch3 and Galaxy Buds Live. It's so chic, fresh, and modern! I also love that it's a point of conversation! It's warm, bold, and inviting; I love that I can have a cohesive look across all of my devices. Sometimes technology can be intimidating, but that's not the case with something as design-forward as Mystic Bronze. I want to take my devices with me to every room! Because of that, my tools are at my fingertips whenever creativity strikes.


How have you been staying creative during this time at home?
I've been doing everything from spending more time with my archives and capturing old mood boards for future reference. I've been reading a lot too. I tend to get my best ideas when I spend time revisiting some of my favorite works of art, authors and designs.
Learn more about the Galaxy Note20 Ultra 5G and Galaxy Tab S7+.
Original article from Samsung.com here.
You are invited
Get ready for exclusive access to in-depth features with thought leaders, invitations to bespoke events, editorial beats on innovation, and first dibs on the latest Samsung products. Also be the first in line to reZerve your monthly delights of new experiences at no charge. Join our mailing list today.
Subscribe