More time for you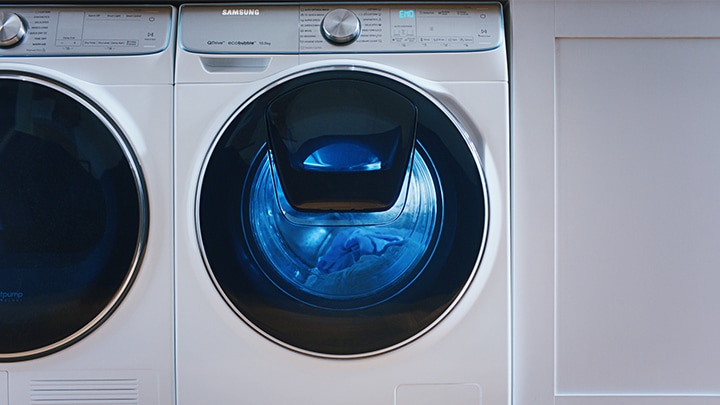 More convenience for you
More control for you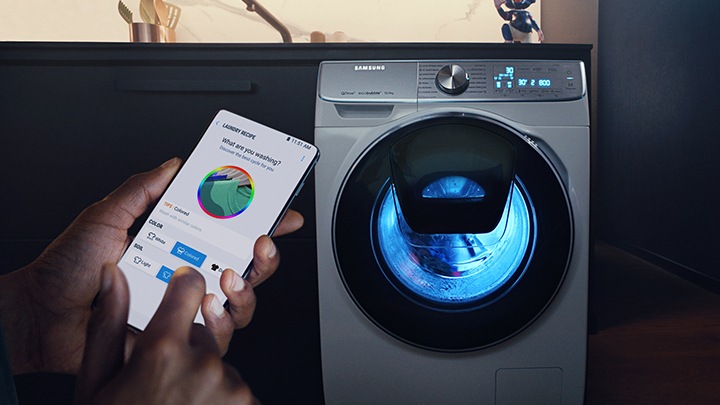 In a hurry? QuickDrive™ reduces washing time by up to 50% and energy use by 20% without compromising cleaning performance. #Samsung #WashingMachine #QuickDrive
Forgot a shirt? The AddWash™ Door lets you simply and quickly add forgotten clothes even after your cycle has already started.#Samsung #WashingMachine #QuickDrive
What's smarter than starting your laundry cycle remotely? Your smart laundry expert that recommends the optimal cycle for each load! Never ever worry about which cycleto choose again with the Laundry Recipe function #Samsung #WashingMachine #QuickDrive
Multiple loads,
All-in-One
FlexWash™
Innovative Samsung FlexWash™ is designed for all your laundry needs. With a separate top and front washer in one washing machine, you can now save time by washing the lights and darks, delicate and daily wears, all at the same time.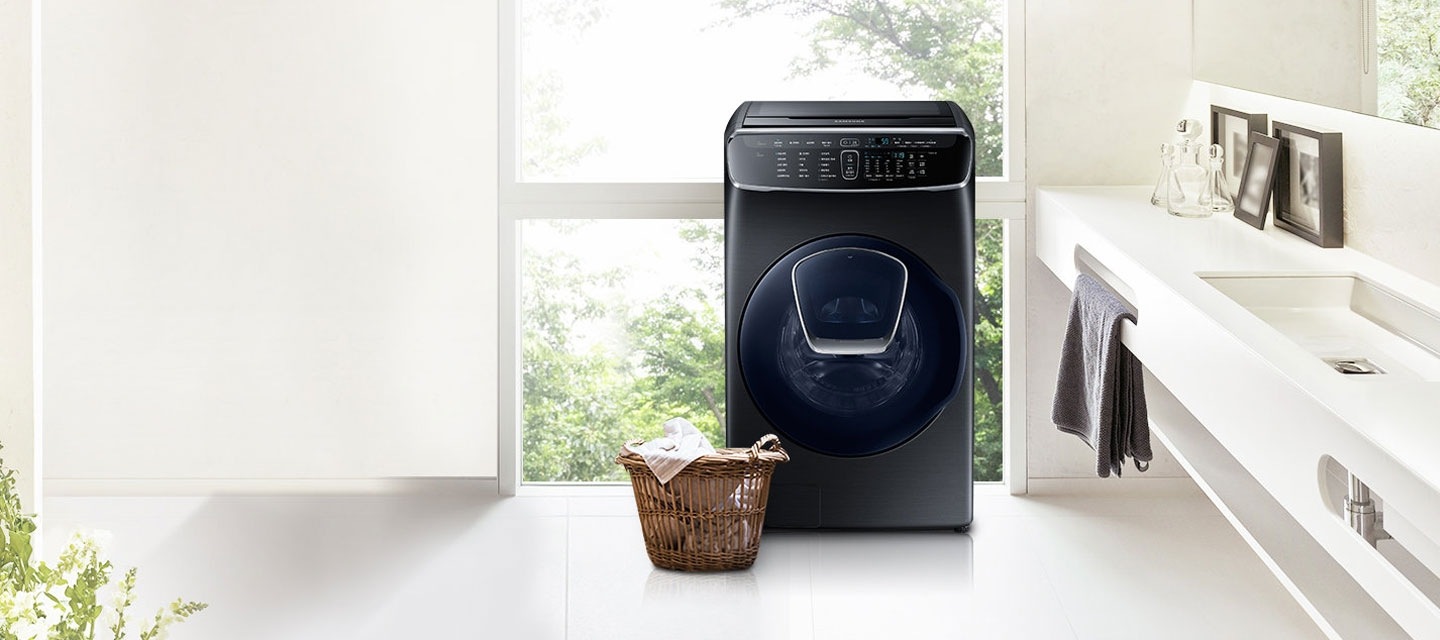 Simply Add during the wash
AddWash™
Simply and quickly drop in anything extra during the wash* – whether that's a sock you missed, extra softener, or a hand-washed garment for final rinsing.
* The Add Wash door only opens only when the drum temperature is below 50°C.
* The Add Wash door only opens only when the drum temperature is below 50°C.
Meet the New-Age Washing Machines
Doing laundry regularly is an essential part of many Singapore households given the hot and humid weather. But with longer working hours and hectic lifestyles, doing laundry can be a challenge for many Singaporeans. Samsung's line of latest washing machines is designed with innovative features and specifications that help to solve this problem. Here are some of the factors to take into consideration when you are deciding which washing machine to purchase:
The first thing to look out for is the type of washing machines, and here's a list of the different types offered by Samsung:
If space is tight at home, a front load washing machines is a better choice as it is stackable. Samsung offers a wide range of water-efficient front load washers that come with wide-ranging capacities and features.

Consider buying a top load washer if you prefer the convenience of not needing to bend down to load and unload your laundry. You may pick a washer with the control panel at the back or front based on your preference.

If you face space constraints at home but still require the drying function, a washer dryer combo might be a good option for you. It is an all-in-one machine with both washing and drying functions to make laundry hassle-free for your family.
Washing Machine Capacity
The next thing to look at is the capacity. The size of your household will be relevant to the amount of clothes you need to wash in a load, which will in turn determine the capacity you need. The capacities of Samsung washing machines range from 7.5kg to 21kg.
Have a large family? Take on larger laundry loads with our FlexWash™combo or AddWash™ 17kg combo that come with a washing and drying capacity of 21kg front load, 3kg top wash / 12 kg dry and 17kg wash / 9kg dry respectively.
Washing Machine Features
Tackle laundry with these special features* that add to the convenience of laundry:
Save up to 50% of your time and 20% of energy** with the innovative 'Q-DrumTM' which has a "main drum" and a "backplate" that rotate independently, moving your clothes in a dynamic action for a quick and powerful wash.

FlexWash™ offers you the flexibility to wash your clothes the way you want. It is a all-in-1 top and front load washer dryer, perfect for simultaneous separate washes such as colours and whites or different materials to avoid damaging your delicates.

AddWash™

The AddWash™ Door allows you to add clothes** into the washing machine, even after the wash cycle has already started**. You may also easily pop in hand-washed clothes which you simply want to rinse or spin dry.

EcoBubble™

EcoBubble™ technology froths detergent with air and water into cleansing bubbles which penetrate deep into the fabric to remove dirt and deliver powerful cleaning**.

Activ DualWash™

Activ DualWash™ comes with a sink at the top that lets you hand-wash delicate fabrics or treat heavily stained clothes, before the actual wash cycle begins.

Digital Inverter Technology

Digital Inverter Technology allows for quieter and more powerful performance while being more energy efficient than a Universal Motor**. Digital Inverter Technology also offers long-lasting performance**, backed by an 11-year warranty**.

Magic Filter

The easy-to-clean Magic Filter collects the lint, fluff and particles coming out from your clothes, keeps your machine clean and ensures that your drainage isn't clogged.

Diamond Drum

Protect your clothes from being damaged with the Diamond Drum's unique "soft curl" design - its smooth, diamond-shaped ridges are gentle, even on delicate items. Its small water exit holes also help protect fabric by preventing clothes from becoming trapped.
Enjoy freshly laundered clothes with Samsung Dryers
Drying your laundry can be a hassle even in sunny Singapore. Reliable and convenient, Samsung dryers dry your laundry at your convenience — rain or shine.
The different types of dryers offered by Samsung are:
Heatpump technology harnesses the use of a "refrigerant" instead of electricity to heat the air. It also recycles the air to avoid energy wastage, offering an energy-efficient, cost-effective and gentle way to dry your clothes.

Condenser dryer uses heated air to dry the clothes, after which, the hot and damp air goes through condensation to extract any remaining moisture.
With so many options, doing laundry is no longer a chore. Get the latest and best washing machine and dryer for your home today and say goodbye to all the hassle in washing and drying.
*Not all features are available for all washing machine models. Please check specific product pages or enquire in-store to find out which features are offered by each washing machine model.
**Detailed disclaimers apply. Please refer to the specific product pages of each washing machine model for more details.