Best Audio Setup for Galaxy S9 and S9+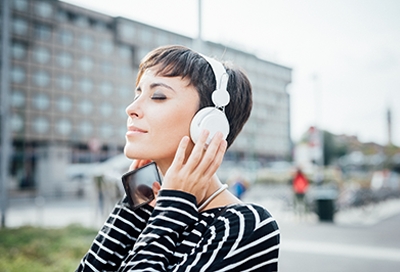 Your Galaxy S9 and S9+ lets you customize sounds to transport you to a live concert hall or a movie theater. With just a few adjustments, you'll hear every sound with perfect clarity - whether you're listening to EDM or watching an action movie.
Sound Quality and Effects
Some of these options are only adjustable when headphones are plugged into the phone. So if nothing changes, try plugging in some headphones.
Just like a DJ mixing sounds, SOUNDALIVE gives you total control over your listening experience. From Settings, search for and select Sound quality and effects. Play around and test these features out until you find that perfect mix.
Dolby Atmos: Transform your listening experience with audio that flows all around you. When Dolby Atmos is enabled, Tube Amp Pro and Concert hall will be unavailable.

Equalizer: Adjust your sound manually, or touch Equalizer to use one of the preset options. 

UHQ upscaler: Sharpens audio resolution for crisp sound.

Surround: Mimics surround sound.

Tube Amp Pro: Simulates the warm tones of a tube amplifier. 

Concert hall: Adds reverb for a unique hall effect.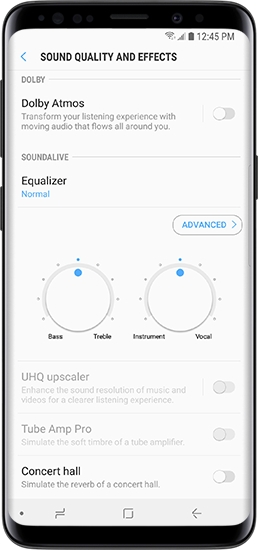 Adapt Sound
Putting a left-handed glove on your right hand just doesn't make sense. Same goes for your ears. Your left ear is better for listening to music, and your right ear for speech. Customize the sound for each ear and enhance your listening experience.
Navigate to Settings, and then search for and select Sound quality and effects, and then touch Adapt Sound.
Sound Profile: These presets allow for the best sound quality based on age. So whether you're 18 or 81, you're covered.

ADD PERSONALIZED SOUND PROFILE: Take a hearing test to help your phone identify the best sound for you.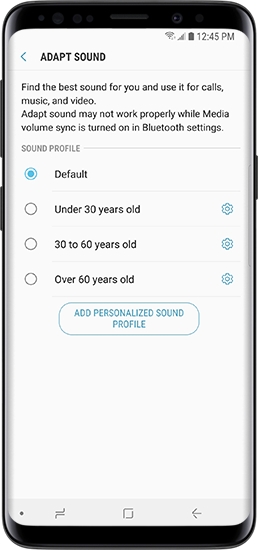 Separate App Sound
When you want to hear every sound in the game you're playing on your phone, connect a speaker or other audio device to enhance your gaming experience. Learn how to separate an app's sound below.
Play media sound from one app on an audio device separate from your phone's main audio output device.
Navigate to Settings, and then search for and select Separate app sound. To turn it on, touch the slider. Select a multimedia app to play the sound on a separate audio device. Select which audio device you want to use for this app.
Note: Bluetooth devices will only be available while they're connected.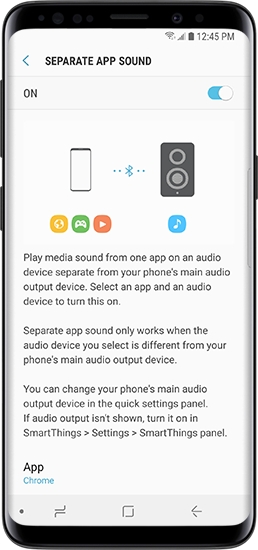 Other answers that might help
How would you like to contact us?
1-800-SAMSUNG Mon – Sun: 8AM – 12AM (EST)
mobile|phones|galaxy-s|s9-plus