Smarter life with SmartThings
Sync up your home to suit your lifestyle. Let SmartThings share insights on your connected devices, help with your
house chores and enhance your experiences, both in and outside your home. All this with a single app.

Download the SmartThings app.
Life simplified. Home customized.
Optimize your home devices for a smart lifestyle tailored to your needs.
Enjoy a customized home with innovative SmartThings-compatible devices that simplify your day-to-day life.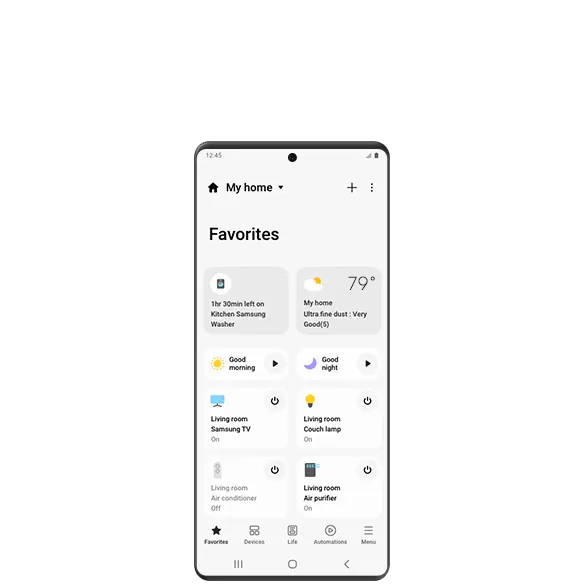 Get a better thrill out of the movie with SmartThings.
SmartThings takes care of the TV, lights and mood; you make the popcorn.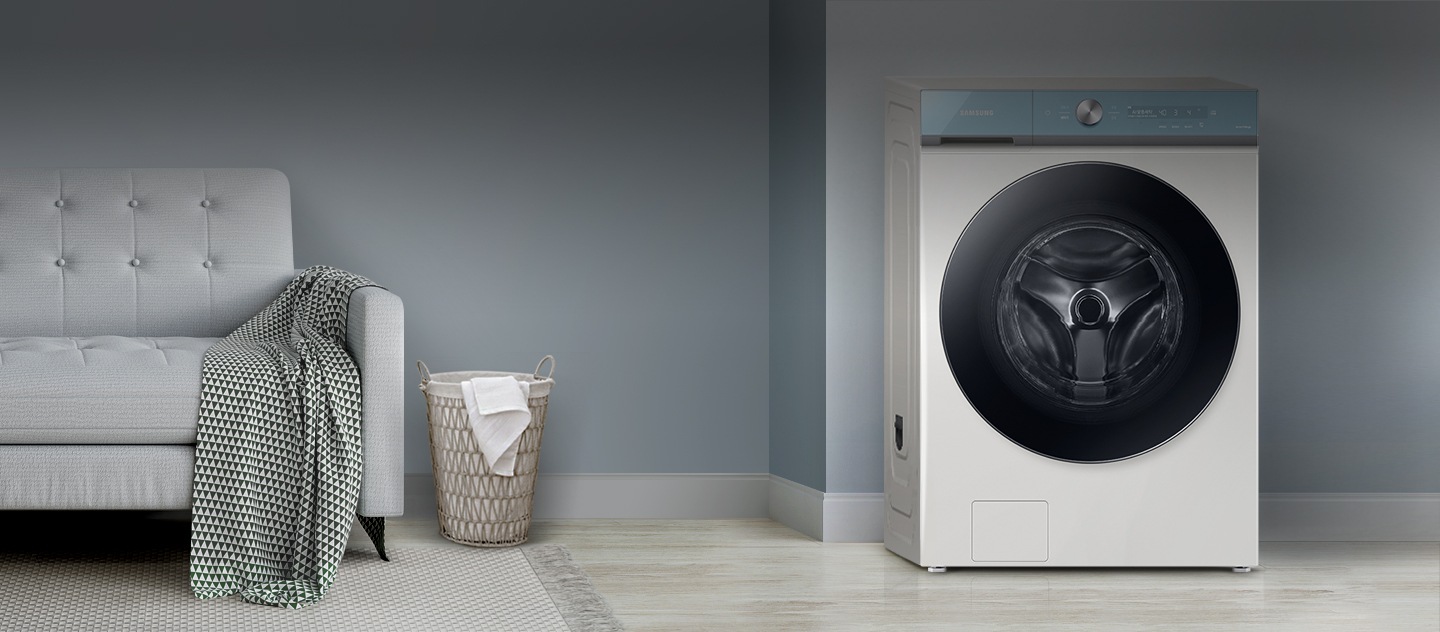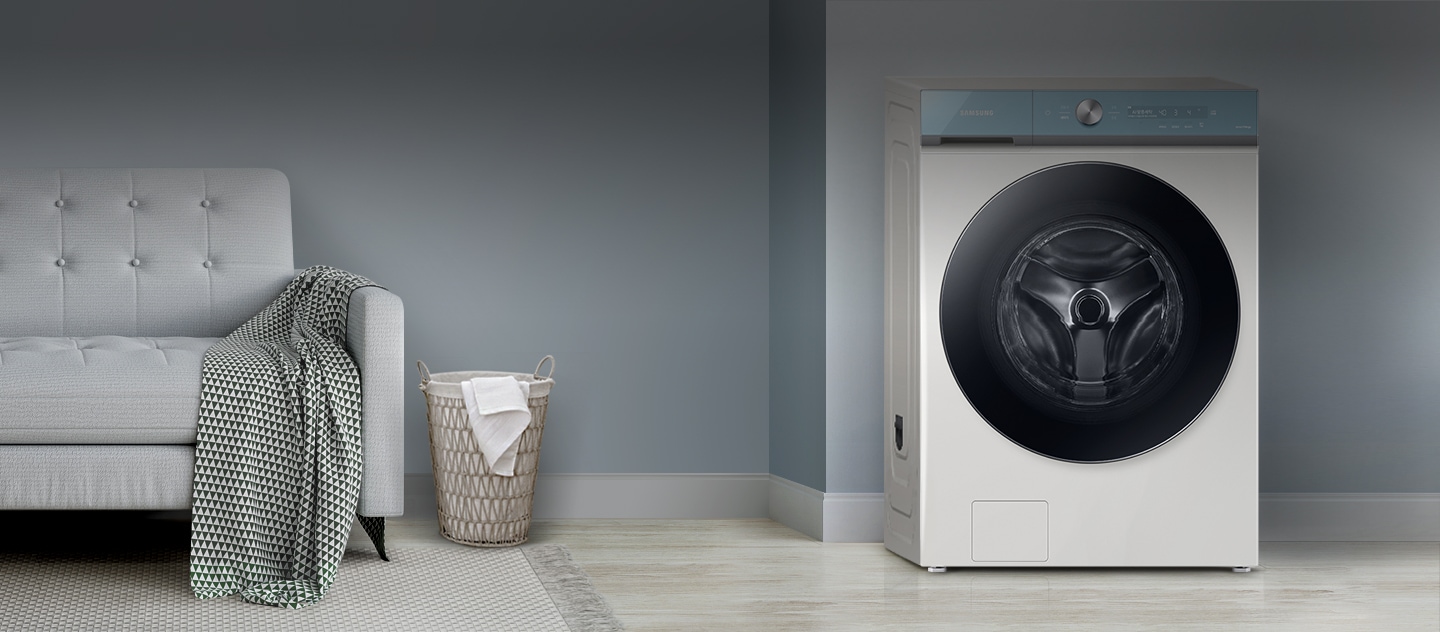 Get useful reminders on the little things, like how your laundry is doing.
If you happen to be out, you can keep your laundry fresh until you return through SmartThings.
Give your worries a break
Your home at-a-glance
Manage your home settings without even getting up from the couch. Use the SmartThings app to check devices and more.
Your home in your hands
SmartThings is a powerful remote control for your home.
Discover how a single app can drastically enhance your lifestyle.
A home that works on your schedule
Now your home can keep up with your busy schedule.
SmartThings lets you automate your home so your mornings are easier and your nights are calmer.
Enrich your Samsung Galaxy Experience
Do what you do everyday, but better with SmartThings. Now natively integrated into various apps installed in Galaxy devices, SmartThings makes your daily experiences more intuitive, convenient and pleasant.
Matter and SmartThings.
An effortless start to a smarter home.
SmartThings works with Matter, an industry-changing connectivity standard supported by more than 280 companies, so you get to decide which device to bring home. Just look for the Matter logo.
SmartThings works seamlessly with Matter. Just bring the Matter device you need. 4,5,6,7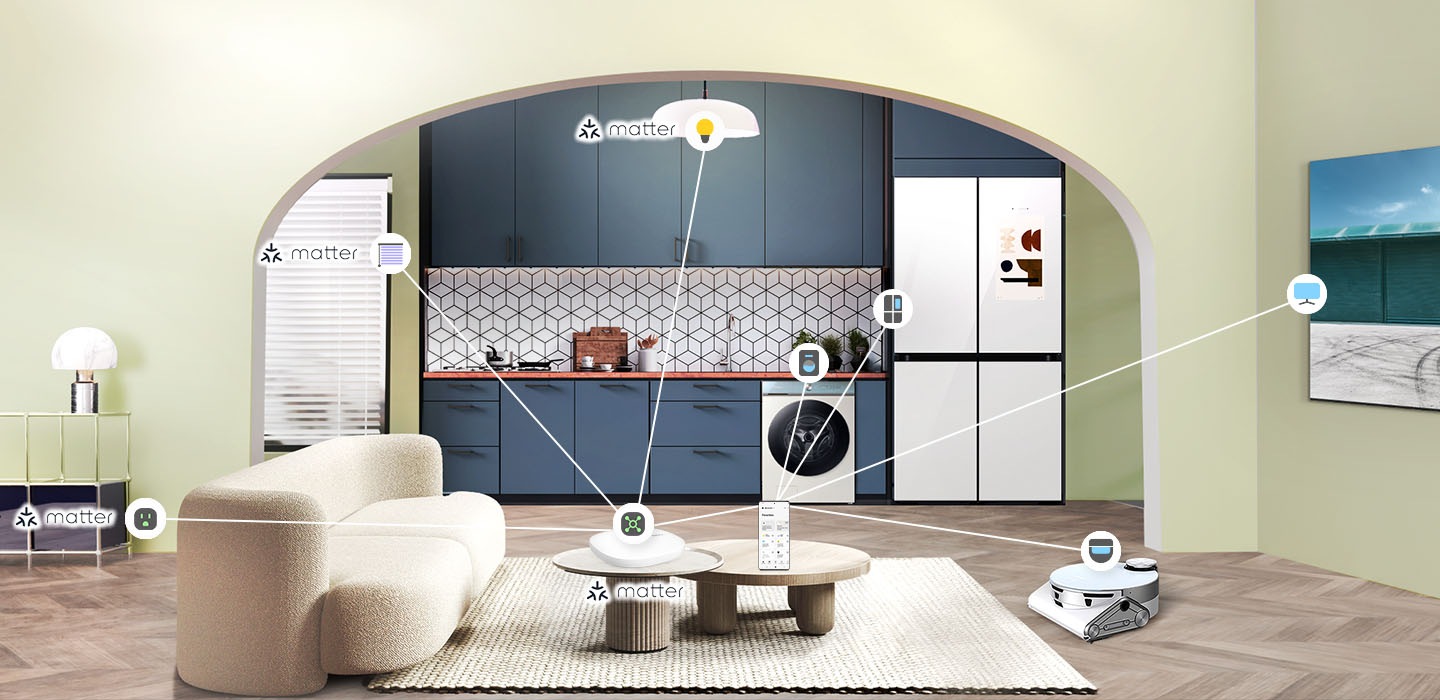 You don't need to buy another Matter hub.
We will put it into your Samsung TV, Smart Monitor or Family Hub.4,5,6,7

Fully immerse in your music
With SmartThings Music Sync, the color and brightness of your Philips Hue lights dance to your tunes, so you can enjoy the music with your ears, your eyes and your soul.8
SmartThings Home
Meet our new integrated solutions that offer customized experiences for a smarter, more delightful home life.

Fun & convenient. Across your entire food journey.
Maximize the fun and minimize the effort needed for your daily cooking. From personalized recipe recommendations to one-stop grocery purchases to guided cooking features, SmartThings Cooking enables a holistic and truly connected cooking experience.
Save more with SmartThings Energy
Saving energy matters more now than ever. Monitor and manage compatible home appliances to check energy usage, compare it with other users, and use saving functions to lower your electric bill.9,10

Next-level laundry experience with SmartThings Clothing Care
Receive personalized tips for your laundry routine, learn how to care for different clothing types and keep track of your laundry supplies with SmartThings Clothing Care.

Make things comfortable for your pets with SmartThings Pet Care's Home Alone Mode
Turn on the TV, play music on the Jet Bot AI+ and switch on the lights while you are away. Your robot vacuum can even go around and record video clips of your furry friends so you can keep track of their wellbeing.11,12

Track the health of the devices in your home.
Let SmartThings take care of your home so you can focus on what's important to you. Relax and live your life while getting insights into your household patterns, notifications when you need to replace parts, and solutions if something goes wrong.
A fresher home with SmartThings Air Care
Clean air starts here. SmartThings monitors air quality, starts purifying air when necessary and offers tips on how to improve your home environment.
* Available technology, functions, and features may vary by country, service provider, network environment, or product, and are subject to change without notice.
Left something behind?
Use SmartThings Find.
With SmartThings Find, 
your Galaxy devices or a SmartTag-attached item won't stay lost for long. On the app, easily locate your misplaced device or object. Ring it to help you find it.13,14,15

Find it before you lose it
You don't have to worry, even if you left without our valuable item at a coffee shop. 
With SmartThings Find, you'll receive an alert when you leave important things behind.14,15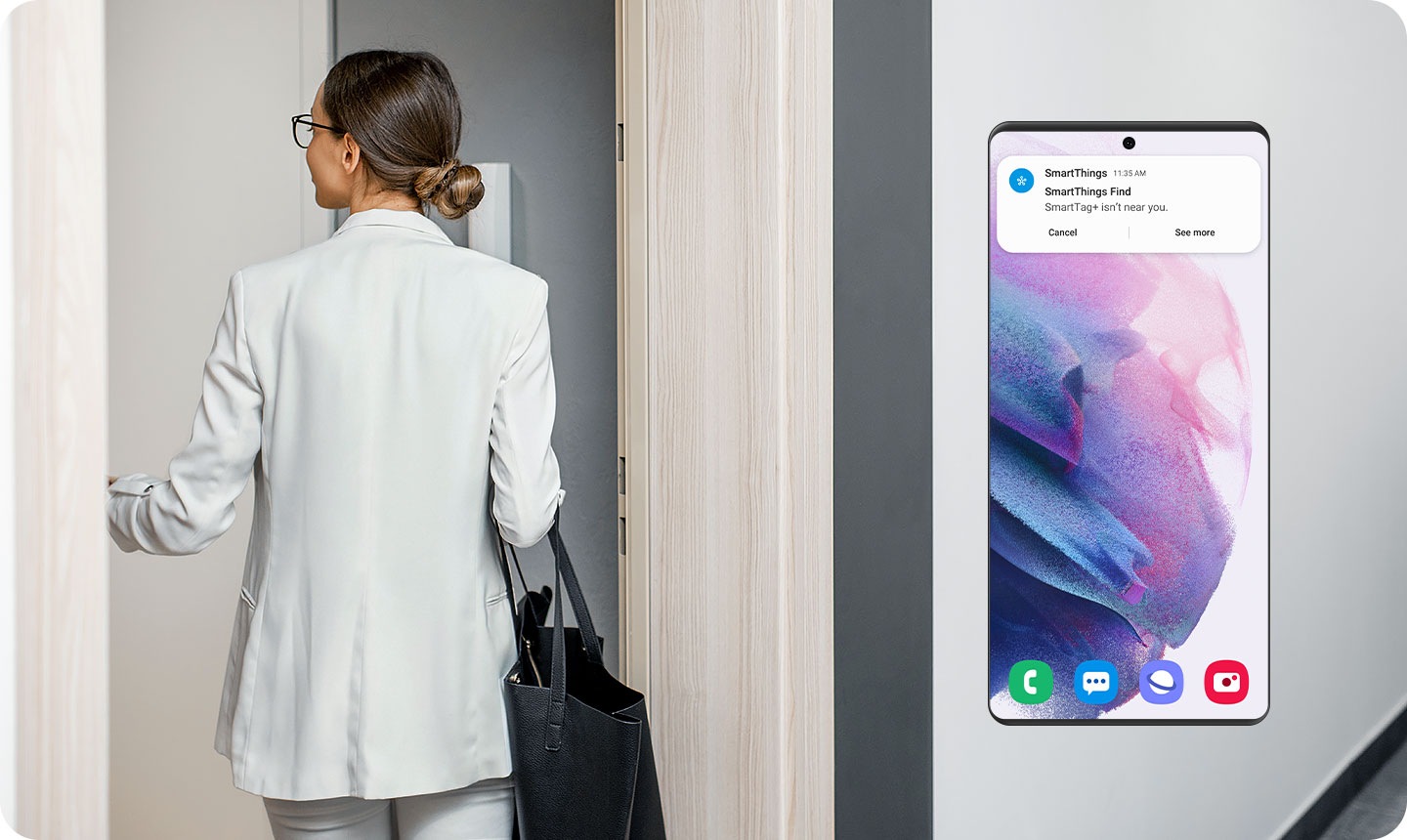 Control your home, from your car
SmartThings on Android Auto has your home in order. Control your SmartThings devices from your car display, you can keep your eyes on the road and off your smartphone. Almost home? Turn up the thermostat, start the air purifier, and open the garage door, all by clicking the Welcome Home scene in your car.17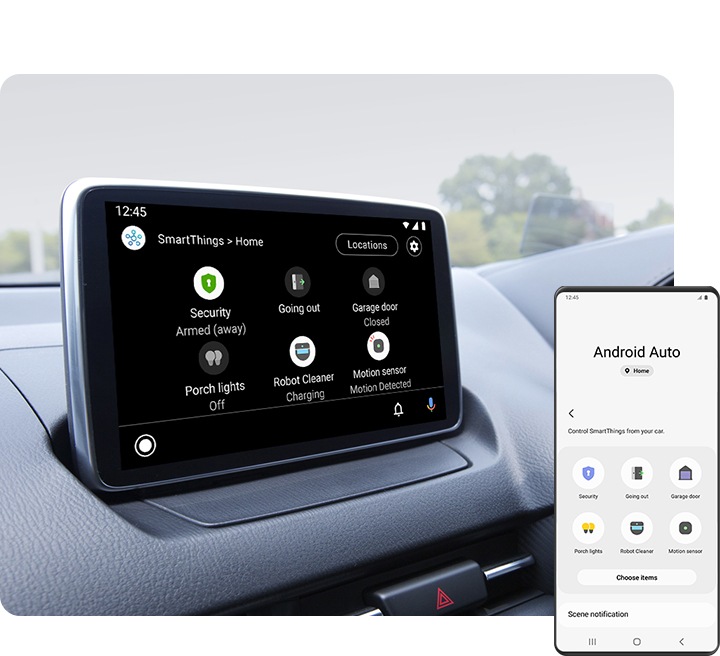 Life's a little easier
with a voice assistant - or two
Turn on the TV and start the vacuum by voice. You can control your home with your favorite voice assistant, or all of them at the same time.18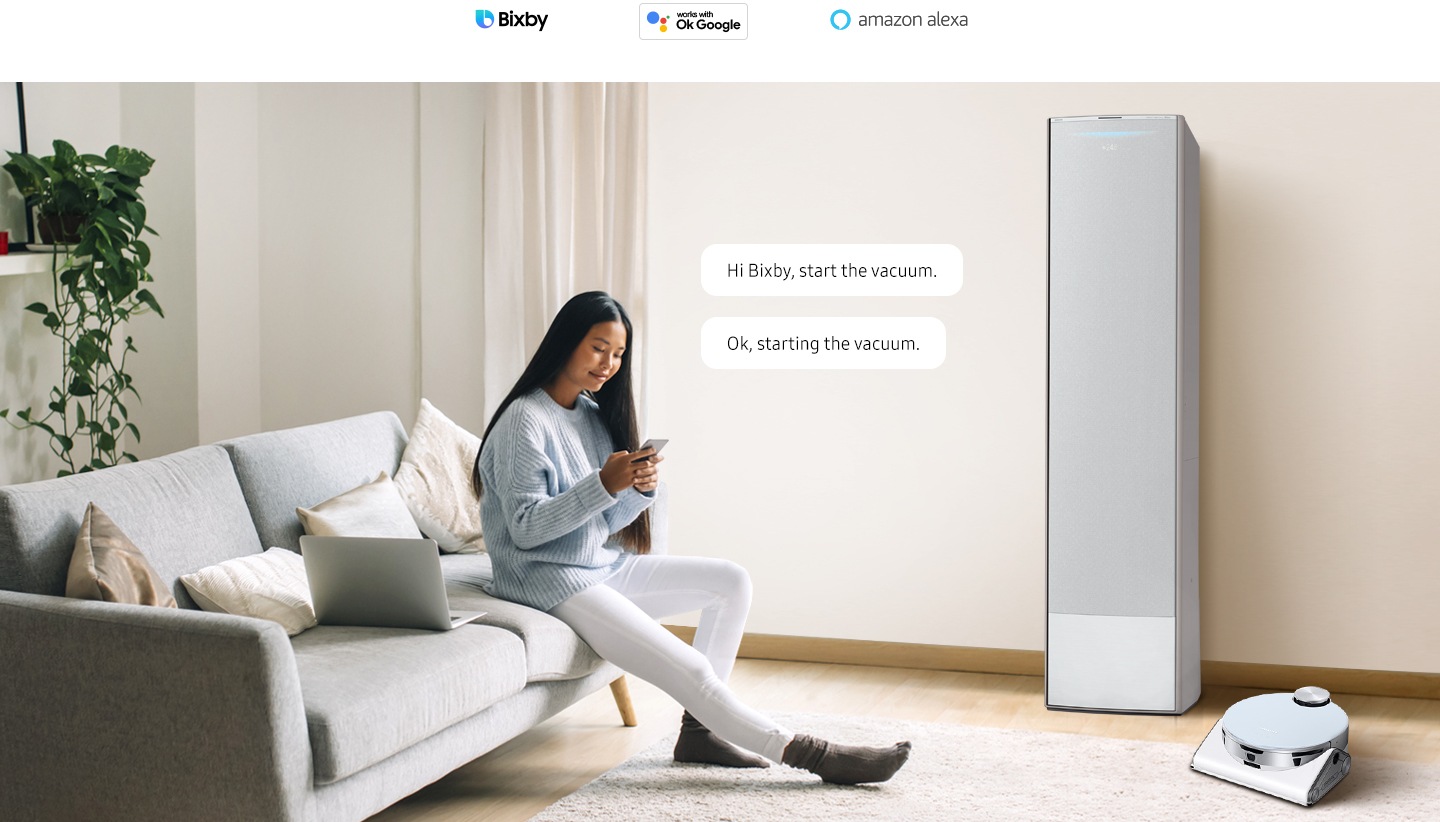 Connect and experience
more with SmartThings
SmartThings is more integrated with other smart devices to make life even easier.
Just look for the "Works with SmartThings" symbol in stores and online.
Let's get started with SmartThings
Connected life is only a button away. Tap the How-to-use menu in the SmartThings app.
• Image simulated for illustrative purposes. Actual UI may be different.
• Each device must be connected to Wi-Fi or other wireless network.
• For interoperability through SmartThings, all the devices should be registered with a single Samsung Account.
• Available technology, functions, features and services may vary by country, service provider, network environment, or product, and are subject to change without notice.
• Please find 'Works with SmartThings' logo on the product or product package.
• "Bixby" is limited to selected languages and certain accents/dialects.
• Compatible devices must be purchased separately in order to access SmartThings Services.


1 The feature mentioned above is available on mobile devices that are running One UI 3.1 and above with SmartThings app installed.
2 The feature mentioned above is available on mobile devices that are running One UI 5.0 and above with SmartThings app installed. Mobile devices with One UI 3.1 and above, but below One UI 5.0 can access the feature through Clock app. Modes are required to be preset by the user.
3 Available on Galaxy Watch4 and later.
4 A Matter-compatible hub is required for connecting Matter devices to SmartThings.
5 Matter hub functionality will be provided via firmware update. Devices eligible for support: Hub (IM6001-V3P**, STH-ETH-200, STH-ETH-250), Samsung TV (QN900B/QN800B/QN700B/QN95B/S95B/QN90B/QN85B/Q80B/Q70B/Q60B/BU8/The Serif/The Frame/The Sero released in 2022), Smart Monitor (M50B and above released in 2022), Family Hub (models sold in US and Korea in 2017 or later, RH9000 excluded in KR). Update may be applied at different times.
6 All of the Matter compatible hubs above support Matter devices operating on Wi-Fi radio.
7 To connect Matter devices operating on Thread radio: to Samsung TV, Family Hub, or Smart Monitor, a SmartThings Dongle or a Thread border router is required. to Hubs STH-ETH-200 or STH-ETH-250, a Thread border router is required.
8 Only available on Galaxy devices. This feature requires Philips Hue White and color ambiance lights and a Hue Bridge.
9 The estimates of your energy consumption and costs may vary from your actual incurred usage and costs.
10 The supported devices and functionalities of AI Energy Mode vary by region.
11 Only available on Jet Bot AI+.
12 Pet finding is only possible when there is a complete home map. This can be performed with the Jet Bot AI+ mounted on the charger, or with the user directing the Jet Bot AI+'s movements through the home map.
13 Galaxy SmartTags have a Bluetooth range of up to 120m without obstacles. Actual performance may vary depending on the environment where they are used.
14 Currently available with Galaxy smartphones and tablets above Android 8.0, Galaxy Watch with Wear OS or with Tizen OS 5.5 and above, Galaxy Buds+ and later, S Pen Pro, and select Galaxy Book models. Others to be supported.
15 To find Galaxy Watch and Buds with SmartThings Find, the latest version of Galaxy wearable app needs to be installed.
16 The location of your devices, such as Galaxy SmartTag, will only be shared to other members in your SmartThings location on your consent.
17 Connect wirelessly or use a USB cable to link your mobile device to your car to use SmartThings on Android Auto. To find out if your car is compatible, check the Google Android Auto webpage.
18 Google is a trademark of Google LLC.