Knox is Samsung's commitment to mobile device security
Knox combines a defense-grade security platform that is built into Samsung devices from the chip up, together with a comprehensive set of cloud-based solutions that enable IT to secure, deploy and manage devices to meet their specific business needs.

Shop exclusive offers on our most secure devices
Shop volume pricing, bulk trade-in discounts, free software trials and limited time offers for your business. Make buying best-in-class technology a breeze with 0% Samsung Business Financing.
Knox mobile security solution: protection from the chip up
Anchored in the hardware of Samsung smartphones and tablets, the Samsung Knox enterprise mobile security solution is also integrated throughout the software layers to separate data and constantly check the integrity of the device. These defense layers detect any tampering and ensure data is secure. Explore the layers below or download the whitepaper.
Advanced mobile security for Android
The Knox mobile security solution protects applications and data by strictly defining what each process is allowed to do and which data it can access. This allows Knox security to separate, encrypt and protect enterprise data within a managed container.
Real-time kernel protection integrity measurement architecture
Periodic Kernel Measurement and Real-time Kernel Protection work to constantly inspect the core software of the OS, the kernel. These checks ensure that requests to bypass device security are blocked and sensitive data is protected.
TrustZone
The Knox enterprise security solution leverages a processor architecture known as TrustZone, in which highly sensitive computations are isolated from the rest of the device's operations, protecting enterprise data.
Secure / trusted boot and hardware root of trust
To prevent security measures from being bypassed or compromised, Knox uses Boot-time Protections backed by Hardware Root of Trust to verify integrity of the device during the boot process.
Knox certifications
The Samsung Knox mobile enterprise solution is trusted by governments around the world with some of the most stringent information and technology security requirements. We work closely with these organizations on a continuous basis to ensure that our products and solutions meet and exceed these requirements.
Works well with others
Samsung works with the leading enterprise mobile management (EMM) solution partners in order to deliver advanced capabilities to our customers. Our Knox Service Plug-in enables new security and configuration features to be made available immediately across the top EMM consoles.

Built into Samsung mobile devices
The Knox security solution is embedded into Samsung phones and tablets. Knox mobile security platform features are active in your device from the moment you turn it on.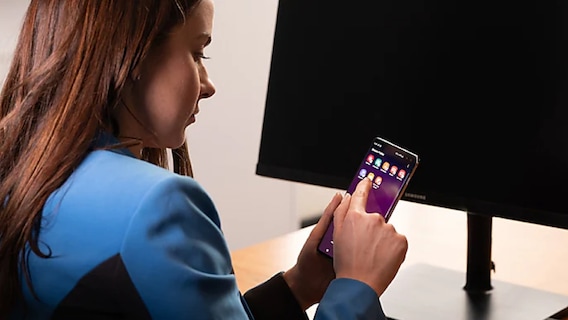 Separate personal data
Using Samsung Knox technology, Secure Folder is a built-in data separation container that provides additional protection for personal apps and content.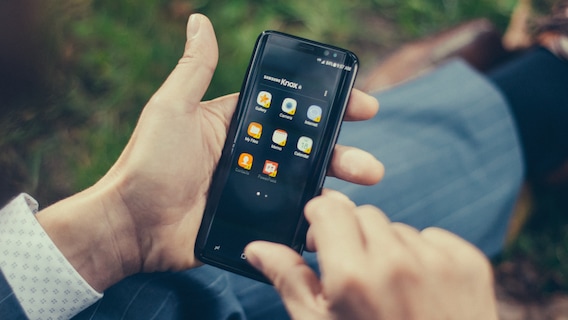 Advanced mobile security and management
Featuring advanced configuration and management options, robust VPN connectivity and comprehensive data usage analytics, Knox Platform for Enterprise should be the cornerstone of your mobile security strategy.
Top insights for mobile security
Mobile security best practice guides
Sign up to get access to in-depth guides on enterprise mobile management and security.
Contact a mobile security sales expert
Please provide your contact details and our sales team will get back to you about Samsung Knox. Or you can call (866) 726-4249 to talk to an expert now.
Enterprise mobility management and ongoing support
Samsung solutions let you manage every stage of the device lifecycle, from configuration and enrollment to firmware updates.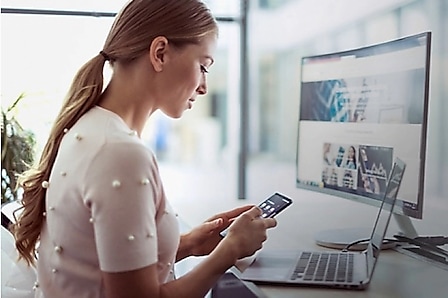 Back your business with stackable service packs – from hassle-free repairs to accidental damage coverage and an extended warranty.

© 2023 Samsung Electronics America, Inc. All rights reserved. Samsung is a registered trademark of Samsung Electronics Co., Ltd. All products, logos and brand names are trademarks or registered trademarks of their respective companies. Screen images simulated.
†For a limited time only, on Samsung.com/us/business, pre-order or purchase a new qualifying Galaxy device ("Qualifying Purchase"), send in your qualifying trade-in device to Samsung through the Samsung Business Trade-In Program and, if Samsung determines your trade-in device meets all eligibility requirements, you will receive a trade-in credit specific to your qualifying trade-in device applied to the payment account you used for your purchase five to seven days after Samsung accepts the trade-in device. Device models that currently qualify for trade-in and trade-in credit amounts associated with those models are available on Samsung.com/us/business; eligible models and amounts may change at Samsung's sole discretion. To be eligible for trade-in, your qualifying device must meet all Business Trade-In Program eligibility requirements, which include, but are not limited to, that the device powers on, holds a charge, and does not power off unexpectedly; has a functioning display; has no breaks or cracks in the screen (unless a cracked screen offer applies); has no breaks or cracks in the case; has no liquid damage (whether visible or not); has no other defects that go beyond normal wear and tear; is not on a black list; has a verified FCC ID; has been reset to factory settings; has all personal information removed; has all software locks disabled; and is owned by you (leased devices are not eligible). Participation in this program does not excuse you from contracts with your carrier or retailer (or any related payments or fees) for the device that was traded in. Limit 1 trade-in per Qualifying Purchase. Samsung reserves the right to modify or discontinue this offer at any time. The Business Trade-In Program cannot be combined with any other Samsung, carrier or retailer promotions, discounts, or offers unless specifically provided for in the terms and conditions of such offers. Additional terms apply and are located at https://www.samsung.com/us/business/shop/trade-in/terms-and-conditions/, including terms that govern the resolution of disputes, apply.
φCustomers ordering Galaxy Z Fold4 with a Samsung Business Account will receive an email with coupon codes to redeem offers directly on partner websites. Offers are available for a limited time. Partners reserve the right to modify or discontinue offers at any time by posting notice on their website.

҂Limited time offer, ends 12/31/23. Purchase an eligible Galaxy smartphone or tablet with an eligible Care+ for Business plan on Samsung.com/business or the Samsung Shop App with a valid Samsung Business Account and receive 50% off the subscription of Care+ for Business and a free compatible eligible phone or tablet case. Excludes Certified Re-Newed Galaxy smartphones, Galaxy XCover6 Pro, Galaxy Tab Active4 Pro and Galaxy Tab Active3. Only available on B2B ecommerce purchases on Samsung.com and in eligible B2B ecommerce stores. One gift per Qualifying Device Purchase. Offer not shareable or transferrable and cannot be redeemed for cash or like exchanges. If return or cancel purchase, the discount will be lost. Offer applies to each Qualifying Purchase (up to 150 per order). Offer can be combined with trade-in and/or eligible discounts on Qualifying Purchase. 18+ & 50 US/DC/PR/USVI only. Void where prohibited or restricted by law. Additional restrictions apply. Samsung reserves the right to modify or cancel this offer or the terms and conditions associated any time, without prior notice.


1For the full list of Knox certifications, please visit https://www.samsungknox.com/en/knox-platform/knox-certifications
Stay in the know
Contact a sales expert
Get in touch with our sales team to discuss tailored solutions for your business. You can call (866) 726-4249 to talk to an expert now, or use the form below to submit your requests.
Get product support
Find manuals, downloads, warranty information and more. We also offer FAQs and demos to help with business product questions.