Business computer monitors
From sleek and futuristic ultra-wide monitors to comfortably consolidated multiple screens, to daisy chaining numerous monitors with ease and connectivity with the most widely used mobile devices, Samsung has the answers to upgrading your employee's computing experience and productivity.
Experience the detail and clarity
From ultra-curved screens with WQHD resolution to 4K UHD monitors, combined with high contrast ratios, extremely accurate color and QLED technology, Samsung's portfolio helps you see your work in a whole new light.
Elevating the workspace
Reach new levels of efficiency and productivity with split-screen and picture-in-picture technology to connect two separate sources and view them simultaneously. Plus, USB-C gives you direct connectivity to mobile devices.
Comfort in view
Height-adjustable, pivot, tilt and swivel stand options let you position monitors optimally to minimize neck strain and improve collaboration, while Samsung's Eye Saver Mode delivers long-lasting eye comfort by reducing blue light emissions.
Elevated performance. Peak productivity.
Work more effectively and accurately with the highest resolution displays Samsung has to offer. Top color precision, wide viewing angles and the ability to connect multiple devices to one monitor make tackling large projects easy.
Stunning image quality
With up to 4K UHD resolution, you get stunning, life-like image quality and highly legible fonts thanks to up to 4x more pixels than a standard Full HD monitor.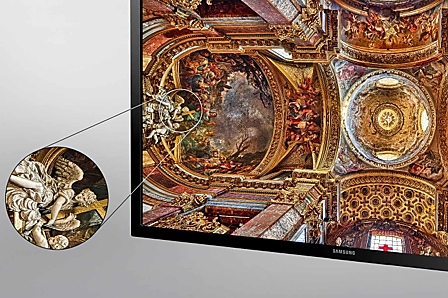 Brilliant color with QLED
Support for up to 125% of the sRGB color space and 1.07 billion colors thanks to Quantum Dot (QLED) technology on select models means exceptionally bright, crisp and natural colors and smooth transitions.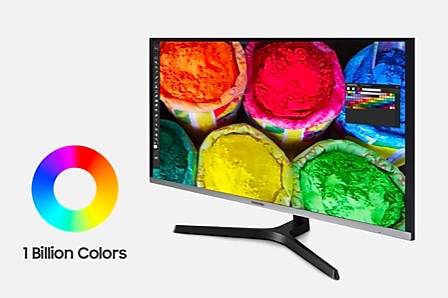 Screen splitting software
Connect up to two separate sources and view them simultaneously with split-screen picture-by-picture (PBP) and picture-in-picture (PIP) technology.
Designed for convenient collaboration
The Webcam Monitor S4 brings together vivid, crystal-clear picture quality, a convenient and secure webcam and microphone, and stereo sound in a display designed for convenience, comfort and security.
Be a part of the experience
Enhance productivity with superior image quality, vibrant color and contrast, and crystal-clear clarity.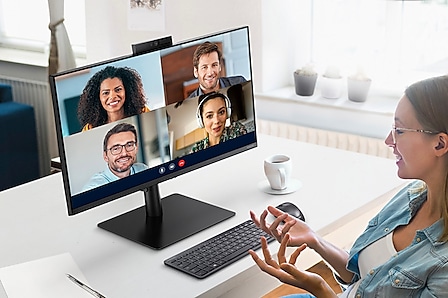 Simply convenient modern work
All-in-one design simplifies video conferencing setup and eliminates the need for multiple peripheral ports on your laptop.

Deploy, manage and secure with ease
Windows Hello-certified facial recognition authentication for Windows 10 devices eliminates the threat of hacking for enterprise-level security.
Ultra-wide business monitors
Featuring large, ultra-wide monitors with up to WQHD resolution, you get a beautiful picture and can comfortably see more at once.
Ultra-wide aspect ratios
Choose from 21:9, 32:9 or 32:10 ultra-wide aspect ratios so you have more room to work for enhanced productivity.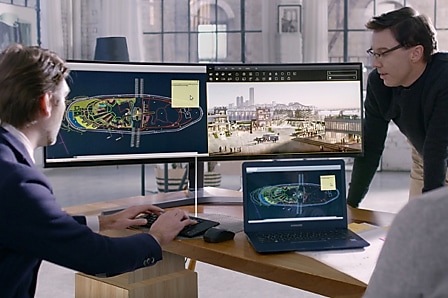 WQHD resolution
WQHD resolution delivers twice the pixels and detail of Full HD resolution. So you get a vibrant, sharp picture and never miss a detail.
Screen splitting software
Connect up to two separate sources and view them simultaneously with split-screen picture-by-picture (PBP) and picture-in-picture (PIP) technology.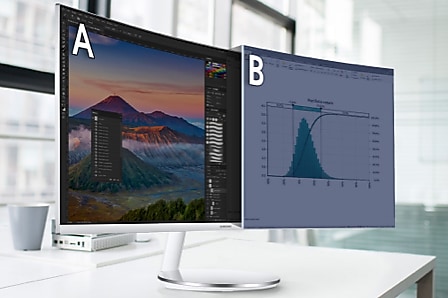 Curved business monitors
(widescreen 16:9)
Experience immersive viewing and workplace comfort with stylish and highly productive curved monitors.

Ultra-curved monitors for comfort and productivity
With Samsung's ultra-curved 1800R VA panels, the distance from screen to eye maintains a more uniform distance, helping to reduce eye fatigue when working long hours.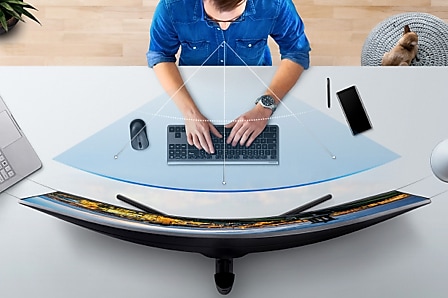 Fine detail and sharp contrast
An exceptional 3000:1 contrast ratio lets you see incredible detail and contrast even when bright colors appear along with deep shadows and silhouettes.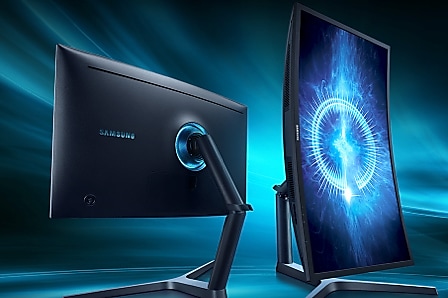 Ultra-slim bezels for a stunning workplace design
See more picture and less plastic with 3-sided ultra-slim bezel frames on select models that deliver a sleek, slim and sophisticated style to your office and also improve multi-monitor setups.
Mainstream business monitors
Explore environmentally friendly and user friendly professional desktop and business monitor solutions.
Full HD resolution
Enjoy sharp, bright and beautiful images plus crisp, legible text so you can work productively and efficiently.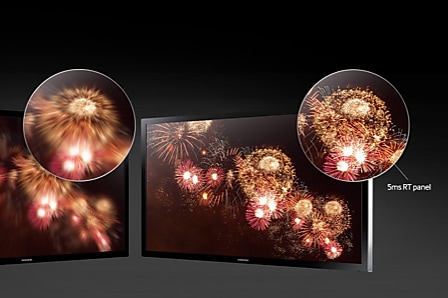 ENERGY STAR® Certified
Compliance with ENERGY STAR®, a government program, ensures eco-friendliness and energy efficiency.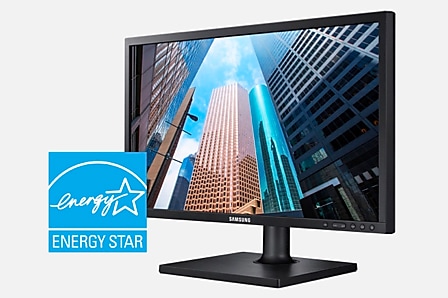 Recycled plastic
Environmentally friendly features include up to 30% recycled plastic and special Eco features to reduce power consumption.
Samsung ProCare Device Protection
Staying connected is critical. With ProCare Device Protection, you'll help ensure business continuity and maintain your company's valuable assets.
More than pixels: desktop monitors are production hubs

The Complete Guide
to USB Type-C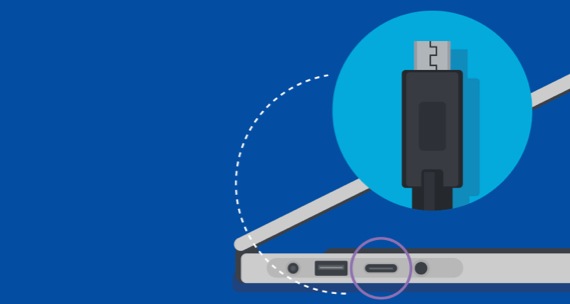 Connecting monitors
with USB-C and daisy chain

The impact of color technology and refresh rates for desktop monitors
Use Samsung's Easy Setting Box on your monitor
Easy Setting Box SW enables users to partition the screen into various layouts of multiple sections so as to multi-task. This powerful tool enhances productivity by easily organizing multiple window screens.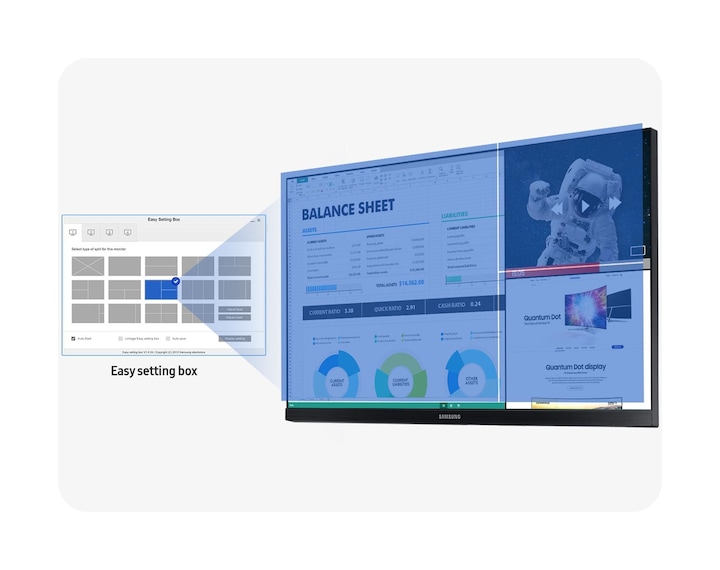 Contact a desktop monitor solutions sales expert
Please provide your contact details and our sales team will get back to you about Samsung business monitors. Or you can call (866) 726-4249 to talk to an expert now.
© 2023 Samsung Electronics America, Inc. All rights reserved. Samsung is a registered trademark of Samsung Electronics Co., Ltd. All products, logos and brand names are trademarks or registered trademarks of their respective companies. Screen images simulated.
†For a limited time only, on Samsung.com/us/business, pre-order or purchase a new qualifying Galaxy device ("Qualifying Purchase"), send in your qualifying trade-in device to Samsung through the Samsung Business Trade-In Program and, if Samsung determines your trade-in device meets all eligibility requirements, you will receive a trade-in credit specific to your qualifying trade-in device applied to the payment account you used for your purchase five to seven days after Samsung accepts the trade-in device. Device models that currently qualify for trade-in and trade-in credit amounts associated with those models are available on Samsung.com/us/business; eligible models and amounts may change at Samsung's sole discretion. To be eligible for trade-in, your qualifying device must meet all Business Trade-In Program eligibility requirements, which include, but are not limited to, that the device powers on, holds a charge, and does not power off unexpectedly; has a functioning display; has no breaks or cracks in the screen (unless a cracked screen offer applies); has no breaks or cracks in the case; has no liquid damage (whether visible or not); has no other defects that go beyond normal wear and tear; is not on a black list; has a verified FCC ID; has been reset to factory settings; has all personal information removed; has all software locks disabled; and is owned by you (leased devices are not eligible). Participation in this program does not excuse you from contracts with your carrier or retailer (or any related payments or fees) for the device that was traded in. Limit 1 trade-in per Qualifying Purchase. Samsung reserves the right to modify or discontinue this offer at any time. The Business Trade-In Program cannot be combined with any other Samsung, carrier or retailer promotions, discounts, or offers unless specifically provided for in the terms and conditions of such offers. Additional terms apply and are located at https://www.samsung.com/us/business/shop/trade-in/terms-and-conditions/, including terms that govern the resolution of disputes, apply.
Stay in the know
Contact a sales expert
Get in touch with our sales team to discuss tailored solutions for your business. You can call (866) 726-4249 to talk to an expert now, or use the form below to submit your requests.
Get product support
Find manuals, downloads, warranty information and more. We also offer FAQs and demos to help with business product questions.