Government technology solutions
Mobilize your workforce
Enable greater productivity by equipping personnel to securely work wherever the mission takes them—from the desktop to the battlefield.
Secure remote work solutions for the Federal workforce
Combined with partner Virtual Desktop Infrastructure solutions,1 Samsung DeX provides Department of Defense and Civilian agency personnel with a secure, desktop-like, remote-access experience.
Mission-ready tablets
Samsung Galaxy tablets are mission-ready out-of-the-box and secured with Knox—no contract exceptions needed.
Mission-ready mobility. Proven by operators.
The Galaxy S20 Tactical Edition is the mission-ready military smartphone built and proven by operators in special operations, with the power to achieve their objective in any tactical environment.

Persistent communications
Fielded and proven by operators, the Galaxy S20 Tactical Edition connects to tactical radios and mission systems, out of the box, for a complete common operational picture.
Situational awareness
The Galaxy S20 Tactical Edition was built to provide complete and accurate real-time intelligence for enhanced precision and effectiveness in any domain.
Secure and proven
Certified for use in classified communications, the S20 Tactical Edition is a single operationally ready device that meets all your mission requirements, from mission planning to training, and in the field.
Upgrade and secure with Samsung displays
Amid rising citizen expectations, it's time for agencies to get agile. Samsung offers secure, compliant and simple display solutions that elevate the citizen experience with centrally-managed precision.
Reimagine citizen services
Sharp and clear Samsung display solutions share key information in real time with vivid detail. Agencies can exceed citizen expectations and delight the public with lasting image quality and reliable security.
Command center monitors require advanced technology
To do their jobs, the technicians and analysts who work in command and control centers need intuitive, responsive and versatile equipment. That includes everything from their computing devices to their network connectivity.
Secure your endpoints
Samsung Galaxy devices deliver defense-grade security baked into the hardware so the device is secure down to the chipset from the moment you turn it on.2
Samsung Knox
From encryption to multi-factor authentication, biometrics and more, Knox delivers end-to-end device security for wherever the mission takes you.
Knox extends and enhances the AE platform
Knox Platform for Enterprise extends Android Enterprise by providing granular manageability, higher security and enhanced productivity features on top of AE.
Samsung's Government & Military Discount programs
U.S. Government Employees
Sign up for access to exclusive offers with a valid .gov email address.
U.S. Military
Sign up for access to exclusive offers with a valid .mil email address.
Top products for government
Mobile phones
Government employees need to remain connected, productive and secure, wherever their duties take them. Equip your workforce with Samsung's broad portfolio of Galaxy smartphones, from innovative foldables to rugged devices for frontline use.
Tablets
Certain procedures and assignments require the hands-on, tactile nature of tablet devices. Ensure your workforce has the most durable and secure technology available for remote duties and applications.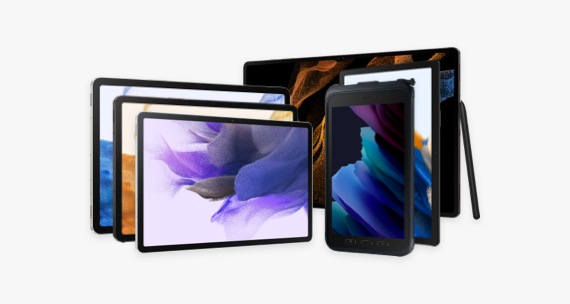 Galaxy Book
Government can rely on mobility to stay flexible and productive, with no discontinuity for employees who flex between out-of and in-office responsibilities. And with the Galaxy Book2 Business that passes 16 tests at the Mil-STD-810H level, workers also enjoy superior protection with a hardware-based Root of Trust.

The Wall
Bring breadth and precision to every critical mission with an epic-scale display solution to expand your strategic and tactical view. The Wall gives you the true lay of the land to see the biggest picture possible.

Smart signage and indoor LED
Samsung offers a suite of innovative digital display solutions designed for the government to seamlessly transform agency offices to state-of-the-art command and control centers.
TAA-compliant3 monitors
Samsung's TAA-compliant monitors are approved to be acquired by the United States Government and deliver secure, high-quality visuals every time.

Buy direct and save on a full range of Samsung technology
Contact a government solutions sales expert
Please provide your contact details and our sales team will get back to you about Samsung's government technology solutions. Or you can call (866) 726-4249 to talk to an expert now.
© 2023 Samsung Electronics America, Inc. All rights reserved. Samsung is a registered trademark of Samsung Electronics Co., Ltd. All products, logos and brand names are trademarks or registered trademarks of their respective companies. Screen images simulated.
†For a limited time only, on Samsung.com/us/business, pre-order or purchase a new qualifying Galaxy device ("Qualifying Purchase"), send in your qualifying trade-in device to Samsung through the Samsung Business Trade-In Program and, if Samsung determines your trade-in device meets all eligibility requirements, you will receive a trade-in credit specific to your qualifying trade-in device applied to the payment account you used for your purchase five to seven days after Samsung accepts the trade-in device. Device models that currently qualify for trade-in and trade-in credit amounts associated with those models are available on Samsung.com/us/business; eligible models and amounts may change at Samsung's sole discretion. To be eligible for trade-in, your qualifying device must meet all Business Trade-In Program eligibility requirements, which include, but are not limited to, that the device powers on, holds a charge, and does not power off unexpectedly; has a functioning display; has no breaks or cracks in the screen (unless a cracked screen offer applies); has no breaks or cracks in the case; has no liquid damage (whether visible or not); has no other defects that go beyond normal wear and tear; is not on a black list; has a verified FCC ID; has been reset to factory settings; has all personal information removed; has all software locks disabled; and is owned by you (leased devices are not eligible). Participation in this program does not excuse you from contracts with your carrier or retailer (or any related payments or fees) for the device that was traded in. Limit 1 trade-in per Qualifying Purchase. Samsung reserves the right to modify or discontinue this offer at any time. The Business Trade-In Program cannot be combined with any other Samsung, carrier or retailer promotions, discounts, or offers unless specifically provided for in the terms and conditions of such offers. Additional terms apply and are located at https://www.samsung.com/us/business/shop/trade-in/terms-and-conditions/, including terms that govern the resolution of disputes, apply.
1Third-party VDI solutions sold separately.
2For the full list of Knox certifications, please visit www.samsung.com/knox.
3The "TAA-compliant" designations made herein are intended solely for the purpose of communicating the availability of TAA-compliant SKUs (Stock Keeping Unit) for a particular product, and are not categorical product classifications. The TAA-compliant designations used here are solely for the purpose of making known that TAA-compliant SKUs are available for purchase, and that interested customers should inquire with Samsung sales representatives for more information. Online purchases cannot ensure delivery of TAA-compliant SKUs.
Stay in the know
Contact a sales expert
Get in touch with our sales team to discuss tailored solutions for your business. You can call (866) 726-4249 to talk to an expert now, or use the form below to submit your requests.
Get product support
Find manuals, downloads, warranty information and more. We also offer FAQs and demos to help with business product questions.