Your style. Your life.
From stunning, classic designs to interactive, adaptive portability, this range of one-of-a-kind, QLED Smart TVs uniquely reflect your space and your aesthetic.
With a wide array of options to choose from, you can find a Lifestyle TV that fits you just right. Enjoy state-of-the-art picture quality in sizes big and small, whether you prefer your TV on a stand or hung on the wall.
Lifestyle TVs at a glance
Starting Price

Lifestyle Interest

Screen Size

Color

Accessories
What's the best TV for your space and style?
Narrow down the possibilities and get recommendations as unique as you.
TV when it's on,
Art when it's off
The Frame
Turn your TV into elegantly framed art that flawlessly blends in with your room's décor. With customizable bezels and access to the Samsung Art Store,¹ The Frame is quite possibly the only TV you'll watch even when it's off.
Designed to live outdoors
The Terrace
Enjoy year-round entertainment in your backyard or patio space with an IP55 rating that assures protection from water and dust. The Terrace durably delivers vivid, dynamic picture quality, day and night, in rain or shine.
Point and play anywhere
The Freestyle
Take your entertainment on-the-go with this smart portable projector. Whether you're having a movie marathon or a backyard cookout, The Freestyle can project streaming content up to 100 inches² in brilliant full HD wherever you are
Turn any room into a home theater
The Premiere
Enjoy theater-quality entertainment with our ultra-bright, 4K laser projector. Beautiful from every angle with an elegant, compact design, The Premiere can be placed close to any wall for up to 130 inches of screen space that delivers dramatic picture and realistic, room-filling sound.
Our most mobile-friendly TV
The Sero
Enjoy apps, social media and mobile content on your big screen in portrait or landscape mode.3 The Sero rotates for the best viewing experience and features 4.1ch 60-watt speakers for powerful sound.
A mastery of
form and function
The Serif
While traditional TVs belong on the wall, The Serif
belongs anywhere you put it, whether that's the center
of the room or on a shelf. The sophisticated, timeless,
portable "I" shaped unibody makes a statement in
every place, at every moment and from every angle.
Better together
Pair your designer TV with unique accessories that elevate aesthetic, increase flexibility and optimize your viewing experience.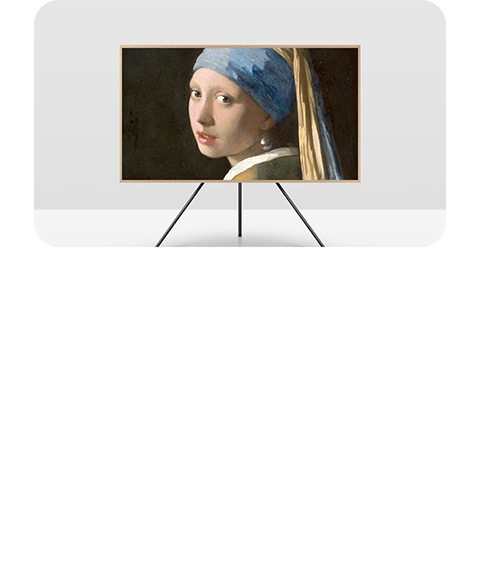 Studio Stand
Elevate your décor with the ultra-chic studio stand that lets you place The Frame anywhere the mood strikes.4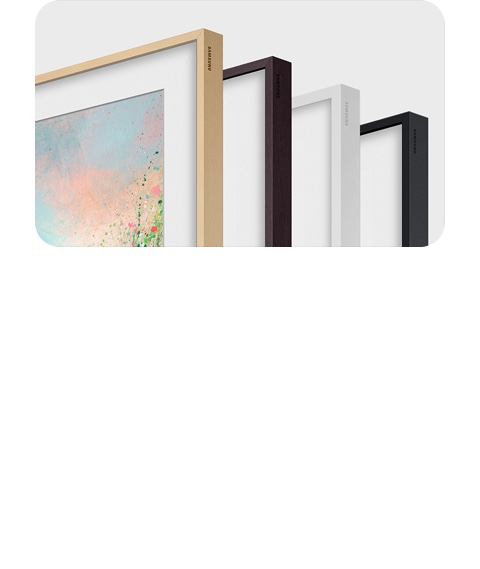 Customizable Bezel
With a variety of customizable, magnetic bezels, you can easily choose—or even change—your favorite color to best suit your space or décor.*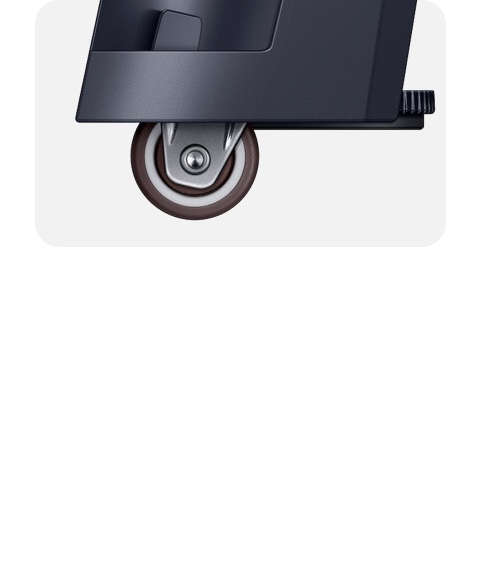 The Sero Wheels
Move The Sero freely from one room to the next with detachable wheels for easy entertainment on the go.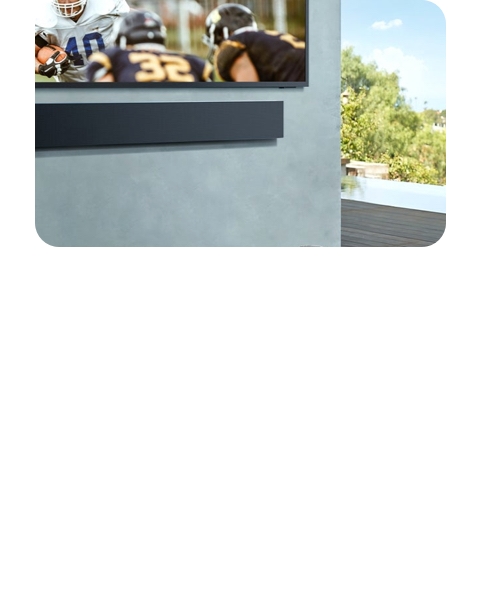 The Terrace Soundbar
Experience crystal-clear, outdoor-optimized sound, enhanced with Distortion Cancelling technology and the built-in woofer (210W).⁴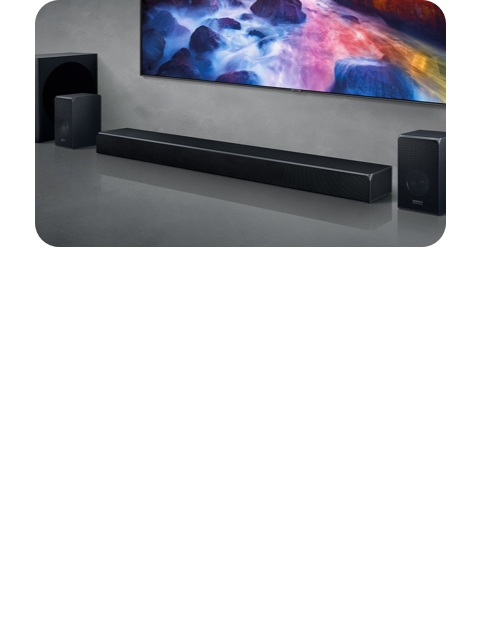 Home Entertainment
Explore wireless speakers, sound towers and more, for immersive, rich sound that transports you to the center of the action.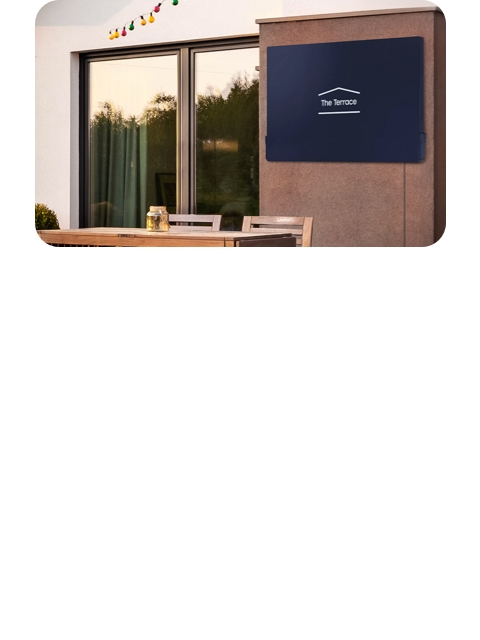 The Terrace Dust Cover
Protect against water, dust, scratches, UV rays, and even flames. Includes two convenient side pockets to store your OneRemote.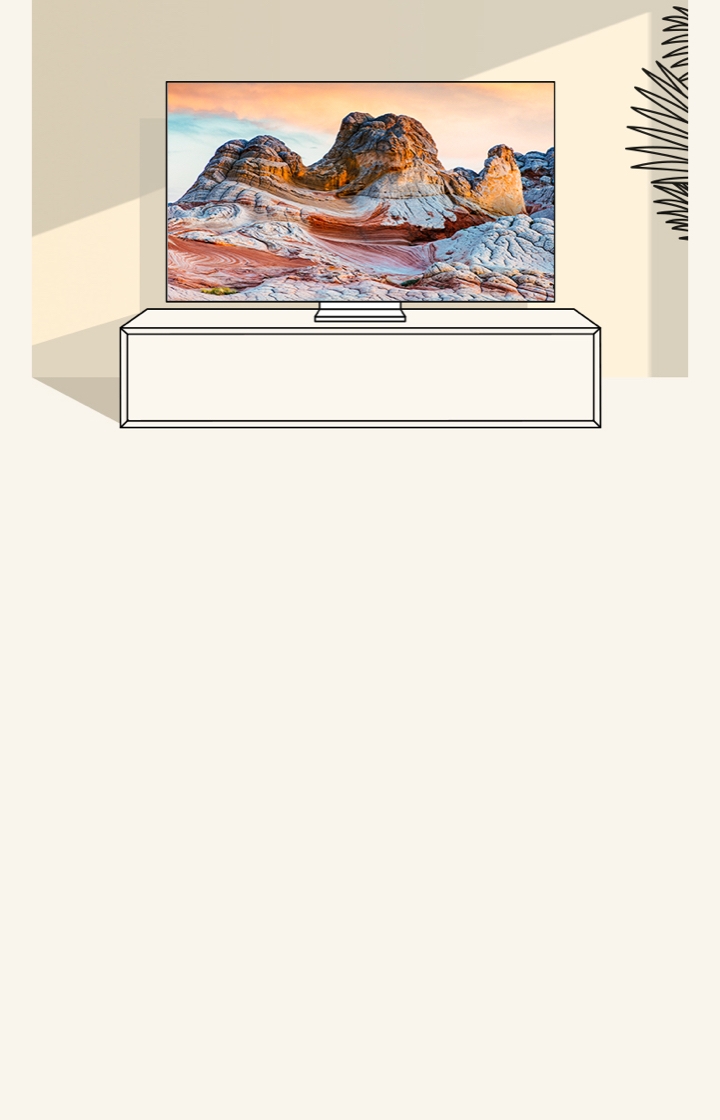 Check out our TV
buying guide
Find answers to all your questions and get informed before you buy.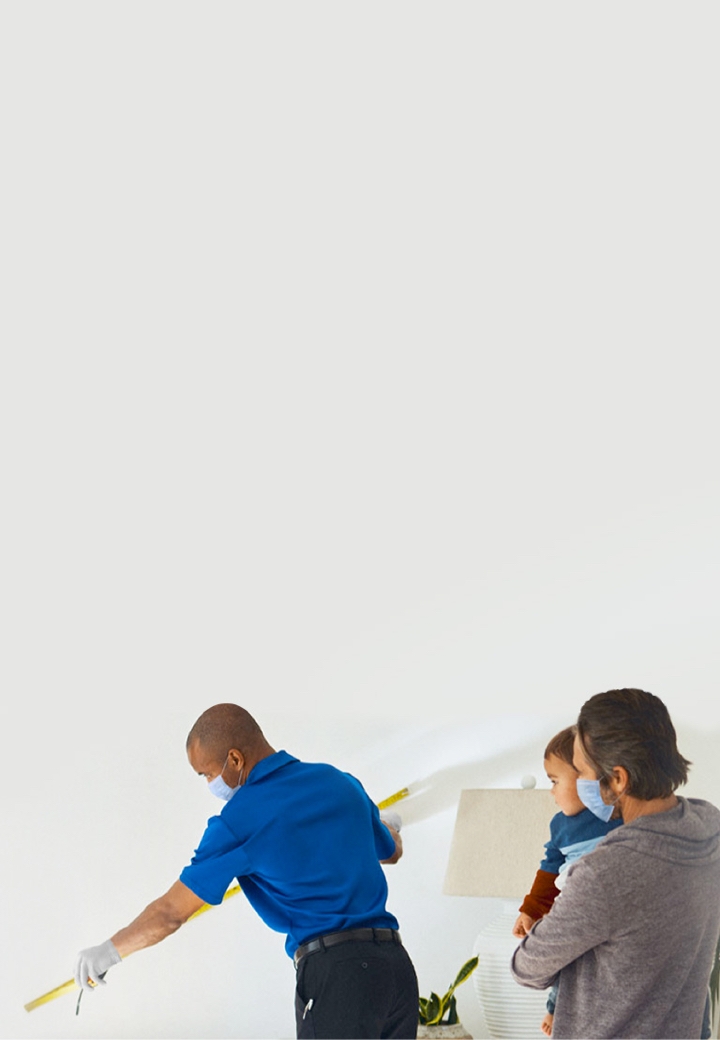 Free home expert consultation
Can't decide? Schedule a free Best Buy home consultation for personalized home technology and entertainment advice. Your Home Expert will help you find the perfect solution. Flexible ownership with Access
Enroll for the latest QLED TV, Samsung Care+, and access to content like Showtime and Youtube TV, all included in one low monthly price. Cancel anytime.
⊕ 0% APR for 24, 36, 40 or 48 Months with Equal Payments: Available on purchases of select products charged to a Samsung Financing account. Minimum purchase: $50. 0% APR from date of eligible purchase until paid in full. Estimated monthly payment equals the eligible purchase amount multiplied by a repayment factor and rounded to the nearest penny (repayment factors: .04167 for 24 month, .02778 for 36 month, .02500 for 40 month, .02083 for 48 month). Last payment may vary due to rounding. Total amount of payments will not exceed eligible purchase amount. Other transactions and fees affect overall minimum payment amount. Advertised payment amount is an estimate and may change once taxes, delivery or other charges are added. Limited time offer. Regular account terms apply to non-promo purchases. Minimum interest charge: $1. Standard Purchase APR: 29.99%. Prior purchases excluded. Account must be in good standing. Subject to credit approval. Samsung Financing account issued by TD Bank, N.A.
#
The laser projector can be projected on a flat white or bright monotone wall without setting up an additional screen.
Show More
#
The laser projector can be projected on a flat white or bright monotone wall without setting up an additional screen. For a more optimized experience, using a screen dedicated to ultra-short throw projector is recommended. Customizable Bezels, Studio Stand, Sero Wheels and Terrace Soundbar sold separately.
Show Less
† Panel protected up to 6 hours in sunlight at 700 watts and 104 degrees Fahrenheit; brightness may decrease to protect panel with other high temperature and sunlight conditions.
1
The Frame comes with 20 selected artworks.
Show More
1
The Frame comes with 20 selected artworks. Available art displayed may differ from image shown. Some art may require purchase or paid subscription with the Art Store. Art pieces in the Art Store are subject to change without prior notice.
Show Less
2 Big screen - Optimal screen sizes from 30"-100" measured diagonally; based on projector distance from the surface.
3
Feature availability may vary by mobile device.
Show More
3
Feature availability may vary by mobile device. Check before use.
Show Less
4 Studio Stand is compatible with 55"/65" Frame TVs and sold separately.
λ
Offer available 4/17 – 4/23 on select models.
Learn more
.