Upcoming Events
Discover Samsung Event
Monday, May 15 at 9:00 AM EST
Galaxy Watch6 Classic
Meet the stylish smartwatch that's packed with the latest innovation, plus the return of a rotating bezel for more functionality and style.
Galaxy Watch6
Start your everyday wellness journey with personalized heart rate zone workouts² and insights for better rest with Advanced Sleep Coaching.³,⁴

Stay on track. Hit your goals.
Work out to your full potential with automatic fitness tracking and personalized performance insights.³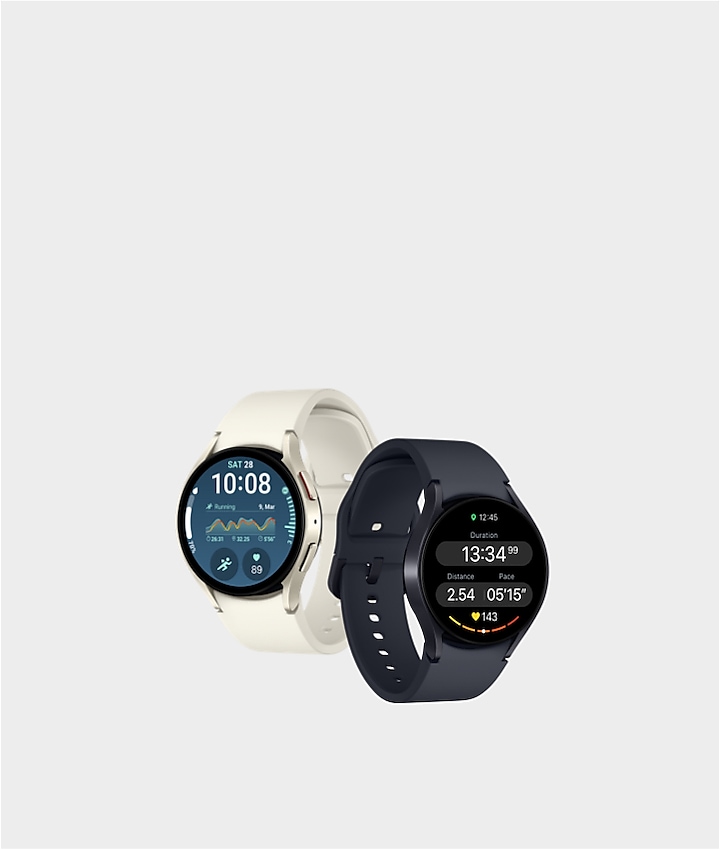 Our largest Watch screen yet
Stay in the know with simple navigation and a super easy-to-read screen in a slimmer profile.¹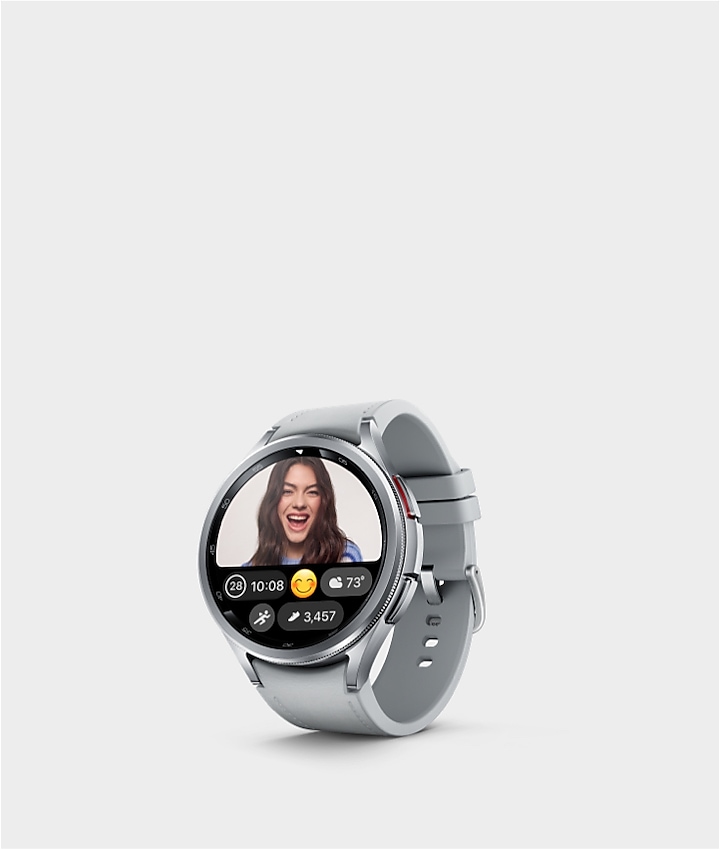 Make a statement
Create your custom style with unique Watch faces, stylish bands and high-end stainless steel materials.
Galaxy Connected Experience
Sync, share and seamlessly connect across your Samsung smartphone, laptop, Buds and Watch. Galaxy works together to bring your world closer.
Call/Text from any device
Never miss an important message again. Call and text across your smartphone, Watch, Tab and PC.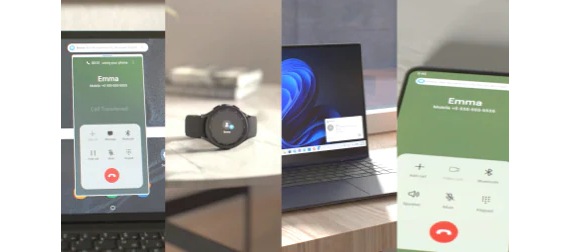 Quick Share large files
No more emailing files to yourself. Directly share large files between nearby devices with just a few taps.¹⁰

Upgraded video calls
Want more space to connect face-to-face? Transfer Google Meet video calls from phone to laptop or tablet.¹¹

The Galaxy Store
Powerful apps to help you work smarter and play harder.
Explore Galaxy offers
Trade in your old smartwatch for an instant discount on the new Galaxy Watch6 Series.

Galaxy goes beyond smartwatches

Buy in bulk and save for your business
Connect seamlessly with your Galaxy ecosystem in the office, on the road or wherever work takes your team. Enjoy exclusive volume discounts on eligible watches with a Samsung Business Account, Samsung Business Financing and free shipping.


Upgrading never felt so good

Buy with confidence
Trade-in
Trade-in you current phone for an instant discount.
Free Returns
Don't love it? Return it for free within 28 days.
Finance Available
Pay on your terms, from 6 to 48 months.⊕
Free Delivery
Order by 8pm and get it the next day. 24/7 tracking.
⊕0% APR for 24, 36, 40 or 48 Months with Equal Payments: Available on purchases of select products charged to a Samsung Financing account. Minimum purchase: $50. 0% APR from date of eligible purchase until paid in full. Estimated monthly payment equals the eligible purchase amount multiplied by a repayment factor and rounded to the nearest penny (repayment factors: .04167 for 24 month, .02778 for 36 month, .02500 for 40 month, .02083 for 48 month). Last payment may vary due to rounding. Total amount of payments will not exceed eligible purchase amount. Other transactions and fees affect overall minimum payment amount. Advertised payment amount is an estimate and may change once taxes, delivery or other charges are added. Limited time offer. Regular account terms apply to non-promo purchases. Minimum interest charge: $1. Standard Purchase APR: 29.99%. Prior purchases excluded. Account must be in good standing. Subject to credit approval. Samsung Financing account issued by TD Bank, N.A.

○Limited edition accessories exclusive to S.com and Samsung SES stores. They are available while supplies last. Eco-conscious Materials: Watchbands, phone and Buds cases are made from partially bio-degradable materials. Please see the details here: https://www.toa.eco/toa-tpu, https://www.toa.eco/toa-pc

144mm Galaxy Watch6 model only.

2Available only for running workouts. Requires initial set up of 10 minutes of outside running with GPS on; smartphone with Android 10.0 or later, 2GB or more RAM and Samsung Health app version 6.22 or later.

3Requires smartphone with Android 10.0 or later, 2GB or more RAM and Samsung Health app version 6.22 or later.

4Phone must be within 2 feet of user with snore detection enabled through Samsung Health app version 6.22 or later.

6Requires Samsung Galaxy Smartphone with Android 9.0 or later, and Samsung Health Monitor app (available only at the Samsung Galaxy app store).

7The Samsung ECG Monitor Application with Irregular Heart Rhythm Notification is an over-the-counter (OTC) software-only, mobile medical application for informational use only in adults 22 years and older. The app analyzes pulse rate data to identify episodes of irregular heart rhythms suggestive of atrial fibrillation (AFib) and provides a notification suggesting the user record an ECG to analyze the heart rhythm. The Irregular Heart Rhythm Notification Feature is not intended to provide a notification on every episode of irregular rhythm suggestive of AFib and the absence of a notification is not intended to indicate no disease process is present; rather the feature is intended to opportunistically acquire pulse rate data when the user is still and analyze the data when determined sufficient toward surfacing a notification.

8The ECG Monitor App is not intended to replace traditional methods of diagnosis or treatment. The ECG app is not intended for users with known arrhythmias other than AFib or users under 22 years old. Users should not interpret or take clinical action based on the device output without consultation of a qualified healthcare professional.

9The Samsung BIA is a body analyzer that uses bioelectrical impedance analysis (BIA) technology to track body composition based on weight, body fat, body mass index (BMI), skeletal muscle, body water, and basal metabolic rate (BMR) measurements. It is not intended to specifically diagnose or treat a medical condition.

10Quick Share requires sender and receiver to have Galaxy smartphones and Galaxy Tablets with Android OS version 10.0 (Q) and One UI 2.1 or above. Requires Wi-Fi and Bluetooth connection.
11Google Meet is a trademark of Google LLC. UX/UI subject to change. Google Meet App availability may vary by country and region.
12Eligible products, as well as terms and conditions, will be available when the promotion begins on September 11.
ᶿFor a limited time only, on Samsung.com/Shop Samsung App, purchase a new qualifying Galaxy device ("Qualifying Purchase"), send in your qualifying trade-in device to Samsung through the Samsung Trade-In Program, and if Samsung determines your trade-in device meets all eligibility requirements, you will receive a trade-in credit specific to your qualifying trade-in device to apply toward your Qualifying Purchase. Device models that currently qualify for trade-in and trade-in credit amounts associated with those models are available on Samsung.com and the Shop Samsung App; eligible models and amounts may change at Samsung's sole discretion. To be eligible for trade-in, your qualifying device must meet all Trade-In Program eligibility requirements, which include, but are not limited to, that the device powers on, holds a charge, and does not power off unexpectedly; has a functioning display; has no breaks or cracks in the screen (unless a cracked screen offer applies); has no breaks or cracks in the case; has no liquid damage (whether visible or not); has no other defects that go beyond normal wear and tear; is not on a black list; has a verified FCC ID; has been reset to factory settings; has all personal information removed; has all software locks disabled; and is owned by you (leased devices are not eligible). Anticipated trade-in value will be applied as a credit at time of purchase, but, if you do not send in your trade-in device within 15 days of receipt of your Qualifying Purchase, you will be charged back for the trade-in credit applied to your purchase, or if you send in your trade-in device within 15 days of receipt of your Qualifying Purchase but Samsung determines your device does not meet all eligibility requirements, you will be charged back for the trade-in credit applied to your purchase minus $25. Participation in this program does not excuse you from contracts with your carrier or retailer (or any related payments or fees) for the device that was traded in. Limit 1 trade-in per Qualifying Purchase. Samsung reserves the right to modify or discontinue this offer at any time. The Trade-In Program cannot be combined with any other Samsung, carrier or retailer promotions, discounts, or offers unless specifically provided for in the terms and conditions of such offers. Additional terms, including terms that govern the resolution of disputes, apply. Click here to learn more.