Explore all the new products
from UNPACKED
Nightography
Capture epic content no matter the lighting.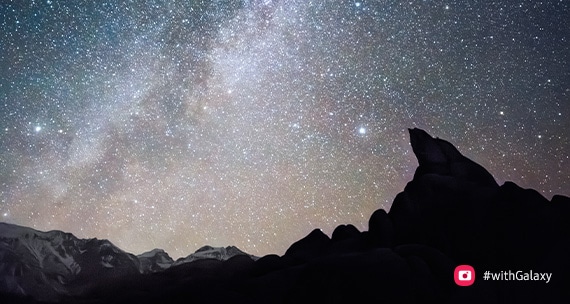 Design
Designed with our planet in mind.12

Gaming Performance
From heavy to casual, your game is covered.11

S Pen
Note's signature tool comes built in

Galaxy Z Fold4
Powerful. Productive. Check off everything on your list with a multi-window view and free your hands with Flex Mode.
Multitasking
Your multitasking secret weapon. Watch video, take notes, and text.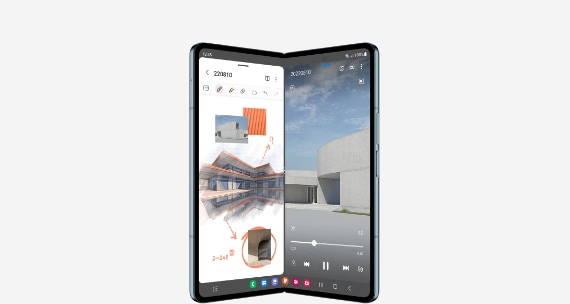 Immersive View
Big, immersive display. Maximize productivity with Galaxy Z Fold4.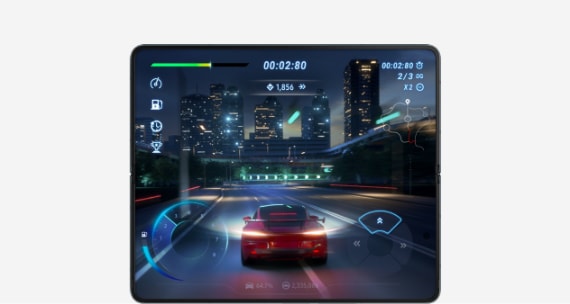 Durability
The toughest Samsung Galaxy foldables ever, so your device is as reliable as it is innovative.

Experience it now
See Galaxy Z Fold4 in 360º AR.

Meet the New Bora Purple Edition in your Galaxy.
Now we introduce our newest Bora Purple series with
Galaxy Z Flip4 Bespoke Edition.

FlexCam
Every angle is your best angle. Pose from a distance without holding your phone.
Cover screen
Check what's important at a glance and read notifications from the cover screen.
Durability
The toughest Samsung Galaxy foldables ever. Built for life, built for fun.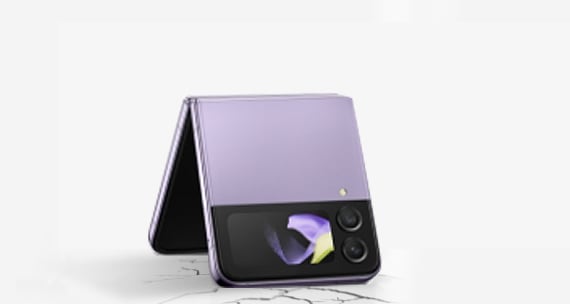 Galaxy Bespoke Edition
Your Galaxy, customized to you. Personalize your phone with your choice of colors.
Galaxy Watch5
Go beyond everyday wellness goals with intuitive fitness and sleep tracking that works around the clock.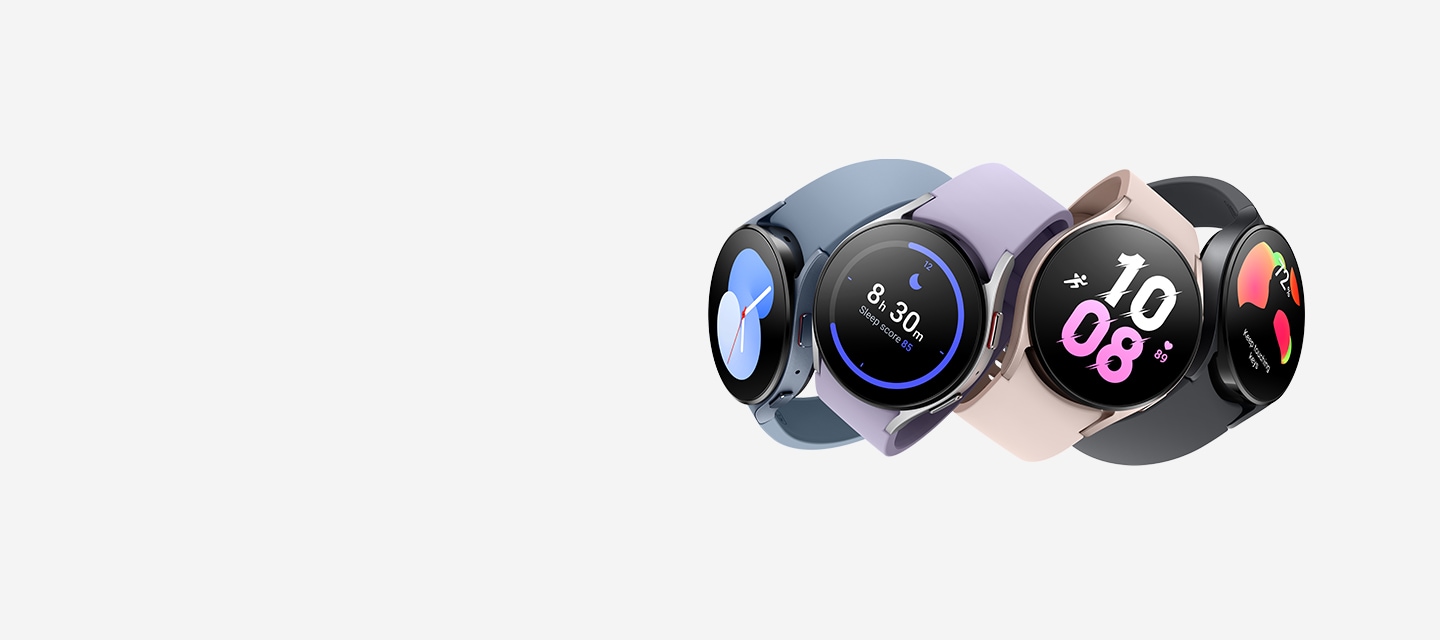 Auto Workout Tracking
Take the first step toward a healthier lifestyle with Auto Workout Tracking on your wrist.1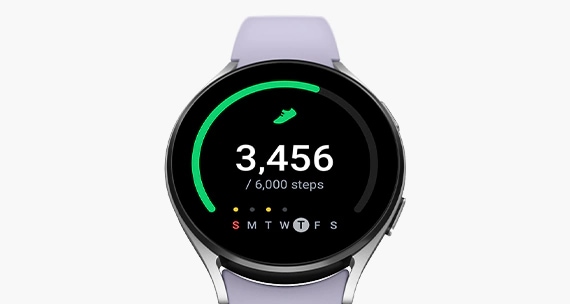 Advanced Sleep Coaching
Wake up to new beginnings with goal setting features that help you make small improvements with every moment.2

BioActive sensor
Get health data and wellness insights to keep you moving with the improved, curved design of the BioActive Sensor.3, 4, 5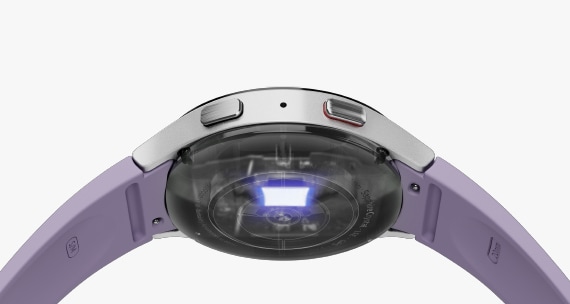 Customization
Swap watch bands to customize your look and change digital watch faces to match your workout.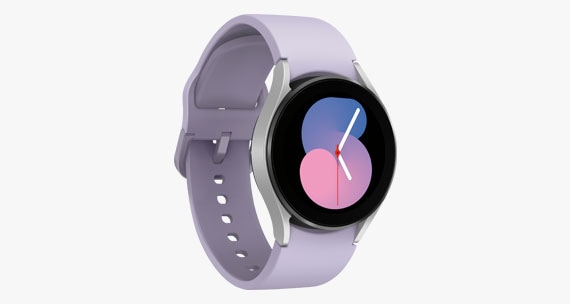 Galaxy Watch5 Pro
Explore, outlast, and go the distance with the smartwatch designed for adventurers.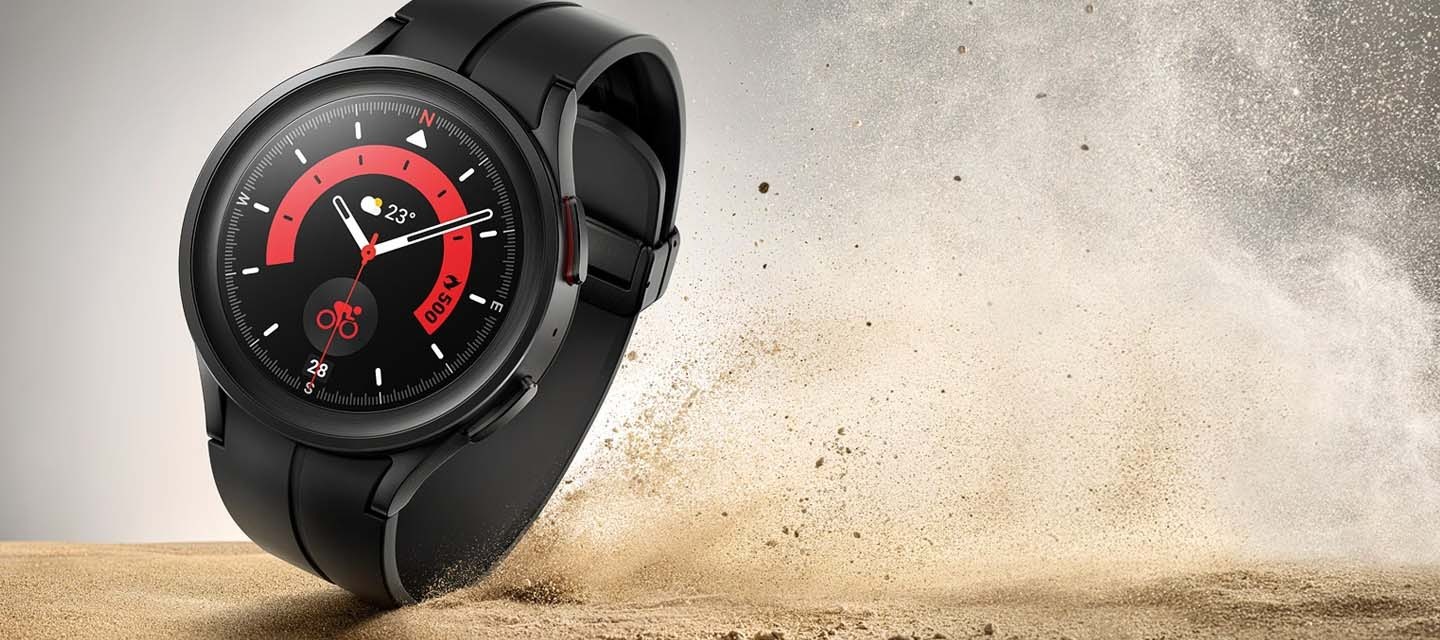 BioActive Sensor
A precise 3-in-1 sensor that helps you monitor heart rate, body composition, and more.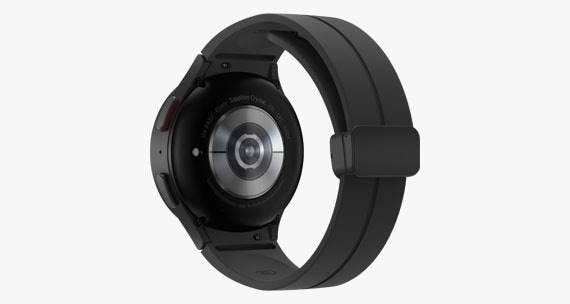 Improved Battery
All the power to help you push past your greatest expectations.5, 6, 7
Durability
Reach new heights with an outdoor-ready titanium case and 2x tougher sapphire crystal face.5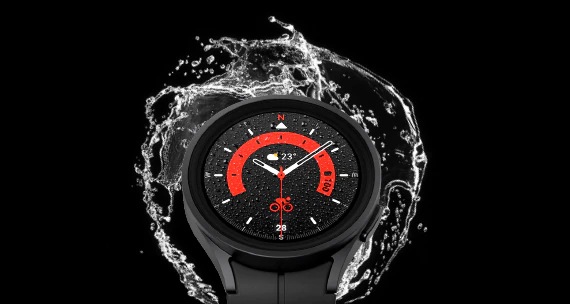 GPS route tracking
Stay on the road to a healthier lifestyle with voice navigation to help find your way from your wrist.
Galaxy Buds2 Pro
The ultimate Hi-Fi sound, wirelessly. Enjoy a next-level listening experience that lets you feel every note like you're there.8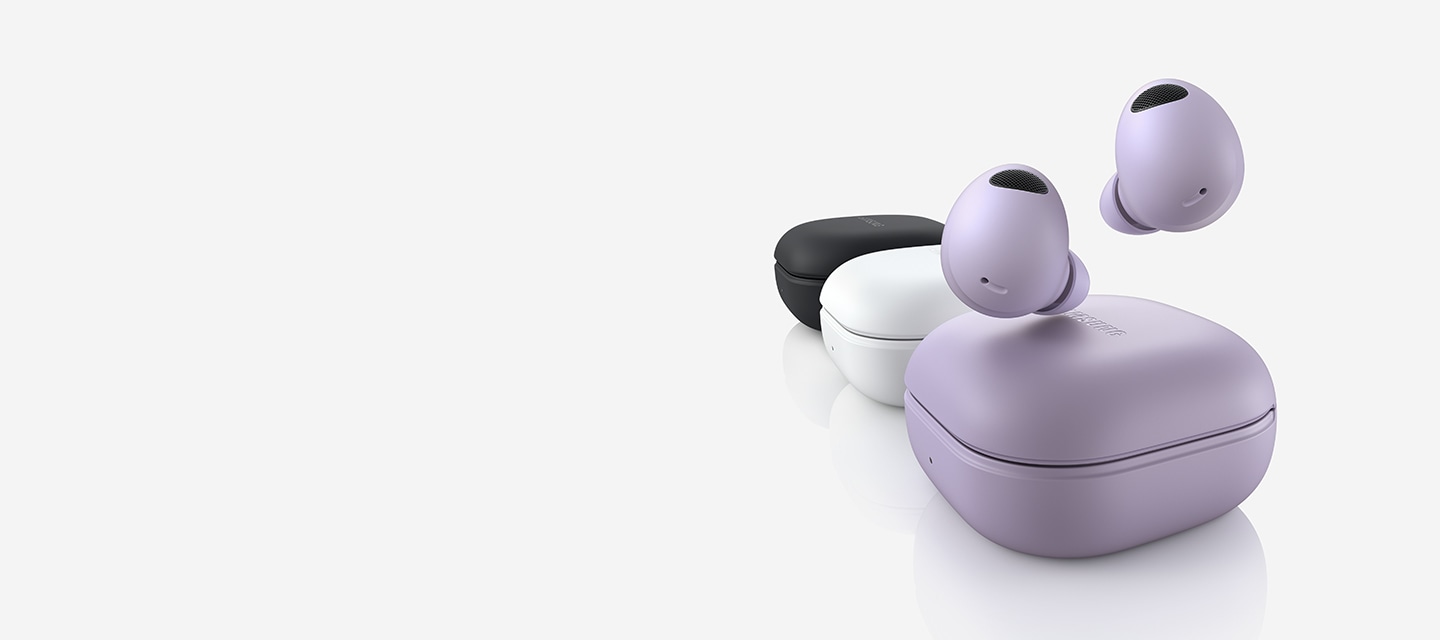 24bit Hi-Fi Audio
Studio-quality sound isn't just for pros. Feel every note like you're actually there.

Active Noise Cancellation
Put your playlist in focus with Active Noise Cancellation and quiet unwanted sounds.⁹

360-degree audio
Surround yourself with sound and hear favorites like never before.

Comfort Fit
Listen in comfort and experience a style that's in tune with you.

Best Android tablet
"Samsung's Dex mode offers a desktop-like UI complete with multiwindow support and a taskbar for potent multitasking."*

The connected power of Samsung Galaxy
Galaxy connected devices are perfect together. Sync your whole ecosystem for a seamless Galaxy mobile experience.
Upgrading never felt so good

Buy with confidence
Trade-in
Trade in your current phone for an instant discount.
Free Returns
Don't love it? Return it for free within 28 days.
Finance Available
Pay on your terms, from 6 to 48 months.
Free Delivery
Order by 8pm and get it the next day. 24/7 tracking.
ᶿ For a limited time only, on Samsung.com/Shop Samsung App, pre-order or purchase a new qualifying Galaxy device ("Qualifying Purchase"), send in your qualifying trade-in device to Samsung through the Samsung Trade-In Program, and if Samsung determines your trade-in device meets all eligibility requirements, you will receive a trade-in credit specific to your qualifying trade-in device to apply toward your Qualifying Purchase. Device models that currently qualify for trade-in and trade-in credit amounts associated with those models are available on Samsung.com and the Shop Samsung App; eligible models and amounts may change at Samsung's sole discretion. To be eligible for trade-in, your qualifying device must meet all Trade-In Program eligibility requirements, which include, but are not limited to, that the device powers on, holds a charge, and does not power off unexpectedly; has a functioning display; has no breaks or cracks in the screen (unless a cracked screen offer applies); has no breaks or cracks in the case; has no liquid damage (whether visible or not); has no other defects that go beyond normal wear and tear; is not on a black list; has a verified FCC ID; has been reset to factory settings; has all personal information removed; has all software locks disabled; and is owned by you (leased devices are not eligible). Anticipated trade-in value will be applied as a credit at time of purchase, but, if you do not send in your trade-in device within 15 days of receipt of your Qualifying Purchase, you will be charged back for the trade-in credit applied to your purchase, or if you send in your trade-in device within 15 days of receipt of your Qualifying Purchase but Samsung determines your device does not meet all eligibility requirements, you will be charged back for the trade-in credit applied to your purchase minus $25. Participation in this program does not excuse you from contracts with your carrier or retailer (or any related payments or fees) for the device that was traded in. Limit 1 trade-in per Qualifying Purchase. Samsung reserves the right to modify or discontinue this offer at any time. The Trade-In Program cannot be combined with any other Samsung, carrier or retailer promotions, discounts, or offers unless specifically provided for in the terms and conditions of such offers. Additional terms, including terms that govern the resolution of disputes, apply. Click hereTrade In Terms and Conditions to learn more. 
⊕ 0% APR for 12, 18, 24, 36, 40 or 48 Months with Equal Payments: Available on purchases of select products charged to a Samsung Financing account. Minimum purchase: $50. 0% APR from date of eligible purchase until paid in full. Estimated monthly payment equals the eligible purchase amount multiplied by a repayment factor and rounded down to the nearest penny (repayment factors: .08333 for 12 month, .05556 for 18 month, .04167 for 24 month, .02778 for 36 month, .02500 for 40 month, .02083 for 48 month). Last payment may vary due to rounding. Total amount of payments will not exceed eligible purchase amount. Other transactions and fees affect overall minimum payment amount. Advertised payment amount, if any, is an estimate and may change once taxes, delivery or other charges are added. Limited time offer. Regular account terms apply to non-promo purchases. Standard Purchase APR: 29.99%. Minimum interest charge: $1. Prior purchases excluded. Account must be in good standing. Subject to credit approval. Samsung Financing account issued by TD Bank, N.A.
1Consistent with IP68 rating, water-resistant in up to 5 feet of water for up to 30 minutes. Rinse residue / dry after wet.
2Compared to Galaxy Watch4.
3Actual battery life varies by network environment, features and applications used, frequency of calls and messages, number of times charged, and many other factors.
4Requires Galaxy smartphone with Android 8.0 or later, 1.5GB RAM or more and the latest version of the Samsung Health Monitor app (available only at the Samsung Galaxy app store).

5As compared to all watches in Galaxy Watch4 Series.
7The snoring measurement requires smartphone with Android 6.0 or later, 1.5GB of RAM, phone within 2 feet of user, with snore detection enabled through Samsung Health app version 6.18 or higher.
8For sleep pattern results, user must wear watch while they sleep for at least 7 nights and complete a survey.
9The Samsung BIA is a body analyzer that uses bioelectrical impedance analysis (BIA) technology to track body composition based on weight, body fat, body mass index (BMI), skeletal muscle, body water, and basal metabolic rate (BMR) measurements. It is not intended to specifically diagnose or treat a medical condition.
10S Pen and functionality only available with Galaxy S23 Ultra.

11Wreckfest ⓒ2022 THQ Nordic AB, Sweden. Wreckfest is a registered trademark of THQ Nordic AB, Sweden. All rights reserved. All other trademarks, logos, and copyrights are property of their respective owners. Available for purchase in Samsung Galaxy Store and other app stores in select countries. Snapdragon is a product of QualcommTechnologies, Inc. and/or its subsidiaries.

*From engadget. © 2022 Yahoo!. All rights reserved. Used under license.
¤ For a limited time, while supplies last, reserve the upcoming Galaxy phone and/or Galaxy Book on Samsung.com or the Samsung App, and receive a Samsung Credit ("Reservation Gift") when you pre-order as follows: receive a $50 Samsung Credit when you pre-order an upcoming Galaxy phone or Galaxy Book , or a $100 Samsung Credit when you pre-order both devices ("Qualifying Purchase"). Pre-order required. The Reservation Gift cannot be applied to the pre-ordered device(s) and must be used at the time of pre-order purchase towards purchasing additional eligible products on Samsung.com, or in the Shop Samsung App. Any remaining balance not used during the pre-order purchase is lost. The Reservation Gift is non-transferable and limited to 1 per Qualifying Purchase. Returning or canceling the purchase will forfeit the discount. Samsung reserves the right to modify or discontinue the offer at any time by posting a notice on the app or website. Void where prohibited or restricted by law.
⋈ Contact us before cancelling service to continue remaining bill credits, or credits stop & balance on required finance agreement is due (e.g. $999.99 – Samsung Galaxy S23+ 128GB). Tax on pre-credit price due at sale. Limited-time offer; subject to change. Qualifying credit, service, & trade-in (e.g., Save $1,000: Samsung GS21+ / Save $800: Samsung GS21) / Save $400: Samsung Note5) required. If you have canceled lines in past 90 days, you may need to reactivate them first. $35 device connection charge due at sale. For Fold3 & Fold4 finance agreement & monthly bill credits are over 36 months for well-qualified customers. Up to $1,000.00 via trade-in and bill credits; must be active and in good standing to receive credits; allow 2 bill cycles. Max 4/account. May not be combinable with some offers or discounts.

ᴦ UP TO $1000 CREDIT W/ TRADE-IN: Limited time offer. Select locations only. Requires activation of a new line or upgrade of an existing line to receive up to $1000 off eligible devices with trade-in of eligible smartphone with min. $35 trade-in value. Req's purch. of new eligible smartphone on qualifying 0% APR AT&T installment plan (36 mos. at up to $38.33/mo). Other installment options may be available and vary by location. If you choose the optional AT&T Next Up early upgrade feature, you are responsible and will not receive any credits for an additional $6/mo. for the Next Up upgrade feature. $0 down for well-qualified customers only, or down payment may be required and depends on a variety of factors. Max discount will not exceed the lower of the device cost or the max credit you are eligible for under this offer. Eligible Smartphones: After all credits, get Samsung Galaxy S23, S23+ or S23 Ultra (priced up to $1380). Tax on full retail price due at sale. Req'd Wireless: Postpaid unlimited voice & data (min. $65/mo. if new with autopay and paperless bill discount. Pay $75/mo. until discount starts w/in 2 bills. Existing customers can add to current unlimited plan if eligible, which may be less). Eligible plans: Unlimited & More, Unlimited & More Premium, Unlimited Plus, Unlimited Plus Enhanced, Unlimited Choice, Unlimited Choice Enhanced, Unlimited Choice II, Unlimited Double Play, Unlimited Value Plan, Unlimited Elite, Unlimited Premium, Unlimited Extra, Unlimited Starter, Unlimited 55+. Value Plus plan is not eligible. On unlimited plans, video may be ltd to SD. Speed, usage & other restr's apply. See att.com/unlimited for current unlimited plans. If you cancel wireless, credits will stop and you'll owe the remaining balance on the installment agreement for the device purchased. For new lines, if you cancel service on any other line within 90 days of activating the line under this offer credits will stop. Activation/Upgrade Fee: $35. Return: Return w/in 14 days. Restocking fee up to $55 may apply. Elig. Trade-In: This is not an early upgrade program. Trade-in device may not be on existing installment plan. Eligible devices only. See att.com/trade-in for list of eligible devices. For credit, trade-in must have min. trade-in value (as noted above) before device condition questions have been answered & must meet AT&T Trade-In Program reqmts. Must trade in elig. smartphone at a participating location and complete trade-in within 30 days from activation of new phone. Other Obligations: Trade-in does not relieve obligations under AT&T installment or other AT&T Return and Exchange programs including recently-purchased device returns, Warranty, or Extended Warranty. Devices to be returned through these AT&T programs should not be traded in via this offer. If trade-in value of device is greater than the credit you are eligible for under this offer, you may receive a one-time trade-in credit (value via instant credit or promo card) in lieu of this bill credit offer. See att.com/tradein for terms and to check if your device is eligible. Bill Credits: will receive catch-up credits once credits start w/in 3 bills. Credits applied in equal amounts over entire installment term & will not exceed the lower of the device cost or max eligible credit amount as defined above. Line must be on installment plan, active & in good standing for 30 days to qualify. Installment agmt starts when device is shipped. To get all credits, device must remain on agmt., with elig. service for entire term. If you cancel svc upgrade or pay up/off installment agmt early, credits may cease. Limits: One trade-in per qual. purchase and one credit per line. May not be combinable w/other offers, discounts or credits. Purchase, financing, other limits & restr's apply. This offer may make your account ineligible for select other offers (including bill credit offers) for 12 months. Visit a participating store for offer details.
₭ Up to $1,379.99 device payment purchase or full retail purchase w/upgrade smartphone line on 5G Start, 5G Do More, 5G Play More or 5G Get More or on OneUnlimited for iPhone (all lines on account req'd on plan) plan req'd. Less $800 trade-in/promo credit applied over 36 mos.; promo credit ends if eligibility req's are no longer met; 0% APR. Trade-in conditions apply. 
GUp to $1,379.99 device payment purchase w/ upgrade smartphone line on 5G Start, 5G Do More, 5G Play More, 5G Get More or One Unlimited for iPhone (all lines on account req'd on plan) plans req'd. Less up to $440 trade-in/promo credit applied over 36 mos.; promo credit ends if eligibility req's are no longer met; 0% APR. Trade-in conditions apply.
**Compared to Galaxy S22 Ultra