What is Remote Service?
Samsung Remote Service enables one of our Samsung Care Pros to remotely view and control your Samsung TV and smartphone to directly help you with your product.
Remote Service can provide
Help setting up a Google and Samsung account
Software and application updates
Backups & factory data resets
Help with setting up email accounts and day-to-day tasks
Remote Service advantages
Direct assistance as if you were with a Samsung Care Pro
Optimized device settings and advice on how to use features
All steps are shown live on-screen
Remote Service requirements
Your device is running a minimum of Android Version 2.4
Your device has a stable internet connection
Your device has the Smart Tutor application installed from the Google Play Store
Show Note
In order for Remote Service to work your smartphone or tablet must be connected to a high speed internet connection. It is highly recommended that you connect to WiFi as you may incur network charges for using mobile data out of your allowance. Please contact your network provider for further information.
How do I use Remote Service
How do I use Remote Service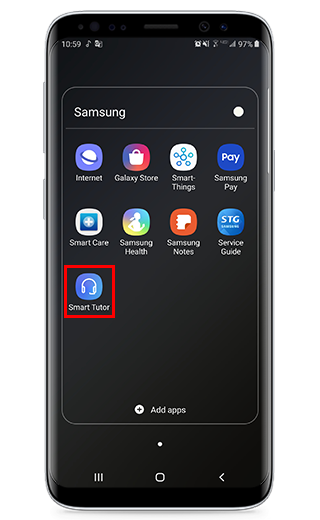 Install Smart Tutor
Download and install the Smart Tutor app which is free from the Google Play store or Samsung Galaxy Apps.
1

Download and install the Smart Tutor app which is free from the Google Play store or Samsung Galaxy Apps.

2

Open the app by tapping the Smart Tutor icon.

3

Tab OK after checking app information.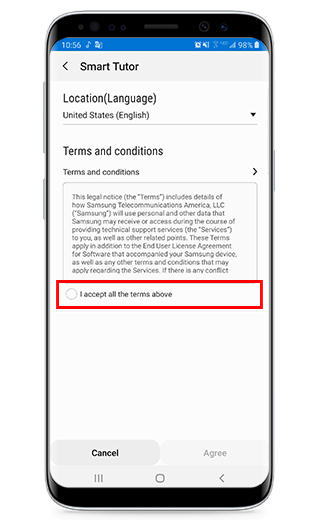 Accept Terms & Conditions
4

Read and accept the Terms and Conditions if you agree with them.

5

If you are prompted to install an update then please do so by following the on-screen instructions.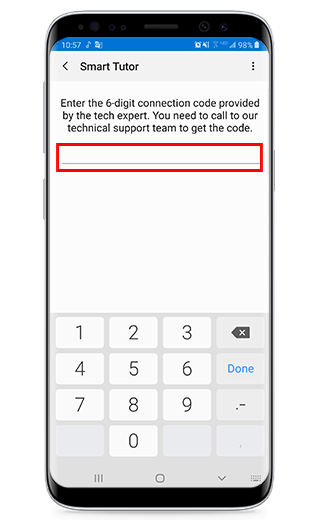 Call our Samsung Customer Care line
6

Contact a Samsung Care Pro at 1-800-726-7864 from 8 AM - 12 AM EST 7 days a week

Please advise the Samsung Care Pro that you wish to use Remote Service. Then a 6 digit PIN code will be provided by the Samsung Care Pro.

7

Input PIN code

8

Connected to Remote Service
Privacy Functions
Privacy Functions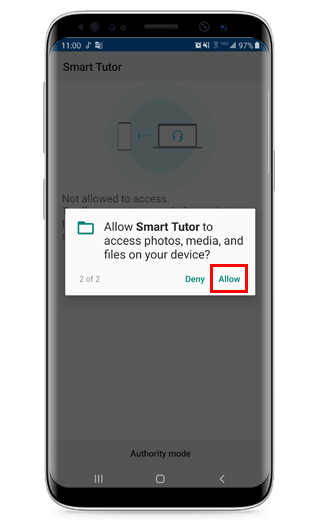 Security popup message
When a Samsung Care Pro tries to access applications that may contain private information (such as 'Messages', 'Phonebook', 'Gallery', 'Camera', etc.), a security message will popup. The message will ask whether you would like to proceed with our Samsung Care Pro having access to these applications. Please note Samsung Care Pros cannot control your device without your consent.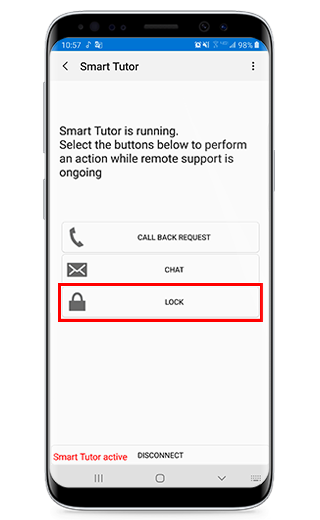 Security popup message
If you choose not to allow access to the Samsung Care Pro for a specific application which contains private information, you may choose the "No" option accordingly.
1

Scroll down the notification bar and tap Smart Tutor Connection.

2

You will then see the Lock menu.

3

If you tap the menu, it displays "UNLOCKED" and stops sharing the display screen.
What is Remote Service?
Samsung Remote Service enables one of our Samsung Care Pros to remotely view and control your Samsung TV and smartphone to directly help you with your product.
Remote Service can provide
TV diagnositics
Help with Smart Hub
Custom TV settings
Firmware updates and backups
Remote Service advantages
You can follow the steps of the Samsung Care Pro helping you on-screen
One-on-one support for all your Smart Hub questions
Get the most out of your TV with advice from an expert
Remote Service requirements
Your TV is ES5500, F5500 or later (except F6100)
Your TV is connected to a fast internet connection
You are in front of your TV
Show Note
Note: in order for Remote Service to work your TV must be connected to a high speed internet connection. If your TV cannot access the internet or your connection is too slow you will receive a message that you are unable to connect to Remote Service.
How do I use Remote Service
How do I use Remote Service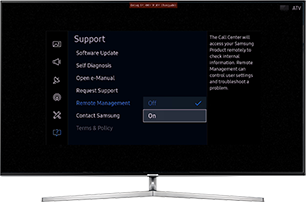 Call our Samsung Customer Care line
1

Contact a Samsung Care Pro at 1-800-726-7864 from 8 AM - 12 AM EST 7 days a week

Please advise the Samsung Care Pro that you wish to use Remote Service.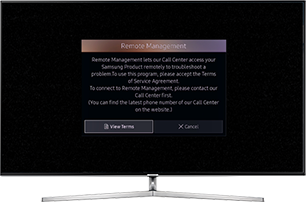 Find your PIN
2

Standard TV remote : Press the MENU button and use Up or Down down to select Support and then press ENTER. Select Remote Management and press the ENTER button.

Smart Touch remote : Press the MORE button and then resume with the steps above using the touchpad to navigate.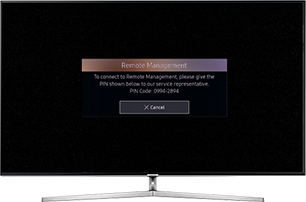 Connect to Remote Service
3

Your TV will display an 8-digit PIN.
※ a single PIN can only be used once by a Samsung Care Pro for a Remote Service session. This is for your own security.
Terms and Conditions
1.1 This legal notice (these "Terms") applies to the Remote Diagnostic Service (the "Services") and to any correspondence or dealings between you and the Company (as defined below), with regard to the Services; including in particular telephone support for certain technical issues in Samsung products, including home appliance products (the "Samsung Products"). The Services are primarily composed of remotely assisting, analyzing, diagnosing and troubleshooting your Samsung Product when your Samsung Product experiences a technical problem and you access the Service servers and/or contact Company's call center. Please read these Terms carefully before using the Services provided. Using the Services indicates that you accept these Terms and, further, that you accept that the Services will be provided pursuant to these Terms which form an agreement for the Services between you and the Company (as defined below in Section 1.3). If you do not accept these Terms, do not use the Services. If at any time during the Services you do not wish to continue using the Services, the Company will stop providing the Services at your request.
1.2 To the fullest extent permitted by law, the Company may revise, supplement or otherwise change these Terms and impose new or additional rules, policies, terms or conditions on your use of the Services from time to time at its sole and absolute discretion and with or without prior notice to you, by updating these Terms. Such revisions, supplements or changes will be effective immediately and incorporated into these Terms. Your continued use of the Services will be deemed to constitute your acceptance of any and all such additional or revised Terms.
1.3 These Terms are issued by Samsung Electronics America, Inc. (the "Company"), a company incorporated under the laws of the State of New York with a principal place of business at 85 Challenger Road, Ridgefield Park, NJ 07660-2112. The Services are provided by the Company and in some cases, by the Company's call center agents or technicians, subsidiaries, affiliated legal entities worldwide or its authorized service providers ("Samsung Partners').  Any reference to "us" or "our" is a reference to the Company. All references to "advisor" or "advisors" relate to the Company's' technical staff providing the Services.
1.4 Services are based in the United States of America.
1.5 Any rights not expressly granted in these Terms are reserved.
1.6 The Services may not be used in connection with any other commercial purpose except those that are specifically approved by the Company.  Appropriate legal action may be taken by the Company for any illegal or unauthorized use of the Service.
2.1 The Company's use of your personal information (if any), including your IP address, is governed by its PRIVACY POLICY available for review at http://www.samsung.com/us/info/privacy.html. PLEASE READ THE PRIVACY POLICY CAREFULLY– it deals with your rights and our obligations in relation to any personal data provided to the Company in connection with the provision to you of the Services, including what the Company can do with it and to whom the Company may give it in certain situations. Where information is provided to the Company via its call center, you are also requested to listen to the recorded messages regarding personal data.
2.2 As described above, the Services are primarily composed of remotely assisting, analyzing, diagnosing and troubleshooting your Samsung Product when your Samsung Product experiences a technical problem and you access the Service servers and/or contact Company's call center. As a result, the Samsung technician will be able to access, diagnose, change setting information and update the software incorporated in, your Samsung Product. In addition, in order to understand the technical issues of the Samsung Product and help you resolve such issues through the Service, the Company may collect certain information during the course of the Service related to your use of your Samsung Product, including but not limited to, device information, applications, and software you may have installed on your Samsung Product, MAC address, device unique identifier, IP address, and any other network information. Further, once you have agreed to use the Service, when your Samsung Product has to re-boot due to a technical error, a crash log-file containing information related to such error, including without limitation, the name of the program that has stopped working, the date and time the program stopped working, the version of the program, the firmware and any other software operation history will be sent to the Service server operated by the Company and stored in the aggregate in order to keep a record of recurring technical problems, implement improvements efficiently and help to create new solutions in the future. To the extent that this information is considered personal information, under applicable laws, it will be used pursuant to the terms of the PRIVACY POLICY referenced above.
2.3 While the Company may gain access to personal information (potentially to include sensitive personal information) held on your Samsung Products by means of the provision of the Services themselves, personal information to which access is gained in this way will not be stored for longer than may be necessary for the provision of the Services and will not be used by the Company for any other purposes. However, if you have previously provided any personal information to Company for other non-related services, we may continue to use that information consistent with the applicable Privacy Policy
2.4 The Company will also cooperate with law enforcement and other relevant authorities with respect to any investigation or violation of network security or laws and reserves the right to disclose any information (including personal data) derived from you as required by law or in the good faith belief that failure to report a crime or failure to comply with a legitimate request from a law enforcement agency would be likely to prejudice the prevention or detection of crime or the apprehension or detection of offenders.
2.5 You agree that the advisor may view personal material while in the scope of the Services. Unless due to the willful misconduct, our online support advisors Samsung shall not be held responsible whatsoever for your disclosure, whether intentional or inadvertent, of such material.
3.1 The Services are offered primarily in respect of Samsung Products by our online support advisors.
3.2 You warrant that you are at least 18 years of age and possess the legal authority to enter into this agreement for the provision of the Services formed by these Terms. You agree that you are the primary account holder or owner of the Samsung Product and are authorized to make decisions on the servicing of the Samsung Product. You agree to be financially responsible for all of your use of the Services, where charges for the Services may be applicable. In order for Samsung to effectively render the Services hereunder, you need to have an active Internet connection.
3.3 The Services will be provided free of charge.  However, where the relevant Samsung Products are out of warranty, the Services may potentially not be offered free of charge.  In this case, the Advisor will make any applicable charges and the mechanism for the calculation and payment of such charges clearly known to you, and obtain your approval prior to providing any Services. In addition, in order to provide the Service, it may be necessary to connect to a wired / wireless network.  As such, you may incur data usage fees.
3.4 Personal Use Only. The Service is made available for your personal, non-commercial use only. Use of the Service to sell a product or service, such as troubleshooting services is expressly forbidden.
3.5 You agree that, in the course of providing the Services, the Company (through its Advisor), may temporarily take over control of your Samsung Product. You also agree that the Advisor will, if necessary or appropriate for him/her to do so, have access to your Samsung Product's specifications, memory capacity, system setting information, operating status, error history, usage history (log) and record the Service delivery history.
3.6 You agree that, during the provision of the Services to you by the Company, the Company may record, via screen capture, video recording, voice recording or other means, all activities of the remote support session and its Advisors in its provision to you of the Services. In addition, the Company may install firmware or updates developed by Samsung in order to solve technical problems, and such installation may delete the personal setting of the Samsung Product selected by you.
3.7 You further agree that, when your Samsung Product has to re-boot due to a technical error, a crash log-file containing that may contain some elements of the information described in Section 2 (Privacy) above, will be sent to the Service servers.
3.8 The Advisor may recommend to you, in the course of providing technical advice, third party software that will help remedy your technical problem. In such cases, you agree to undertake to abide by the terms and conditions, copyright and licensing terms governing the use of the third-party software as set out by the software provider or its distributor. The Company shall not be responsible whatsoever for the fitness, performance, and functionality of any third-party software.
3.9 The Company may accept instructions in connection with the Services from someone whom you have authorized to Company prior to the Services and, you agree that you will be responsible for all use and resulting consequences of use of the Services, whether or not the conducted service was authorized by you.
4.1 The Company will use reasonable efforts to diagnose your technical problem and provide you with technical assistance for Samsung Products, including where such Samsung Products are used in conjunction with third party products and services. There is no guarantee that the Company will be able to solve the reported issue. However, some issues may not be resolvable during one or more phone calls or remote connection sessions. If a physical assessment or repair of the product is required, our Advisor will suggest that such a product is referred for repair to one of the Company's authorized service centers.  The Advisor will assist with reference to an appropriately located service center.  You may choose to utilize the services of the service center at your discretion and at your sole risk.  Alternatively, if the Advisor considers that any issue or fault lies with a third party product or service, the Advisor will suggest that you contact the manufacturer or provider of that other product or service.
4.2 The Company may suspend the Services where necessary for operational reasons such as repair, maintenance or improvement or because of an emergency. In such an event, the Company will endeavor to restore the Services after suspension as soon as reasonably possible.
4.3 The Company may, for operational or other reasons, change any of the support line numbers or the specification of the Services. Any such changes will not materially affect the Services you receive from us.
4.4 Whilst we make every effort to help protect our customers from computer viruses and security exploits, the Company does not accept any liability for problems caused by either. The Advisor may provide, where possible, information on how to obtain basic help should either affect our customers; however, problems relating to security exploits are excluded from the Services.
5.1 The Company does not guarantee, represent or warrant that your use of the Services will be uninterrupted or error-free.  While the Company endeavors to ensure that the Services are normally available during the regular business hours, the Company shall not be liable if for any reason the Services are unavailable at any time or for any period. Access to the Services may be suspended without notice at the Company's sole discretion due to any reason or no reason including system failure, maintenance or.
5.2 You expressly agree that your use of, or inability to use, the Services is at your sole risk. Accordingly, to the maximum extent permitted by law, the Company provides you with the Services on the basis that the Company excludes all representations, conditions and other terms and expressly disclaims any warranty of any kind, either express or implied, including all implied warranties of satisfactory quality, fitness for a particular purpose, suitability, reliability, timeliness, accuracy, completeness, security, title and non-infringement which, but for these Terms, might have effect in relation to the Services. Notwithstanding anything to the contrary in these Terms, in no event shall the Company be liable to you for any amount in excess of the amounts actually paid by you for the Services, if any.
5.3 In no case shall the Company, or any other party (whether or not involved in building, managing or delivering the Services), and any of the Company's group companies, its directors, officers, employees, affiliates, agents, contractors or licensors be liable to you or any third party for any direct, indirect, incidental, punitive, special or consequential loss or damages including without limitation any loss of use, profits or data arising from your use of the Services or for any other claim related in any way to your use of the Services or your use of or inability to use information or assistance given as part of the Services including but not limited to any errors or omissions in any content or any loss or damage of any kind incurred as a result of the use of, or inability to use, any content, transmitted or otherwise made available during the Services, whether online or offline, the deletion of your data, information or content stored on your Samsung Products, even if advised of their possibility whether such losses or damages arise in contract, negligence, tort or otherwise.
5.4 The Company does not represent or guarantee that the Services will be free from loss, corruption, attack, viruses, interference, hacking or other security intrusions, and the Company disclaims any liability relating thereto. You shall be responsible for backing up your own system and if your use of the Services results in the need for servicing, repair or correction of equipment, software or data, you assume all costs thereof.
5.5 The information, documents, software and other materials contained on the Service are provided "as is". We try and ensure that such materials are accurate and up to date, but we cannot be responsible for any errors, faults or inaccuracies. Our liability to you as explained above remains unaffected by this.  COMPANY'S TOTAL LIABILITY TO YOU FROM ALL CAUSES OF ACTION AND UNDER ALL THEORIES OF LIABILITY WILL BE LIMITED TO THE AMOUNTS PAID TO COMPANY BY YOU FOR THE SERVICES OR, IN THE EVENT THAT COMPANY HAS MADE THE SERVICES AVAILABLE TO YOU WITHOUT CHARGE, COMPANY'S TOTAL LIABILITY WILL BE LIMITED TO $20.  IN NO EVENT WILL COMPANY BE LIABLE TO YOU FOR ANY SPECIAL, INCIDENTAL, EXEMPLARY, PUNITIVE OR CONSEQUENTIAL DAMAGES (INCLUDING LOSS OF DATA, BUSINESS, PROFITS OR ABILITY TO EXECUTE) OR FOR THE COST OF PROCURING SUBSTITUTE PRODUCTS ARISING OUT OF OR IN CONNECTION WITH THIS AGREEMENT OR THE EXECUTION OR PERFORMANCE OF THE SERVICES, WHETHER SUCH LIABILITY ARISES FROM ANY CLAIM BASED UPON CONTRACT, WARRANTY, TORT (INCLUDING NEGLIGENCE), STRICT LIABILITY OR OTHERWISE, AND WHETHER OR NOT COMPANY HAS BEEN ADVISED OF THE POSSIBILITY OF SUCH LOSS OR DAMAGE.  THE FOREGOING LIMITATIONS WILL SURVIVE AND APPLY EVEN IF ANY LIMITED REMEDY SPECIFIED IN THIS AGREEMENT IS FOUND TO HAVE FAILED OF ITS ESSENTIAL PURPOSE.  Some jurisdictions do not allow the limitation or exclusion of liability for incidental or consequential damages, so the above limitation or exclusion may not apply to you. Nothing in these Terms shall affect your statutory rights as a consumer.
5.6 Nothing in these Terms shall act to exclude or limit the Company's liability for death or personal injury caused by negligence, fraud, misrepresentation as to a fundamental matter or any other liability which may not by applicable law be excluded or limited.
5.7 The Company shall not be liable for any failure to perform its obligations if the Company is prevented from doing so by an event beyond the Company's reasonable control (which may include, without limitation, strikes; labor disputes; acts of God; war; riot; civil action; malicious acts or damage; compliance with any law, governmental or regulatory order, rule, regulation or direction; any act or omission of any government or other competent authority; accident; equipment or services failure, including the unavailability of third party telecommunications services, lines, or other equipment; fire; flood or storm).
5.8 If you are dissatisfied with any part of the Services or with these Terms, your sole and exclusive remedy is to stop using the Services.  You may make a complaint about the Services, should you wish to do so, by contacting Samsung Customer Service at1-800-SAMSUNG (726-7864) and/or, depending on the issue, submitting your complaint on the form that may be provided to you.
5.9 Company reserves the right, in its sole discretion, to change, improve and correct the Services. The Services may not be available during maintenance breaks and other times. The company may also decide to discontinue the Services or any part thereof in its sole discretion. In such a case, you will be provided with prior notification. 
By using the Services, you agree to indemnify and hold the Company and any of the Company's group companies, their respective directors, officers, employees, affiliates, agents, contractors, and licensors harmless with respect to any claims arising out of your breach of these Terms, your misuse of the Services, any action taken by the Company as part of its investigation of a suspected breach of these Terms or as a result of its finding or decision that a breach of these Terms has occurred.  The Company reserves the right, at its own expense, to assume the exclusive defense and control of any claim which is subject to indemnification by you under these Terms, in which event you will (from that time onwards) have no further obligation to provide indemnification for that claim.
7.1 These Terms are between you and the Company and are governed by the laws of the state of New York and by accepting these Terms or by your use of the Services, you are agreeing that such Terms and all other aspects of the  Services will be construed in all respects in accordance with the laws of the state of New York, USA applicable to the agreement entered into and to be wholly performed therein, and you agree to submit to the non-exclusive jurisdiction of the courts of the state of New York, USA
7.2 The Company may delay or waive enforcing its rights under these Terms without losing them.
7.3 You agree that the Company may sub-contract the performance of any of its obligations or may assign these Terms or any of its rights or obligations without giving you notice.
7.4 These Terms form the entire understanding between you and the Company concerning your use of the Services and supersede all previous agreements relating to the Services.
7.5 If any part of these Terms is determined to be legally invalid or unenforceable, then the invalid or unenforceable provision will be deemed superseded by a valid, enforceable provision that most closely matches the intent of the original provision and the remainder of these Terms shall remain in full force and effect. 
Contact us
We're here for you.
1-800-SAMSUNG

8 AM - 12 AM EST 7 days a week

IT/ Computing - 8 AM to 9 PM EST Mon to Fri
Want help right away?
Email as a contact option was discontinued as of April 3rd, 2019. Please contact us via Live Chat for a faster response.
Call or Text Us
Give us a call
How can we help you?
Mobile

8 AM - 12 AM EST

7 days a week

Home Electronics & Appliance

8 AM - 12 AM EST

7 days a week

IT/Computing

8 AM - 9 PM EST

7 days a week

Text Support

24 hours a day

7 Days a Week

Fast, easy checkout with Shop Samsung App
Easy sign-in, Samsung Pay, notifications, and more!
Or continue shopping on Samsung.com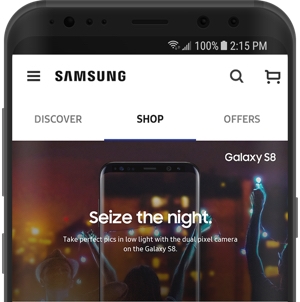 ×
You Are About To Be Redirected To Investor Relations Information for U.S.
Thank you for visiting Samsung U.S. Investor Relations. You will be redirected via a new browser window to the Samsung Global website for U.S. investor relations information.
×
Redirect Notification
As of Nov. 1, 2017, the Samsung Electronics Co., Ltd. printer business and its related affiliates were transferred to HP Inc.
For more information, please visit HP's website:
http://www.hp.com/go/samsung
Select CONTINUE to visit HP's website.