Galaxy S21 Series 5G
Buy now and receive an in-store accessory
voucher up to the value of R1500*
Valid from Jan 29. 2021 ~ Feb 28. 2021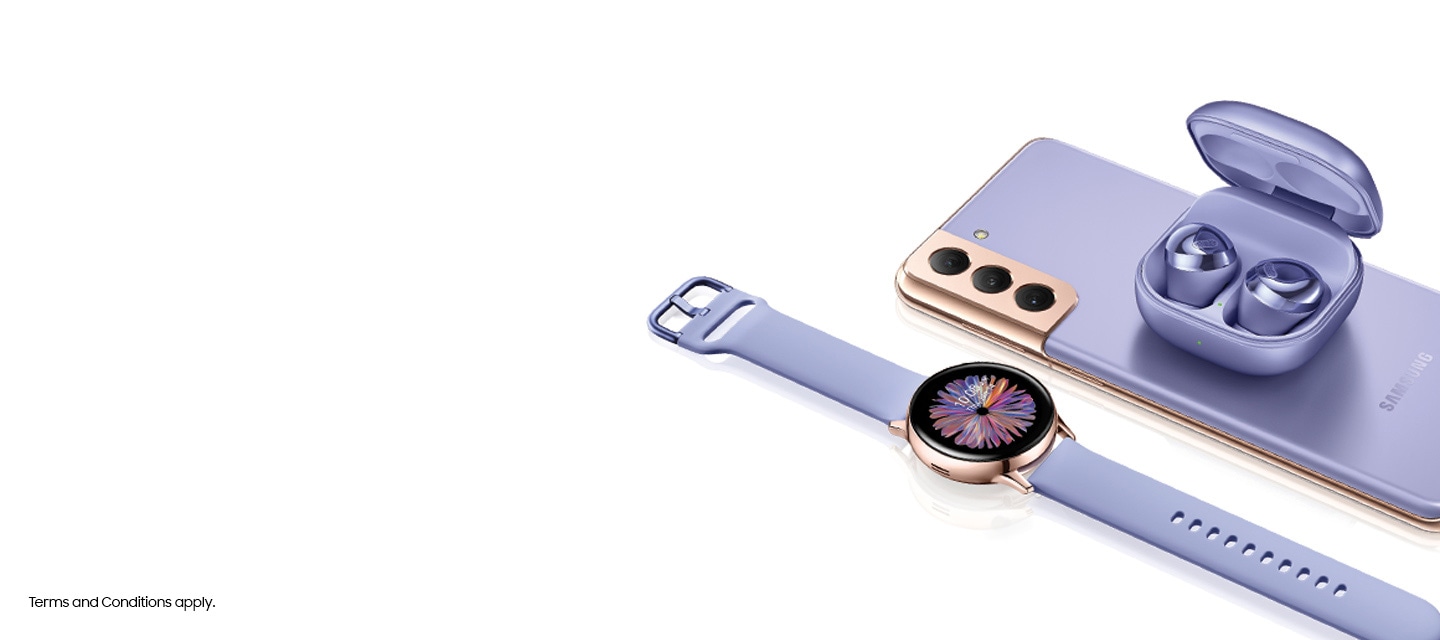 PROMOTION TERMS & CONDITIONS
Please read these Promotion terms and conditions ("Terms and Conditions") carefully. Participation in this Promotion will constitute your agreement to comply with these Terms and Conditions. If you do not agree with these Terms and Conditions, please do not participate in this Promotion. Please refer to this website for the current Terms and Conditions for this Promotion:https://www.samsung.com/za/offer/
All participants during the term of this Promotion agree to be bound by the following terms and conditions:
1. Promotion:
    1.1. Samsung Store Accessory Voucher ("Promotion"). The promoter of the Promotion is Samsung Electronics South Africa Proprietary Limited, Registration number: 1994/003872/07 and/or its agencies ("Organizer"). 
2. Promotion Period:
    2.1. The Promotion will run from Friday 29th January 2021 [00:00] to Sunday 28th February 2021 [23:59] on selected Qualifying Products ("the Promotion Period"). 
    2.2. The duration of the Promotion may be amended, extended or curtailed at the discretion of the Organizer. 
    2.3. In-store Accessory Vouchers are valid till 29th January 2021 – 28th February 2021.
    2.4. Promotion is valid while stocks last.
3. Who may enter:
    3.1. All participants must:
        a. Be citizens of the Republic of South Africa and/or a legal residents of the aforesaid country; 
        b. Must be currently residing in the Republic of South Africa at the date of the commencement of the Promotion Period;
        c. Must be a natural person and be at least 18 (eighteen) years old at the date of the commencement of the Promotion Period; and
4. How to qualify for the Promotion: 
    4.1. the participant must:
        4.1.1. Be a participant in terms of clause 3.1 above; and
        4.1.2. Purchase any of the following participating Samsung products with the following descriptions ("Qualifying Product") from the Samsung Stores.
Instore Accessory Voucher 

Customer who buys Galaxy S21 Ultra Receives R 1 500 Accessory Voucher, For Galaxy S21+ Customer receives R 1 000, For Galaxy S21 Customer R 750 any of Samsung stores. Voucher only redeemable instore.
| | |
| --- | --- |
|  Model |  Voucher Value |
|  S21 Ultra |     R 1,500 |
|  S21+ |     R 1,000 |
|  S21 |     R 750 |
* all prices listed above are only recommended resale prices. Retailers are free to vary the prices at which the Qualifying Product is sold at. Promotion available at participating retailers and stockists only
    4.2. All purchases of the Qualifying Products must be made through only the following participating retail store in the Republic of South Africa during the Promotion Period:
Samsung Online Store.
5. Can I qualify more than once for the Offer:
    5.1. The Promotion is available on multiple purchases per participant, should there be any dispute in this regard, the Organizer shall be sole adjudicator of the dispute and the Organizer's decision shall be final.
6. Offer:
    6.1. The Promotion will afford the participant to receive the Qualifying Product at the discounted prices ("Offer")
    6.2. Offer is not transferable. No substitution, cash redemption, or assignment of the Offer is permitted.
    6.3. The Offer may differ from that shown on the promotional material and same shall be subject to availability.
    6.4. The above promotional Offer is available on a "while stocks last" basis and the promotor cannot be held accountable once the stock of the promotional Offer or participating product has been depleted.
    6.5. The promotional offer is only available in stores where the product is listed
7. Limitation of Liability:
    a. To the extent permitted by the consumer protection act, no. 68 of 2008 ("consumer protection act") and any other applicable law: 
    b. The participant hereby indemnifies Samsung against any direct, indirect, special, incidental, consequential or punitive damages or loss of any kind regardless of how it was caused, and whether it arose under the law of contract or delict or otherwise, arising out of the participant's participation in the Samsung promotion.
    c. The organizer excludes all warranties (express or implied), representations and liabilities regarding this promotion (other than for death or personal injury caused by its negligence and/or fraud).
    d. Save as clearly set out in the promotion specific marketing, the participant acknowledges that no warranties (express or implied) or representations have been made by Samsung in relation to a Samsung promotion and no liability shall arise against Samsung as a result of any alleged breach of warranty or misrepresentation.
    e. Prices indicated on promotions and/or promotional specific marketing are subject to change at any time but changes will not affect orders in respect of products for which we have already sent you an order confirmation. if the pricing error is obvious and unmistakable and could have reasonably been recognised by you as an error, we do not have to provide the products to you at the incorrect (lower) price.
    f. We make no warranty that the samsung online store and the samsung website will meet your requirements or will be uninterrupted, timely or error-free or that the samsung online store and samsung website or the server(s) that makes them available are free of viruses, errors, faults or bugs.
8. Redemption of Offer
The Participant will receive the offer upon purchase and redeemable only in all Samsung stores.
Region
Head Office
Store name
Location
Address
Contact No.
Gauteng
Adjoa
Samsung Store Clearwater
Aciaa Mall
Shop UM21A, C/0 Hendrik Potgieter Drive, & Christiaan de de Wet Road, Roodepoort, Johannesburg
011 615 1157
Gauteng
Hirsch
Samsung Store Sandton City
Sandton City Shopping Centre
Shop L54 Nelson Mandela Square, Sandton City Shopping Centre, Johannesburg
0100019940
Gauteng
Hirsch
Samsung Store Mall of Africa
Mall of Africa
Level 3, Shop 1151, Waterfall City, Magwa Crescent,
Midrand, Johannesburg
010 001 9441
Gauteng
TDE
Samsung Store Fourways Crossing
Fourways Crossing Shopping Centre
Shop G17, Founvays Crossing Shopping Centre, William Nicol Drive, Fourways
011 465 1466
Gauteng
New World
Samsung Store Menlyn
Menlyn Shopping Centre
Shop LF139A, Menlyn Shopping Centre, Pal la Drive, Pretoria
012 368 9102
Gauteng
Adjoa
Samsung Store Eastgate
Eastgate Mall
Shop U69, Eastgate Mall, 43 Bradford Road, Bedfordview, Johannesburg, 2008
011 615 1157
Western Cape
Audio Vision
Samsung Store Canal Walk
Canal Walk Shopping Centre
Shop 38, Canal Walk Shopping Centre, Century City, Cape Town
021 555 0683
Western Cape
Audio Vision
Samsung Store Tygervalley
Tygervalley Shopping Centre
Shop UL506D, Entrance 10, Upper Level, Willie Van
Schoor Ave, Tygervalley Shopping Centre, Cape Town
021 914 0909
Western Cape
Audio Vision
Samsung Store V&A
V&A Shopping Centre
Shop 217, V&A Shopping Centre Upper Level,Cape Town
021 421 1055
Western Cape
Audio Vision
Samsung Store Somerset
Somerset Mall
Shop 301, Somerset Mall, Somerset West
021 851 1906
KZN
Hirsch
Samsung Store Gateway
Gateway Theatre of Shopping
Shop F162 First floor, Gateway Theatre of
Shopping, No 1 Palm Blv, Umhlanga Ridge Natal
031 566
6795/6783/6977
KZN
Hirsch
Samsung Store Pavillion
Pavillion Shopping Mall
Shop 132 Pavillion Shopping Mall, 5 Jack Martens Drive, Dawncliffe, Westville. Durban
031 0010424/33
9. General:
    9.1. In accordance with the confidentiality policies and practices of the Organizer, none of the entry details of any participant in this Promotion will be disclosed or used by the Organizer for any purposes other than for entry into the Promotion and in accordance with clause 9.3 below.
    9.2. Participants acknowledge and accept that the Organizer shall utilize a third party (the "Organizer's authorized agent/s") to contact the participant, in the event that the participant qualifies for the Promotion, and to arrange delivery of the Offer, where applicable. In order to affect the contacting and delivery process, the Organizer's shall provide the participant's information to such third party.
    9.3. By participating in the Promotion, the participants agree that the Organizer and its affiliates may contact the participants via email and through social media platforms to deliver marketing communications regarding their products and promotional activities, provided that the Participants are given the opportunity to opt-out of receiving marketing communication at any time via the appropriate opt-out mechanisms provided by the Organizer for such purpose. The Organizer may also use the personal data collected from the participants as described in the Privacy Policy accessible at www.samsung.com and that such use may include transfers to the Organizer's affiliates and third party service providers in any country.  Details of participants will not be used by the Organizer for Samsung related communication should the participants opt-out to receive further communication from the Organizer.
    9.4. The Organizer may require the Participant to be identified and photographed. Photographs may be published in printed media, or the Participant may be required to appear on radio and television when accepting their Offer and/or after having received their Offer. The Participant will be given the opportunity to decline to the publication of their images and to participate in the Organizer's marketing material in so far as it relates to the Promotion.
    9.5. Information regarding the Promotion that is published on authorized advertising material will also form part of the terms and conditions of the Promotion.
    9.6. The Organizer's may in their sole discretion amend these terms and conditions at any time, without notice, and such amendments shall be deemed to have taken effect from the date of publication of the revised terms and conditions on the Organizer's website www.samsung.com/za/offer/. The onus rests on the participant to constantly check the website for updates to the terms and conditions.
    9.7. If this Promotion is interfered with in any way or is not capable of being conducted as reasonably anticipated due to any reason beyond the reasonable control of the Organizer, including but not limited to technical difficulties, unauthorized intervention or fraud, the Organizer reserve the right, in its sole discretion, to the fullest extent permitted by law: (a) to disqualify any entrant; or (b) to modify, suspend, terminate or cancel the Promotion as appropriate, subject to the approval of relevant regulatory authorities.
    9.8. Save as permitted by Law, the Organizer reserves the right to cancel, suspend or terminate this Promotion, without notice at any time, and such cancellation, termination or termination shall be deemed to have taken effect from the date of publication on the Organizer's website https://shop.samsung.com/za/cyber-monday-sale. No liability shall lie against the Organizer in favor of any participant, Participant(s) and/ or third party arising from such cancellation, suspension or termination. Therefore, the participant waives his/her right which they may have against the Organizer and hereby acknowledge that they will have no right of recourse or claim of any nature whatsoever against the Organizer.
    9.9. This Promotion is governed by these terms and conditions, as well as those of the relevant authorized participating stores, associated with this Promotion.
    9.10. Any dispute or claim arising out of or in connection with the Promotion shall be governed by and construed in accordance with the laws of South Africa.
    9.11. The Organizer accepts no liability or responsibility, whether occasioned by any circumstance not foreseeable and not within its reasonable control for late or delayed delivery of the Offer owing to, but not limited to, stock unavailability, strike, lock out, destruction of Offer on route by any means, any civil commotion or disorder, riot, threat of war, any action taken by governmental authority or public authority of any kind, fire, explosion, storm, flood, earth quake or other acts of God.
    9.12. If part or all of any clause of these Terms and Conditions is illegal, invalid or unenforceable:
        a. It will be read down to the extent necessary to ensure that it is not illegal, invalid or unenforceable, but if that is not possible;
        b. It will be severed from these Terms and Conditions and the remaining provisions of these Terms and Conditions will continue to have full force and effect.