How to keep your Galaxy mobile device from slowing down
Last Update date :
Jan 11. 2021
You can keep up with your phone's performance by using the Device care feature. It provides an overview of your battery, storage, RAM and security. You can also automatically optimize your phone for faster, better performance. 
Before you try out below recommendations as to your solution, be sure to check if your device's software is updated with latest version. Please check how to update your mobile device's software in following order. 
Step 1. Go to Settings > Software update.
Step 2. Tap on Download and install. 
Step 3. Follow the on-screen instructions.
Quick optimization
The Quick optimization feature improves your phone's performance by identifying apps that use excessive battery power. It also clears away unneeded items from memory, deletes unnecessary files, and closes apps running in the background. Optimizing your phone is as quick and simple.
Step 1. Go to Settings > swipe to and tap Device care.
Step 2. Tap Optimize now, and then tap Done. 
Optimize battery and use power saving modes
Battery is your phone's life span. There are several ways you can change the battery settings to optimize your phone's battery life.
Step 1. Go to Settings > swipe to and tap Device care.
Step 2. Tap Battery > tap Power mode and select from the following options.
High performance: Higher system speed, maximum screen brightness and resolution. Uses more battery.
Optimized: Get the recommended balance of performance and battery life.
Medium power saving: Extend battery life by limiting some functions.
Maximum power saving: Save as much battery as possible.
You can also turn on Adaptive power saving to automatically set the power mode based on your usage patterns to save power when it's not needed.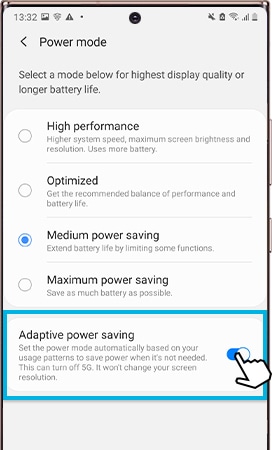 Note: Adaptive power saving can turn off 5G network. 
Clean storage
If you are worried about your phone being overloaded with unnecessary residual files, it's about time you clear out your storage as below.
Step 1. Go to Settings > swipe to and tap Device care.
Step 2. Tap on a category that has items you'd life to remove.
Step 3. Tap the circles to place a checkmark next to the items you'd like to delete. You can choose as many as you'd like.
Step 4. Tap Delete when you've selected everything, then tap Delete again on the confirmation. 
Clean memory
Is your phone getting glitchy and slow? It's time you clean up your phone's memory to improve its performance.
Step 1. Go to Settings > swipe to and tap Device care.
Step 2. Tap Memory > tap Clean now to free up memory by stopping background apps.
You can tap Apps to exclude from cleaning to add apps to the list if you'd like to keep certain apps running in the background. 
Note: Available settings and screens may vary by wireless service provider, software version, and device.
If you are experiencing unusual behavior on Samsung mobiles, tablets or wearables, you can send us a question in the Samsung Members app.  
This allows us to take a closer look at what is happening. The data is anonymized and only held for the duration of the investigation. Find out more about sending an error report through the 'How to use the Samsung Members app'.
Please click the submit button below to share your feedback with us. Thank you for your participation.
Please answer all questions.