How to set an audio file saved on your Galaxy phone as a ringtone
Last Update date :
Oct 01. 2021
Your Galaxy phone comes with many pre-stored ringtones to choose from, but you can also customize the ringtone for incoming calls to your liking. If you prefer to use your downloaded music and set your own ringtone rather than using the default ringtone, check out the guide below.
Before you try the recommendations below, be sure to check if your device's software and related apps are updated to the latest version. To update your mobile device's software, follow these steps: 
Step 1. Go to Settings > Software update.
Step 2. Tap on Download and install.
Step 3. Follow the on-screen instructions.
Set your music file as a ringtone
If there is no preferred sound among the built-in ringtones, you can change the ringtone to your favorite music stored in your phone. Follow the steps below to set a ringtone to your saved music.
Note: 
You must have physical song files downloaded on your device in order to set one as a ringtone. You cannot set Spotify or other streaming services' songs as ringtones.
If the file does not appear under the Tracks tab, tap Folders, then locate the file. 
How to assign a personal ringtone to a contact
You'll know who's calling you by just listening to the ringtone. If you individually set a ringtone for a specific contact, the ringtone you set will ring when that person calls. Follow the steps below to set a ringtone for each contact.
Step 1. Open the Contact app and select the desired contact.
Step 2. Tap Edit.
Step 3. Tap View more.
Step 4. Find and select Ringtone, and select a ringtone other than the default ringtone.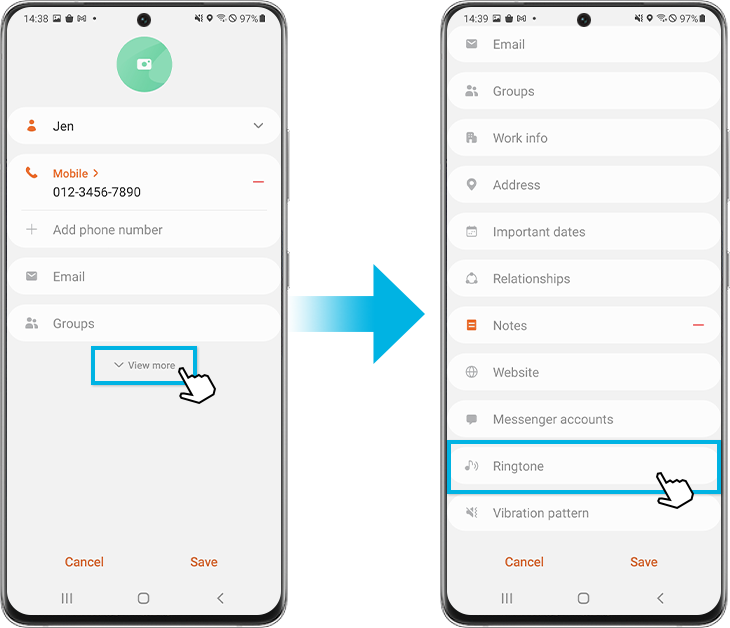 Step 5. Tap Back.
Step 6. Tap Save. Now when this person calls you, a special ringtone of your choice will ring.
Note: Device screenshots and menus may vary depending on the device model and software version.
Please answer all questions.