I dropped my device in water
Last Update date :
Dec 30. 2021
Have you accidentally dropped your device in water but can't visit your local service centre immediately? First, it is crucial to power off your device. This is due to the potential damage or corrosion that can occur in the internal mainboard from the heat that is generated by your device. Keep reading to find out more about the measures you can take if you drop your device in water. 
Check 1. Turn off your device
If your device is waterlogged, make sure to turn off (shut down) your device. Moisture in the device can cause serious damage or corrosion to the mainboard. If the battery is removable, quickly remove the case, battery, USIM, etc. If your device is a newer model without removable batteries, immediately turn off your device.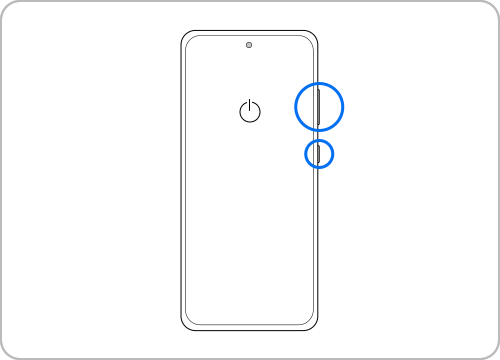 Note: 
To turn off Galaxy devices with non-removable batteries, press and hold the Volume down and Side key simultaneously for 3-4 seconds. 
Check 2. Remove moisture
After turning off your device, quickly dry off your phone. Remove as much moisture as possible from the battery, USIM, memory card, etc. using a dry towel or a clean cloth. Be especially thorough when drying areas where water can enter, such as the earphone jack or charging port. Use a cotton bud to ensure complete moisture removal.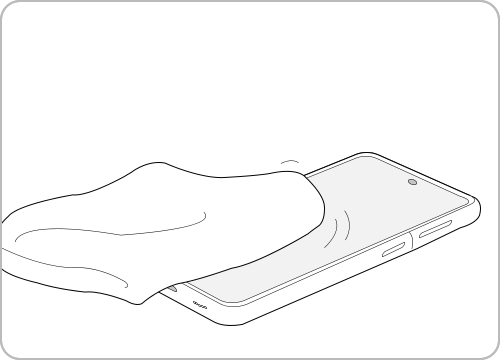 Check 3. Remove foreign debris
If liquids such as drinks, seawater, or chlorinated pool water, etc. get in your device, it is extremely important to remove the salinity or impurities as soon as possible. This is because the foreign debris may speed up the corrosion of the mainboard. After turning off your device, take out any removable parts, soak in clean water for approximately 1~3 minutes, then rinse. Afterwards, follow Check 2 and thoroughly dry your device. 
Check 4. Air dry
After removing the moisture or impurities, leave your device to dry in a well-ventilated area or in the shade with cool air (from a fan). Air drying is recommended for devices that are waterlogged. Please note that attempting to rapidly dry your device using a hair dryer or hot air may damage your device. Moisture may be present in your device even after a period of drying, so it is best not to power on your device until you visit a service centre to have it checked. After air drying, please bring your waterlogged device to a Samsung Electronics Service Centre as soon as possible.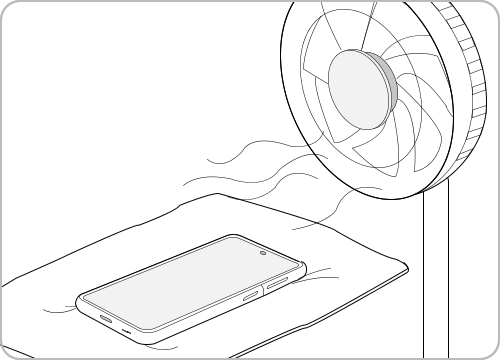 Check 5. Check the waterproof rating
Most Galaxy models are dustproof and waterproof and feature the highest rating of IP68. Although the highest ratings support up to 30 minutes of waterproofing at a depth of 1.5m, it should not be used in deeper areas or areas with high pressure. Your device may become waterlogged if it is at a depth of 1.5m for longer than 30 minutes. 
Note: 
Dustproof and waterproof support may differ based on the device model, so be sure to check the device's User Manual.
An IP (Identification code for Protection) rating refers to the protection code of solids and liquids, and is a grade established by the International Electrotechnical Commission (IEC) regarding the durability of electronic devices against external impact and foreign debris. The first digit represents the dustproof grade (0~6) and the second digit represents the waterproof grade (0~8). In general, a waterproof rating of 4 or higher is classified as water-resistant.
Device screenshots and menus may vary depending on the device model and software version.
Please answer all questions.