Galaxy A5(2017): What can I do if my Samsung Galaxy A5 2017 is acting up or unresponsive?
Last Update date :
Nov 23. 2020
Device performance
A smartphone is like a small computer that fits in your hand and is capable of handling many things for you. Unlike a computer or a laptop, you make sure your mobile device is charged and turned on all the time. Having your phone on all the time, on a long run, can have a negative effect on the performance of your device. It may cause glitches, or even worse, unresponsive.
Your smartphone offers a few functions to prevent any possible malfunction: use
Device maintenance
to automatically optimize the performance of your device and
Auto restart
to restart your device automatically once a week. When prevention is not enough, our guide will present you the first solutions you should try to fix any issue you might encounter while using your Samsung device. Please do not hesitate to contact us if your issue is still not resolved.
Preventive action #1: Quick optimization
Note: You can automatically optimize the device with a tap of your finger, using the quick optimization feature.
1.
From the Home screen, touch
Apps
.
2.
Touch
Settings
.
3.
Touch
Device maintenance
.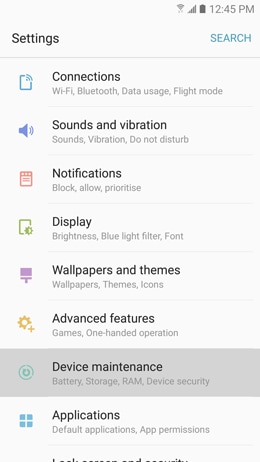 4.
Touch
OPTIMIZE NOW
.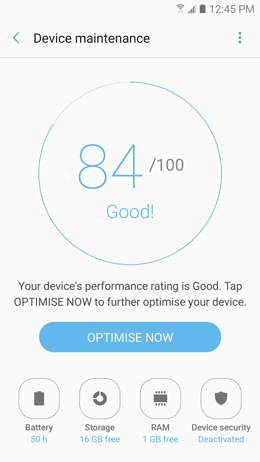 5.
When optimization is complete, swipe up and touch
DONE
.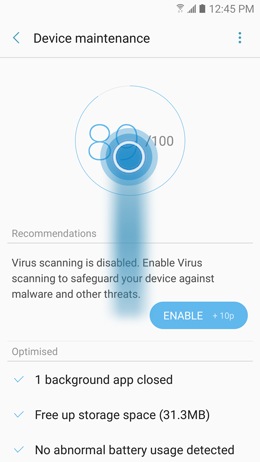 Preventive action #2: Auto restart
Note: Optimize your device by restarting it automatically at set times. Any unsaved data will be lost when the device restarts. But restarting your mobile device once a week will also free up RAM and allow your device's performance be at its optimal.
1.
From the Home screen, touch
Apps

.
2.
Touch
Settings
.
3.
Swipe to and touch
General management
.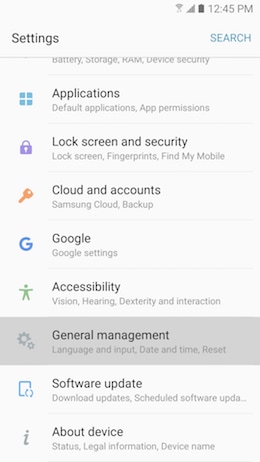 4.
Touch
Reset
.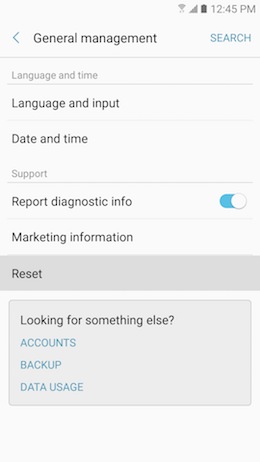 5.
Touch
Auto restart
.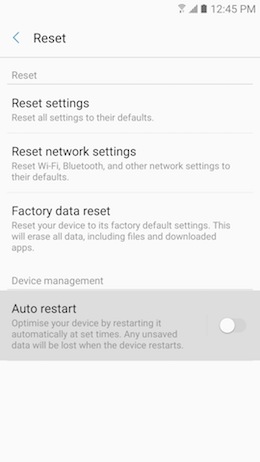 6.
Touch the slider

to turn
Auto restart
on

.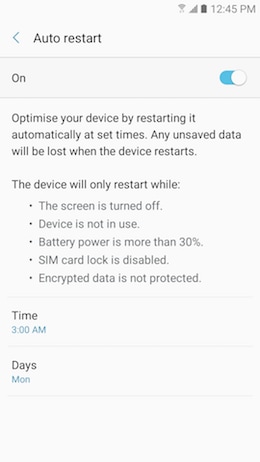 7.
Touch
Time
.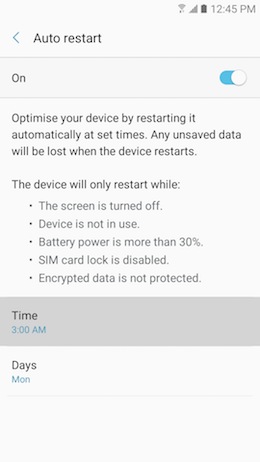 8.
Set a time by swiping your finger up or down. Select
AM
or
PM
. Then, touch
DONE
.
9.
Touch
Days
.
10.
Select a
Day
. For now, it is possible to restart the device only once a week because this is sufficient for optimal performance. Your device is designed to stay on (in sleep mode or wake mode) all the time.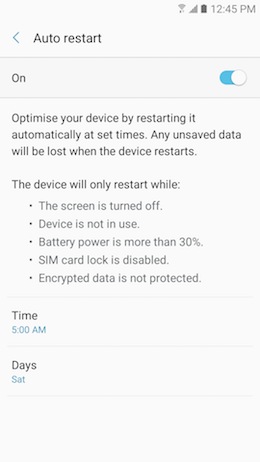 Note:
It is, of course, possible to restart your mobile device manually, anytime, using the
Power
button.
Solution #1: Turn off and turn back on feature
If a certain app or feature on your device is not working properly, the first thing you should try is to turn off the app or feature and activate it again. For example, if your device experiences difficulty connecting to your home network, for no apparent reason, touch the
slider

to turn off Wi-Fi. Then touch the
slider

again to activate Wi-Fi again.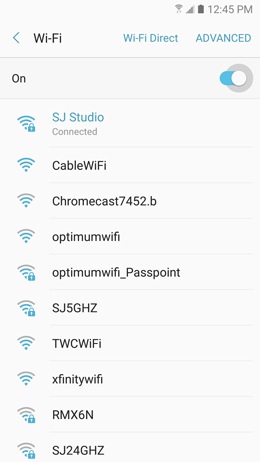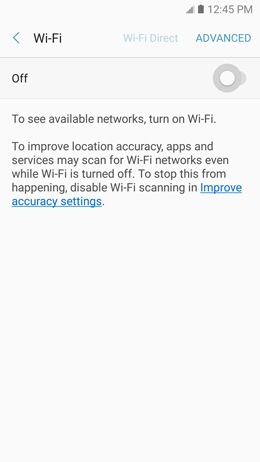 Note:
The Wi-Fi feature was used as an example, you can apply the same strategy to any feature.
Solution #2: Restart the device
If your mobile device is acting up, simply
restart
the device. You will be surprised how many issues this simple trick can fix.
Solution #3: Force restart
When your device becomes unresponsive, you can attempt a force restart. Press and hold the
Power
key and the
Volume Down
key simultaneously for more than
7 seconds
to restart it. This will turn your device off and back on without affecting any data stored on the device.
Note:
Make sure your device is charged to a minimum of 5%. If your battery is below 5%, the device may not turn on after the restart. A device that is completely drained should be charged for a minimum of 15 minutes using the wall charger supplied with your device
Please click the submit button below to share your feedback with us. Thank you for your participation.
Please answer all questions.