What is Samsung Cloud and how Do I use it to backup or restore my data?
Last Update date :
Nov 23. 2020
What is Samsung Cloud?
Samsung Cloud allows you to backup, sync and restore content stored on your device.
You'll never lose anything important to you and can seamlessly view photos across all devices.
If you replace your phone, you won't lose any of your data because you can copy it across using Samsung Cloud.
Using Samsung cloud you can easily setup and manage your preference from one screen to backup and sync your data. You can then restore the data onto a new device so everything will be exactly as you left it.
Which devices have Samsung Cloud? I can't find it on my device.
Samsung Cloud was released in late 2016. It is being rolled out to compatible devices via software updates starting with the Galaxy S7 and S7 edge.
If you do not yet have Samsung Cloud on your device, ensure that your device is set to download updates automatically, and you will receive it as soon as it is available for your model.
How do I backup or restore using Samsung Cloud?
Backup/Restore uses the copy of your content or data currently stored in the cloud, that was backed up automatically/manually from your device, to create a restore point that you can either use to restore your content or set up a new device.
Follow the steps below to back up your data to Samsung Cloud:
1. From the home screen, choose Apps

2. Choose Settings

3. Then Samsung Cloud

4. Then choose Back up my data or Restore.
Restore will automatically restore your data from your last backup.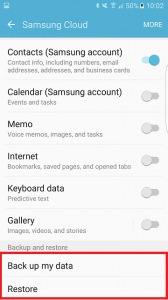 5. If you tapped Back up my data, turn on each item you want to back up in the Settings menu and choose Back up now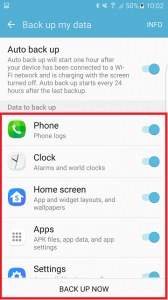 Please answer all questions.