How to update your Smart TV to the latest software
Last Update date :
Nov 23. 2020
* Please note, this section is designed to give you basic product troubleshooting information, also refer to your user manual for more information.

There are two ways to update your Smart TV's software, Online, and via USB. If the TV is connected to the internet, it is more convenient to upgrade the software Online.
2
Make sure your TV is connected to the internet. Press the Menu button on the remote control.
3
Select Support from the menu.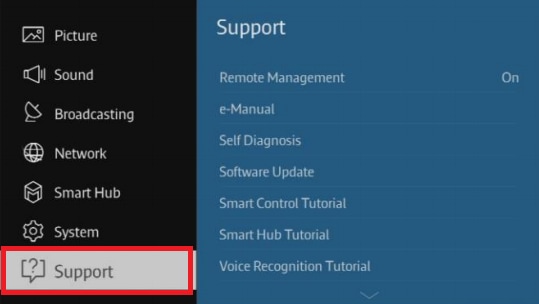 4
Select Software Update.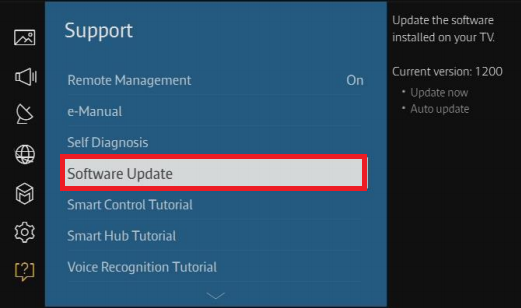 5
Select Update now.
Update via USB
 
First, download the software from the Samsung website.
1
On the Samsung Australian site, go to the search bar found on the upper right corner of the page.
2
Enter the model number of the TV.
■ You can find the model number on a sticker found at the back of the TV. You can also find the it by going to the TV's Menu → Support → Contact Samsung.
3
Select the result under Firmware. If the result does not show Best Match, look for the result that shows Support and look for a result that has firmware on it.

4
Click on Upgrade File (USB type).
■ Additional steps may be required. Click Installation Guide for instructions.

5
Unzip the downloaded file. Be sure not to change the name of the folder that will be created. Save the file on a blank USB.
2
Insert the USB Drive into the USB port on the side or rear of the TV.
3
Press the MENU button to display the menu. Go to Support → Software Update.
4
The message "Scanning for USB… It may take more than 1 minute." Will be displayed.
5
The message "Upgrade Version XXXX to version XXXX? The system will be reset after upgrade" will be displayed. Select Yes, and then press the ENTER button.
6
When the software upgrade is complete, the TV will then turn OFF and then back ON by itself.
When upgrading the Software

        ■ Do not remove the USB Drive.
        ■ Do not unplug the power cable.
        ■ Do not turn off the TV.
Please click the submit button below to share your feedback with us. Thank you for your participation.
Please answer all questions.