How to use Samsung Kids
Last Update date :
2022-07-25
To get the most out of the application it is important to know all the functions of Samsung Kids and how to use them. It is also important to know the requirements and needs of our devices to use this app.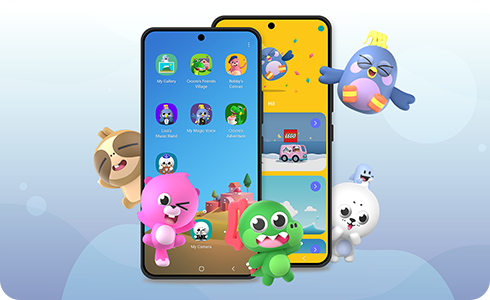 To run Samsung Kids, please follow these steps:
1
Open the quick panel and tap the "+" button on this screen.
2
Hold the "Kids" icon and drop it to wherever you want it to be.
3
Tap the "Kids" icon and run Samsung Kids.
4
In the next screen you can choose the option "Add Samsung Kids to the Apps Screen". To open Samsung Kids, tap the "Next" button.
5
The next step that you must follow is to set up the PIN to run Samsung Kids. The way to start the app is the same to unlock your device.
6
At the top right corner of the home screen of Samsung Kids, tap on more menu. Here you can select the "Parental controls" from the pop-up menu and use this tool.
Do I need a Samsung account to use Samsung Kids?
You can use Samsung Kids without a Samsung account. However, you should note that if you forget your Samsung Kids PIN and want to reset it, your device must be unlocked via the Pattern, Iris or Fingerprint options, or you will need to have previously registered a Google account. Only one account registration is required.
Permissions required to use Samsung Kids
Google™ requires multi-step permissions when using Samsung Kids because of their OS policies. When you need to use 'call', 'message', 'files and media' and other basic functions or apps on your device, you need to provide additional permission to use the full features in native apps provided by Samsung Kids.
As such, Samsung Kids needs to request user permission to allow access to other preinstalled apps and device functions.
Requiring user permission does not compromise your device's security, and your child cannot access your contacts (which cannot be accessed without your PIN).
If you reject permission requests, you will not be able to run Samsung Kids or the apps that come bundled with Samsung Kids.

If you have already rejected permission and selected "Do not ask again" or "Do not show again" on a pop-up that is requesting access permission, you can allow permission by following the steps below: 
1
Go to the "Settings" menu and tap on the "Apps" option.
2
Select the option "Samsung Kids" and in the next screen tap on the "Permissions" option.
3
In this screen, follow the instructions to grant permission.
Access to Kids Mode when you upgrade your device to Android™ 9.0
If a Kids Mode user has upgraded their OS to Android™ 9.0, the Kids Mode can be updated to Samsung Kids.
After you have completed the Samsung Kids update and installation, the Kids Mode icon will disappear. You can access Samsung Kids by swiping the quick panel down from the top of the screen and tapping the "Samsung Kids" button.
Please click the submit button below to share your feedback with us. Thank you for your participation.
Please answer all questions.