What to do when there is no sound in my wired headphones?
Last Update date :
2023-11-20
If you connect wired headphones but cannot hear sound from your Galaxy device, your headphones may be defective, or there may be an issue with your device's headphone jack. Read the following guide to troubleshoot your issue.
Before you try the recommendations below, be sure to check if your device's software and related apps are updated to the latest version. To update your mobile device's software, follow these steps:
Step 1. Go to Settings > Software update.
Step 2. Tap on Download and install.
Step 3. Follow the on-screen instructions.
Perform basic troubleshooting for headphones
Check for physical damage to your wired headphones. If the audio jack is bent or broken, or the cable is damaged or exposed, you may not hear audio from your headphones.
Even if you don't see any physical damage, the headphones may be damaged. If you have another device to connect to the headphones, try testing them with that device.
Check if the headphones are fully inserted into the sound jack of the device. If it is not fully inserted, the headphones may not be recognized, and sound may play through the device speakers.
Check the headphone jack and Volume keys on the device
Press the Volume key on the side of the device to check if it works.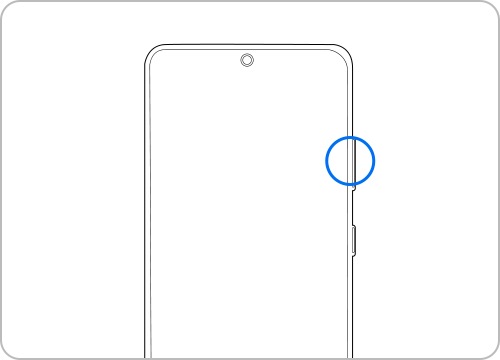 If you have spare headphones, try plugging them into the device to see if they work. If there's still an issue, check for any damage by flashing a light on the headphone jack of the device. If a pin is bent, service is required. Visit our Support Center to book a service.
Note: Volume key and headphone jack locations may vary depending on the device model.
About Sound mode
In Sound mode, Ringtone and Notification sounds come from both the headphones and the speaker. If you want sound to come only from the headphones, change your Sound mode by following the steps below.
How to change your Sound mode
Vibrate: Vibrates when a notification is received. Your device can still play sounds from music or videos.
Mute: Does not make a sound or vibrate when a notification is received. Your device can still play sounds from music or videos.
Note:
For further assistance or questions, please Contact us.
Device screenshots and menus may vary depending on the device model and software version.
Please answer all questions.