How to connect PC to Samsung Smart TV
Last Update date :
2023-04-30
If you've ever wished your TV could double your computer or laptop, you've got your wish with your Samsung Smart TV. When you need a remote PC or share the PC screen/Samsung Dex or use MS Office 365, there is an easy way to access them using the PC on TV function.
Use the PC on TV function when you work and learn at home
As time goes by, the functions that can be performed on your TV are becoming increasingly developed. The TV itself also supports many features, and if your personal computer is available as it is on the TV, the possibilities of what you can do will be more extensive.
In addition to PC remote access and PC mirroring, you can access Microsoft 365 directly and work on documents on your TV. Check out the features available with the PC on TV function.

There are 4 main uses with the PC on TV function.
The 4 uses can be found on the PC on TV menu panel.
Easy Connection allows you to remotely control your PC through an app. Screen Sharing mirrors the PC that has been connected to the same Wi-Fi network. Samsung Dex allows you to use your mobile as a PC on the TV. And Microsoft 365 can be accessed directly using the TV web browser.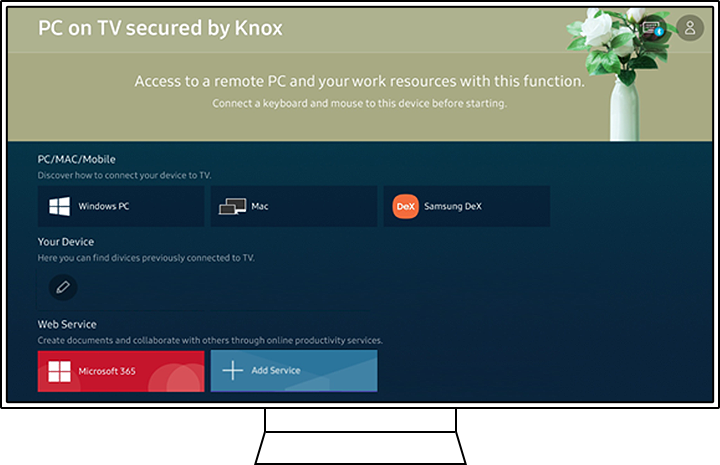 Note:
Device screenshots and menus may vary depending on the device model and software version.
If you have any questions after verifying the above-mentioned solutions, please call our contact center to get help with your inquiry. Our helpful agents will be there to help you.
Please click the submit button below to share your feedback with us. Thank you for your participation.
Please answer all questions.