What to do when Samsung soundbar does not connect through HDMI cable or optical cable?
Last Update date :
2022-11-30
HDMI is a common connector for sound and video. Sound devices and projectors all use this standard. For a better sound experience, you can use an HDMI cable to direct the sound from your Smart TV to sound device. ARC (Audio Return Channel) is a special function of HDMI high-speed certified cables via which the sound can also be sent back to the transmitter.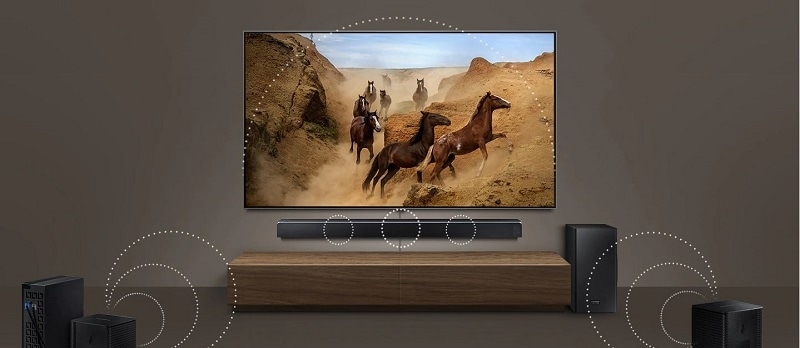 What is HDMI ARC?
Most Samsung TVs support the HDMI feature called Audio Return Channel. HDMI ARC is designed to reduce the number of cables between your TV and an external Home Theatre System or Soundbar. The audio signal is capable of traveling both ways to and from the speakers, which will improve the sound quality and latency of the signal.

In other words, you don't need a second optical/audio cable connected to an HDMI ARC compatible speaker. To connect your TV with an ARC enabled speaker, make sure that you are using an HDMI cable 1.4 or higher. The HDMI-ARC functionality is only available through the specific port on the TV or One Connect Box, and the external speakers need to be compatible. You may also need to adjust the settings of the external speakers to turn on HDMI ARC controls.
Audio formats supported by HDMI ARC:
PCM (2 channel)
Dolby Digital (up to 5.1 channel)
DTS Digital Surround (up to 5.1 channel) 
Note: DTS is only available on models released before 2018.
If your issue is not solved after trying the steps above, please call our contact center and our helpful agents will assist you.
Please click the submit button below to share your feedback with us. Thank you for your participation.
Please answer all questions.