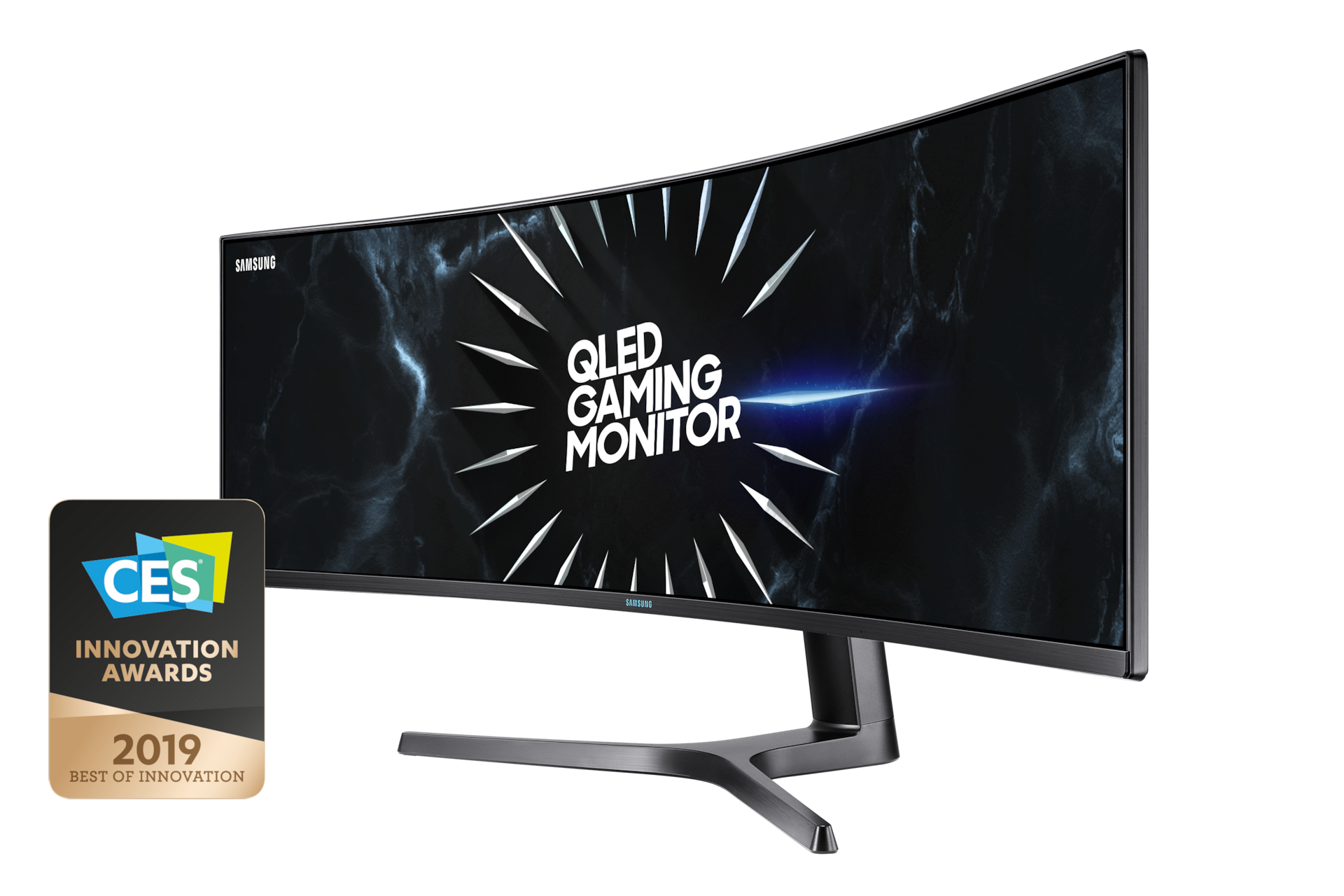 49" Super Ultra-Wide Dual QHD 32:9 Gaming monitor
LC49RG90SSNXZA
49" Super Ultra-Wide Dual QHD 32:9 Gaming monitor
is rated out of
5
by
5
.
BUNDLE
Dual QHD
Curved Screen
HDR
AMD Freesync
Dual QHD Display
The CRG9's 5120 x 1440 Dual QHD resolution provides a super ultra-wide aspect ratio that lets you view more content in superfine detail. With screen space equivalent to two 27-inch QHD displays side by side, the 49-inch curved monitor delivers a wider view for winning play.
Super Ultra-Wide Curve
With a Super Ultra-Wide 32:9 ratio, the CRG9 curves around your field of view to immerse you in all the onscreen gaming action.
HDR1000 and QLED
HDR1000 supports a peak brightness rating of 1,000 nits for true high dynamic range (HDR content). And with Samsung QLED technology delivering DCI-P3 95%, colours are pure and bright.
*As compared to conventional monitors which are previous Samsung Gaming Monitors. Dramatization for illustrative purposes only. Visit an authorized retailer for a true-to-life comparison.
AMD Radeon FreeSync™ 2 support
Based on the adaptive sync technology of the original AMD Radeon FreeSync™ Technology that reduces stutter and screen tearing, the premium features of AMD Radeon FreeSync™ 2 HDR also includes support for HDR content display, reduced input latency, and Low Framerate Compensation (LFC) for effortlessly smooth gameplay.
120Hz Refresh Rate
The rapid 120Hz screen Refresh Rate minimizes image lag and motion blur for smoother gaming. Utilizing the three user-friendly hotkey buttons lets you quickly optimize performance via the on-screen display without having to access the display setting menu.
*As compared to conventional monitors which are previous Samsung Gaming Monitors. Dramatization for illustrative purposes only. Visit an authorized retailer for a true-to-life comparison. **Colour support limited to 16.7M when using 120Hz Refresh Rate.
Play to Win
The game-optimized monitor is designed to let you play to win. Turn on Game Mode to instantly adjust contrast and colour settings for game genre, switch to Low Input Lag Mode for faster response times, and target your enemies accurately with Virtual Aim Point onscreen crosshairs.
Picture-by-Picture
With Picture-by-Picture you can connect and view two discreet input sources without degrading the original image quality. Picture-by-Picture offers convenience for gamers, you can watch a movie or do a web search whilst playing your favourite game.
Eye Comfort
Eye Saver Mode reduces fatigue-inducing blue light emissions and Flicker Free technology suppresses distracting screen flicker, letting you play for longer with less eye strain.
Optimized Viewing
The swivel/tilt and height-adjustable stand offers all the flexibility you need to position the screen for maximum comfort. The panel's VESA Standard mount also offers the option of mounting on VESA-compatible arms.
1800R

Screen Curvature

32:9

Aspect Ratio

600cd/m2

Brightness

3,000:1

Contrast Ratio

5,120 x 1,440

Resolution

4ms (GtG)

Response Time
Rated

4

out of

5
by
Brcinskij
from
Awesome monitor, but with broken HDR
This is an excelent monitor, but with broken HDR. HDR uses also metadata and I think the Monitor has problem with them, cause colours are simply washed out, when HDR is enabled in Windows. I saw this kind of behaviour in some other games too, where was HDR activated only ingame (without activation in Windows), f.e. in new Blair Witch game. This problem is well known, reported from other owners all around the world. There is no Problem with GPU driver, or Windows version, the problem is in the monitor itself. That means, that contacting some support for replacement doesn´t change anything, you have to put out some new firmware to fix it. The main question is, why it takes so much time to understand what we need here. It is already 4 months after purchase or so and still no info from Samsung about this issue. Give us please at least some info, that you are working on it, cause we all are already very frustrated. Thanks in advance.
Date published: 2019-09-10
Rated

2

out of

5
by
André Fontes
from
Overated. Color shifting on a QLED? HDR = usless
I bought this monitor 2 weeks ago. Black friday, good opportunity, needed a good monitor to read/work and game or 1 good monitor and a second monitor, to increase productivity. I stretched my budget and got this mistake, considering all the specs of this monitor and the competition in the market. I never bought such expensive product. I was expecting premium-like TV QLED picture quality, which everyone can go to a store and compare TVs. Unfortunately in my country I found no store with such monitors exposed, and now I can say the picture quality is worse than TV QLED. This is the most overated producted I ever owned, and I conducted a lot of research before buying. With 200-300 euros, you get a decent 27" +120hz IPS panel. I was expecting for 1000 euros, you would get increase picture quality (QLED+HDR+Freesync2 specs), 2 27" monitors, and the advantage of not having a bezel in the middle. No, no no... First, it comes with 4 well-defined spots with backlight bleeding. Second, color shifts everytime you move your head, such as it was described by another reviewer at this Samsung website.. Even text is not readable from a person sitting next to the center, since it gets blurred. It's not 178 degrees or whatever. We are talking about a 20-30 degree shift from the center. It's unacceptable to me, for the price of the monitor, if you can get better quality with a 200 euros monitor. I've contacted Samsung support in my country, and every answer is misguiding and not helpful. They even said something like "What were you expecting? It is a gaming monitor" - for me, this answer is Samsung never more. Main reason I bought this monitor was productivty, where one could have the flexibility to use any real state as wanted, flexibility to change the screen size, create virtual desktops and so on, and have everything on the same screen. without having bezels. It was such a mistake. Even with 3rd party utlities, fullscreen applications do not keep at the assigned virtual desktops, they always maximize into the entire screen, the monitor software Easy Tool is full of bugs. Setting HDR on windows makes the entire screen greyish, and it's usless. Eye care setting also makes screen totally greyish/yellowish - they could just have minimized the blue light, instead the overall picture becomes really bad, even to read. I dont know whats happening with this industry. Full of gimmick and false advirtising. Freesync on the monitor comes with 2 options: Freesync standard or ultimate. Either option has a lot of thearing in the games I've played. Thus, I've found better results setting the monitor to Freesync Off and 120hz, giving a better motion picture quality. A proper 1000 euros TV has good HDR, 120hz, good color and picture quality and no problems or color shifting with viewing angles. The Samsung support even told me the monitor is curved because it is supposed to be only for one person, and so no one should be seated next to the middle and observe the color changes, as it is inteded for single use. I guess people cannot play PC games and console on small monitors with friends and family, and of course everyone buys a 49" screen just to play alone. Samsung marketing is the fervorous and false. It would be wise to spend this amount of money on a TV screen and use it as a PC monitor, if there is the flexibility with some software to crop the screen for 1 meter distance use. It comes with a useless dimmed blue light on the back. The plastic parts seem really fragile. The support stand extends the monitor 40 cms away from the wall, making it much closer to your eyes than you would expect, even with on a big table. For you to see the entire screen comfortably, you need to distance yourself 1meter away. A solution is to use keyboard and mouse on the chair, with a small table support. Why am I taking the time writing this review while I have so much to do? Something inside me impels me to, so that other people do not regret as I was, because for the 99% of the potential buyers, they never observed the screen before the purchase. Either that, or the fact the Samsung support's answer to my detailed technical faults compared to the advertised specs was a joke, and made me furious.
Date published: 2019-12-24
Rated

1

out of

5
by
DisappointedLoyalCusty
from
New Monitor Arrived DEAD - No Power
Samsung Model: C49RG90SSN I just purchased a Samsung C49RG9 49" Ultra Wide Curved Gaming Monitor. It was delivered today. I anxiously waited 4 weeks as it was on backorder and out of stock. I unboxed the monitor this afternoon. The monitor was shipped directly from the manufacturer and it is defective. It will NOT power on and the LED light is NOT lit. No standby light. I unplugged everything and reconnected numerous times. I switched outlets. I tried similar Samsung power cord. Nothing works. This is a brand new product and it's not even functional out of the box. Completely dead. Very disappointed. Looking to return.
Date published: 2020-05-24
Rated

5

out of

5
by
Anonymous
from
Great monitor
It's great! Only suggestion is to offer the Virtual Aim Point as DOT only without the other lines around for First Person Shooters.
Date published: 2019-09-07
Rated

5

out of

5
by
MC_MC
from
Simply Amazing!!!
Got it on sale. Amazing for studio and gaming. Received mine with no defects. I would say, it's best of both worlds at an amazingly affordable price when on sale. I highly recommend it if you are looking for an ultrawide monitor and have a good video card to drive it (GTX 1080 will do, but higher even better!).
Date published: 2019-08-20
How It Stacks Up
Dual QHD

Curved Screen

HDR

AMD Freesync
Clamp type stand

144Hz Refresh rate

AMD FreeSync

Zero Level Height Adjustable Stand
All specifications and descriptions provided herein may be different from the actual specifications and descriptions for the product. Samsung reserves the right to make changes to this document and the product described herein, at anytime, without obligation on Samsung to provide notification of such change.