Install or uninstall an app on your Samsung laptop or notebook
Last Update date :
Jun 12. 2021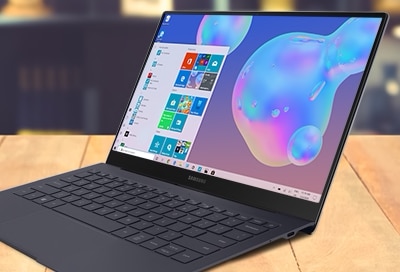 Pick and choose from millions of apps to enhance your Windows 10 laptop or notebook. Use the Microsoft Store to download gaming or streaming apps for entertainment, or download productivity apps for when you need to get work done. No matter what kind of app you need, it will be in the Microsoft Store.
Note: Information provided applies to devices sold in Canada. Available screens and settings may vary for laptops and notebooks sold in other countries. Apps in the Microsoft Store may require separate purchase or subscription.
Install an app
To install apps, you'll need to use the Microsoft Store. Once you hop on the store, you could literally get lost in the countless apps. But they're all organized into categories so you can easily find what you're looking for.

Click on the Search box, and search for and click Microsoft Store. You can also find the Microsoft Store in the Start menu. Click the Apps tab, and then select your desired app. Click Buy to purchase an app, or click Get if it's a free app.

Uninstall an app
If you don't really use a certain app or need to make some space on your laptop or notebook, you can delete apps you don't want.

Click the Start icon, and then click Settings. Click Apps, and then make sure you are on the Apps & features tab. Select your desired app, and then click Uninstall. Click Uninstall again to confirm. Remember, some preinstalled or Microsoft apps cannot be uninstalled.

Please answer all questions.
The coding for Contact US > Call > View more function. And this text is only displayed on the editor page, please do not delet this component from Support Home. Thank you