Water supply requirements for your Samsung dishwasher
Last Update date :
Sep 01. 2023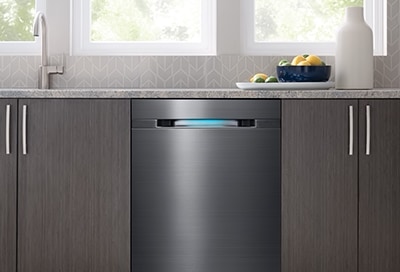 Before installing or purchasing your dishwasher, it's vital to ensure that your water supply aligns with the requirements for water temperature, pressure, and proper hardware connectivity. The effectiveness of your dishwasher's cleaning capabilities hinges on meeting these specifications. Discover the essential water supply criteria to optimize your dishwasher's performance.
Note: The information provided pertains to dishwashers available in Canada. Settings and options may vary for appliances sold in other countries.
Water supply requirements
Water temperature

Achieve the best cleaning and drying outcomes with a hot water supply ranging from 120 to 149 degrees Fahrenheit (49°C to 65°C). To safeguard against scalds, ensure the water temperature doesn't exceed 149 degrees Fahrenheit (65°C).
Water pressure

Maintain a water supply pressure within the range of 20 to 120 psi (pounds per square inch). Water pressure below 20 psi can lead to valve failure, impeding the water supply valve's proper functioning.
Elbow connection

Utilize a 90-degree elbow (not included) to establish a connection between the water line and the dishwasher. This elbow should feature 1/2-inch NPT (National Pipe Thread Taper) on one end and a 3/8-inch compression fitting on the other end.
Supply line

Remember that the dishwasher does not come with a supply line. You can procure supply lines of various lengths, extending up to 10 feet, from most plumbing supply stores. Opt for a stainless steel supply line for enhanced durability.
By adhering to these guidelines, you not only optimize your dishwasher's performance but also safeguard your space against potential water-related issues. These measures contribute to a seamless and worry-free experience with your Samsung dishwasher.
Minimize leaks and water damage
To mitigate the risk of leaks and water damage, adhere to the following precautions:
Ensure easy accessibility to the water supply shut-off valve.



Turn off the valve when the dishwasher won't be used for a week or more.



Regularly inspect the connection points for leaks at the junction of the hose and the water supply shut-off valve.
Please answer all questions.
The coding for Contact US > Call > View more function. And this text is only displayed on the editor page, please do not delet this component from Support Home. Thank you