Samsung Dishwasher - Water supply requirements
Last Update date :
Oct 02. 2020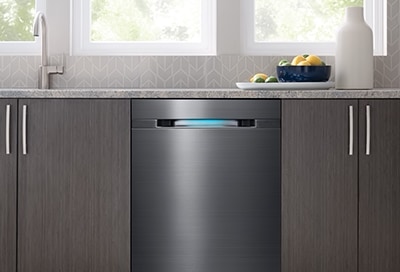 Before you install, or even buy your dishwasher, make sure the water supply meets the requirements for water temperature, water pressure, and hardware for proper connection. The dishwasher's main method of cleaning your dishes is completely based on the water temperature and pressure so if they don't meet the requirements, you won't get the cleaning performance you expect. Check out what the requirements are for your dishwasher's water supply.
The provided information refers to dishwashers sold in Canada. The available settings and options may differ for appliances sold in other countries.
Water supply requirements
A hot water supply of 120 to 149 degrees Fahrenheit (49°C to 65°C) is required for the best cleaning and drying performance. To avoid severe burns, the water temperature should not exceed 149 degrees Fahrenheit (65°C).
The water supply pressure must be between 20 and 120 psi (pounds per square inch). A water pressure less than 20 psi will cause water supply valve failure and prevent the water supply valve from shutting off.
A 90-degree elbow (not included) is required to connect the water line to the dishwasher. The elbow is 1/2-inch NPT (National Pipe Thread Taper) on one end, and 3/8-inch compression fitting on the other end.
The supply line is not included with the dishwasher. Most plumbing supply stores sell water supply lines of various lengths up to 10 feet long. A stainless steel supply line is recommended.
Reduce the risk of leaks and water damage
To reduce the risk of leaks and water damage, perform the following:
Make the water supply shut-off valve easily accessible.
Shut off the valve when the dishwasher is not going to be used for a week or longer.
Frequently check for leaks where the hose connects to the water supply shut-off valve.