Samsung Dishwasher - Cycle takes a long time to finish
Last Update date :
Oct 06. 2020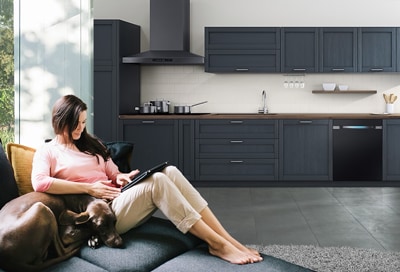 Most dishwasher cycles times range from 80-150 minutes, depending on the cycle and the soil level. It's not unusual for a cycle to be 2 or 3 hours long. This is true for all manufacturers, not just Samsung. However, if you think the cycle is too long, follow the few steps below to determine the cause of the issue.
The provided information refers to dishwashers sold in Canada. The available settings and options may differ for appliances sold in other countries.
Verify that the cycle takes longer than 3 hours
Although this is a long process, it is important to verify that the dishwasher is actually taking longer than 3 hours to complete a cycle. If the dishwasher runs longer than 3 hours and is connected to a hot water line, service is required. Please visit the Support Center to request service.

Check water connection
The most common issue for long cycle times is caused by cold water. Although the dishwasher can be connected to a cold water source, it is not recommended. If your dishwasher is connected to the cold water source, you will have longer cycle times as the dishwasher needs to heat up the water to the correct temperature. Cleaning performance will also be affected.

If the dishwasher is connected to a hot water source, run the sink faucet until the water is hot and then start the dishwasher. This will ensure that only hot water is being delivered to the dishwasher and it will not need to heat up the water.
Inspect the insulation material (green felt)
This material should NOT be removed. It acts as a sound insulator and it also insulates the unit by trapping heat inside. If the material has been removed, heat will escape, lowering the cabin's temperature and extending wash cycle times. The inspection procedure may require you to remove the dishwasher from under the cabinet.

If the felt has been removed, service is required. Please visit the Support Center to request service. The felt will not be covered under warranty.