What can you do when the burner of your Samsung gas cooktop does not ignite or has other ignition issues
Last Update date :
Feb 01. 2022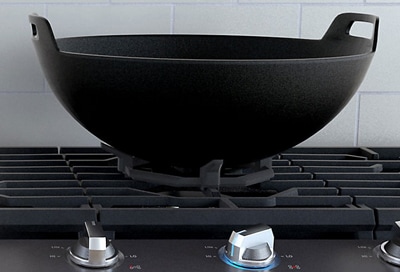 Seeing something strange happening on your gas cooktop can be scary, but fortunately in most situations the explanation is simple and easily corrected. Mostly of the issues can be resolved by keeping your burners clean and properly assembled, and having correct gas pressure.
Note: The provided information refers to cooktops sold in Canada. For safety concerns related to gas, including but not limited to the smell of gas, contact your gas provider.
One burner does not ignite
Confirm the burner head and cap are clean and positioned correctly. Make sure the orifice is not blocked by food or debris. If it is, use a pin or needle to clean it. Do not allow water or moisture of any kind to get in the orifice. In addition, make sure not to turn the knob too quickly. Leave the knob on LITE until the burner ignites.

If the burner still will not ignite, replace the burner head and cap. If the issue continues with a new burner head and cap, visit the Support Center to request service.

All burners spark when trying to light just one
This is normal. This design is typical across gas stoves of all brands. It reduces design complexity, is not a great expenditure of energy, and also provides the chance to ignite the gas with a different burner if the one that is trying to be lit does not spark (which is a safety measure that can potentially prevent a dangerous build-up of gas).

None of the burners will ignite
If the burners do not spark when the knob is turned to LITE, confirm the range is plugged into a working outlet and that the circuit breaker is not tripped. If the issue continues, visit the Support Center to request service.

If the burners spark but do not ignite, contact your gas company or a professional installer to verify the gas supply is properly connected and turned on. If this does not resolve your issue, visit the Support Center to request service.

Please answer all questions.
The coding for Contact US > Call > View more function. And this text is only displayed on the editor page, please do not delet this component from Support Home. Thank you