Use interaction and dexterity enhancement features on your Galaxy phone
Last Update date :
Feb 22. 2023
If you have mobility or coordination concerns, don't worry. You can improve your phone screen's functionality with interaction and dexterity controls, so you can enjoy all your apps, text friends, and make calls. Connect devices for easy navigation if you prefer using a mouse or keyboard, and adjust your screen's sensitivity to taps and touches. That way, you'll never select something accidentally.
Note: Information provided applies to devices sold in Canada. Available screens and settings may vary for smartphones sold in other countries.
Use interaction and dexterity enhancements
Set custom controls for receiving calls or add an assistant menu to your screen to help you access different functions. From Settings, swipe to and tap Accessibility, and then tap Interaction and dexterity.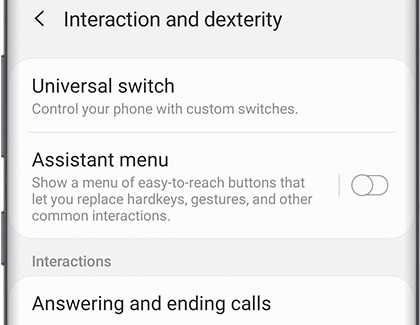 Swipe up to see all the convenient options for improving your interaction experience:

Assistant menu: Displays a fixed menu with common controls and gestures like navigation buttons, swiping, an on-screen touch pad and more. You can edit the menu to include your frequently used buttons.

Answering and ending calls: Choose how you would like to answer and end phone calls. Have caller names read aloud to you, or press the Volume key to answer.

Interaction control: Keep the phone focused on a single app by blocking interactions from other apps and areas of the screen, like the navigation bar buttons, and the keyboard.

Touch and hold delay: Set the time threshold for when a continuous touch is registered as a touch and hold on your screen. You can customize the time as well.

Tap duration: Set the amount of time the screen is touched until it is recognized as a tap.

Ignore repeated touches: Turn this on so your initial tap is recognized and taps that follow are disregarded. A time limit can be set for how long the extra screen taps are ignored.

Click after pointer stops: Choose the delay time for an automatic click when using a USB pointing device.

Sticky keys: If you have a USB keyboard attached, modifiers like Shift and Ctrl will stay pressed until another key is pressed so you can enter keyboard shortcuts one at a time.

Slow keys: Choose a time delay for how long a key should be held until it recognized as a key press.

Bounce keys: Set a time limit for waiting until a key is pressed a second time.
Please answer all questions.
The coding for Contact US > Call > View more function. And this text is only displayed on the editor page, please do not delet this component from Support Home. Thank you