Accessibility advanced settings and installed services on your Galaxy phone
Last Update date :
Oct 07. 2020
If it's easier for you to press on physical keys rather than tap on your screen, or if you'd like to map specific functions to your keys, use your phone's advanced accessibility settings. Your keys can accomplish multiple things at once, like bringing up settings for color adjustments, muting sounds, and turning on voice assistant.
Information provided applies to devices sold in Canada. Available screens and settings may vary for smartphones sold in other countries.
Advanced settings
You can use your phone's advanced options to create direct access for certain features, customize your notifications, and much more. From Settings, swipe to and tap Accessibility, and then tap Advanced settings.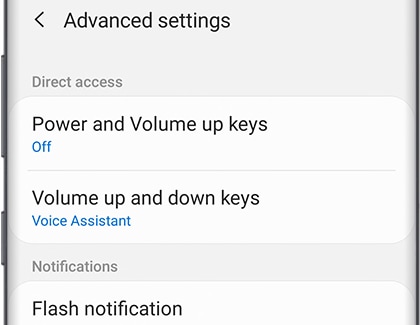 Swipe up to see all the convenient options for improving your accessibility experience:

Power and Volume up keys: Activate accessibility functions when you're pressing the Power and Volume up keys at the same time. If two or more functions are set to the keys, a direct access window will appear on the screen, so you can select which function you'd like to use.

Volume up and down keys: Pressing and holding the Volume up and Volume down keys for three seconds will activate the service of your choosing. Tap Selected service to choose from the list. You can also add this feature to the lock screen.

Flash notification: The camera or screen will flash during alarms or when you receive notifications.

Notification reminders: Allows recurring reminders for notifications you haven't answered. You can choose which apps you'd like reminders for and set the time intervals between reminders.

Time to take action: Select how long unread messages will appear on your screen.

Voice Label: Save recordings on NFC tags. Voice Recorder must be installed to use this function. Tap Voice Label, and then tap Download to install Voice Recorder.

Installed services
It may be difficult to keep track of your accessibility apps, especially if you're using several at once. The accessibility home screen provides a quick way to view all your installed apps and services in one place, so you can always check them.

From Settings, search for and select Accessibility. Tap Installed services to view a complete list of accessibility apps that you've installed from the Play Store or Galaxy Store. You can turn an app on or off from this screen by tapping the app, and then tapping the activation switch; finally, you will need to tap Allow to turn on the app, or Turn off to stop using the corresponding accessibility app. Some apps may offer extra settings, if available tap Settings to open the settings list for the related app.

Please answer all questions.
The coding for Contact US > Call > View more function. And this text is only displayed on the editor page, please do not delet this component from Support Home. Thank you