Organize the home screen of your Galaxy phone
Last Update date :
Oct 07. 2020
Everyone loves a comfortable and clean home - and that applies to your phone as well. No worries, you can customize and stylize your phone's home screen by changing the screen orientation, or adding widgets, folders, and extra home screens. It will make your phone more organized and easy to navigate.
Information provided applies to devices sold in Canada. Available screens and settings may vary for smartphones sold in other countries.
Landscape home screen
When you're reading in Portrait mode, it might be hard to see small text. Don't squint, just make the screen Landscape, so it's easier to read. To change the display mode, open the quick settings panels by swiping down from the top of the screen. Make sure that Auto rotate is turned on (i.e. highlighted in blue). If it says Portrait, tap Portrait to change the phone to Auto rotate. This setting makes the screen automatically shift when you tilt your phone.

You can also lock the screen in Landscape mode, if needed. Just turn your phone sideways and tap Auto rotate again in the quick settings panel. The phone will now stay in landscape mode.

Some phones are set to "portrait only mode" by default. This prevents the phone from activating Landscape mode, even when you rotate the screen. To change this, navigate to Settings, tap Display, and tap Home screen. Tap the switch next to Portrait mode only to turn this feature off.

Add or remove widgets
Widgets are like mini versions of apps. They appear on your Home screen and when you tap them, they will activate or use an app's feature. They're like a super-powered shortcut.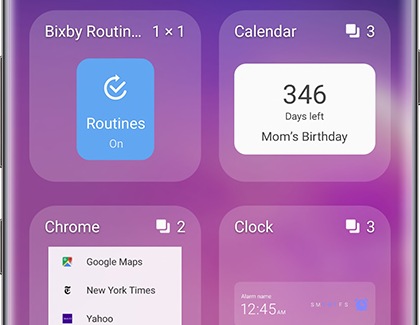 Widgets can help you organize your home screen and access your favorite apps faster. Read our guide to learn how to add or remove widgets from your home screen.

Organize your home screen
Trying to find something in a messy home is really frustrating. Here are some examples you can follow to keep your Home screens neat and clean: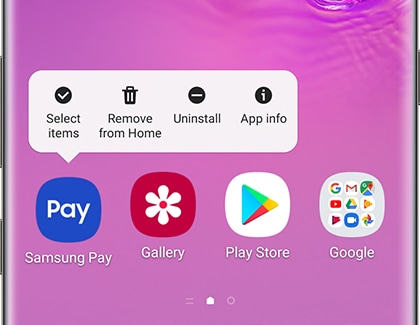 You can remove unwanted apps from your home screen by tapping and holding your desired app. Then, tap Remove from Home to delete the shortcut. Or, you can tap Uninstall to remove the app from your phone entirely. Note that you can only Disable system or pre-installed apps that came with your phone.

You can drag the Samsung Apps folder onto the home screen to quickly access the Samsung apps you need.

You can also organize the apps into digital folders on your home screen. Just drag one app on top of another app to make a folder. Once you've made a folder, you can enter a name for it and even colorize it.
If needed, you can add more home screens to your phone. It's a great way to organize all your apps and folders. Tap and hold an empty area on your home screen. Swipe until you reach a blank home screen and then tap Add to create a new one. To remove an extra home screen, swipe to that screen, and then tap Remove.