Use a fitness program in Samsung Health on your Galaxy phone
Last Update date :
Dec 18. 2021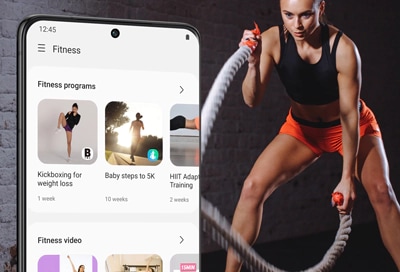 You have gone through your whole workout repertoire and are looking for something new. Samsung Health has a variety of fitness programs to mix up your routine. There is stretching, weight loss, running, endurance training, and more. Unlike exercise trackers, workout programs give you a set schedule that you can follow. When you add or use programs, you will feel challenged again.
Note: Information provided applies to devices sold in Canada. Available screens and settings may vary for smartphones sold in other countries.
Add a program
You can add fitness programs in the Samsung Health app to help you reach your exercise goals. There are a variety of programs to choose from, including running, stretching, strength training, and balance training.
Note: If it is your first time looking at programs, you may need to review a disclaimer before you are able to view the full list of available programs.
1
Navigate to and open the Samsung Health app.
2
Tap the Fitness tab, and then tap Fitness programs.
3
Select a specific program that interests you to view its details. If you like the program, tap Add program.
5
Once a program has been added, it will appear on your Samsung Health Home tab.
-[ On a Samsung smartwatch ]-
Note: Before you can add a program to your smartwatch, you have to add it on your phone.
1
Any programs added to your phone will automatically be available on your watch and can be added using the Multi-workout widget.
3
Once you have it, swipe to and tap the Multi-workout widget or tile on your watch, and then swipe to and tap Add.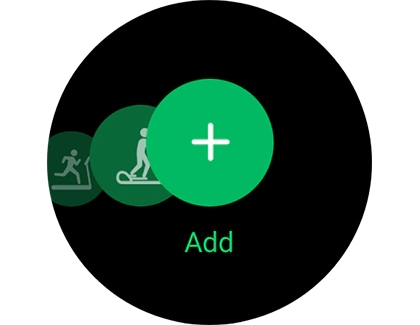 4
Tap the name of the program you want to add. That is it!
Use a program
Once you have added a program or two, it is time to use them. Your added programs will be available on the Home tab in the Samsung Health app, so you can quickly view your workout progress.
1
Navigate to and open the Samsung Health app, and then tap the Home tab.
2
Swipe to and tap the program you want.
3
Tap Download workout.
4
When it is done downloading, tap Start workout.
5
You will be able to rewind, pause, or fast forward the workout video.
6
The audio guide can be turned on and off by tapping the Audio guide icon on the screen when the workout video is playing. This is the middle icon in the upper right corner.
7
To stop the program, tap Pause, and then tap Stop workout. If you need to go back to an interrupted program, just tap the program again, and then tap Make up workout.
-[ On a Samsung smartwatch ]-
There are two ways to start your workout program from your watch:
1
If you added the program to the Multi-workout widget or tile, simply swipe to and tap it, and then tap the program. You can wait for the countdown, or tap Start to begin immediately.
2
Alternatively, you can swipe to the Exercise widget or tile, and then tap Work out. From here, tap the name of the workout program you want, and then wait for the countdown or tap Start.
To pause the program, press the Back button on your smartwatch.
Tap Stop to finish your workout. A summary of your workout will be displayed.
Drop a program
If you have finished a program, or you found a better one to suit your needs, you can remove the ones you are not using.
Note: Once you drop a program on your phone, it will automatically be removed from your connected smartwatch.
1
Navigate to and open the Samsung Health app, and then tap the Home tab.
2
Swipe to and tap the program you want to remove.
3
Tap the More options icon (the three vertical dots), and then tap Drop program.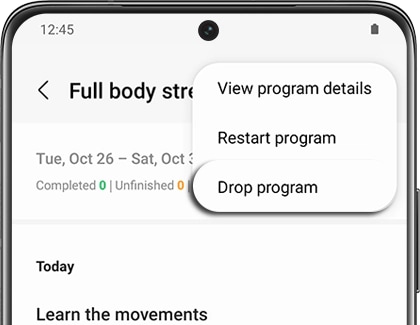 Note: If you change your mind, you can always download it again later.
Please click the submit button below to share your feedback with us. Thank you for your participation.
Please answer all questions.